Estimated read time: 5-6 minutes
This archived news story is available only for your personal, non-commercial use. Information in the story may be outdated or superseded by additional information. Reading or replaying the story in its archived form does not constitute a republication of the story.
SALT LAKE CITY — Letting the emotions sink in briefly, MyKayla Skinner told a national audience after she was selected to represent Team USA at the Tokyo Olympics: "Hey Mom, I made it."
Those five words were enough.
Skinner, 24, had finally been named an Olympian — a lifelong goal for the oldest gymnast at this year's Olympic trials. No longer was she the 2016 Olympic alternate, she had finally claimed a spot to represent the United States.
"I feel like it still hasn't hit me yet," Skinner said a day later. "I'm like is this even real. I feel like Olympic trials didn't even happen, but it did. It's all kind of just a blur, like I just think it happened so fast. ... It was like in the blink of an eye, so it's just so crazy that this is even happening, so I'm sure in the next couple of days it will hit me when I kinda settle in with it."
The emotions of the moment came earlier in the night Sunday as Skinner could feel the finality — and pressure — of the moment building. Her last pursuit at her Olympic dream was about to come to a close and she'd hoped it was good enough. It happened to be the second-best vault of the night, which allowed her to stay in contention with the fifth-best all-around score.
"On vault, I feel like I got super, super emotional. It was just this crazy feeling," Skinner said. "Even before I went I was like I'm gonna cry. I was like, 'Why am I crying, this is horrible.' But I just feel like all the emotions from last Olympics and just being there and the fan base and the crowds and everyone was just so supportive; it was so, so real.
"I just loved being out there. After I finished those two vaults, it was just like this was it, this is my last Olympic trials and I was just so grateful that I was even able to be out there and make it this far."
But even after her successful weekend — a weekend where Skinner proved she still had what it took to compete at the highest level — all she could do was wait. She knew the top two gymnasts in the all-around score secured an automatic bid, but what about the other two spots that would make up the four-person team? Would it be the top four or would some other metric be used to name the team?
In front of her in fourth place was soon-to-be fellow University of Utah teammate Grace McCallum, who had a standout weekend.
"We were both just so excited that we finished and hit our routines," McCallum recalled. "We both knew that we were neck and neck and it was really close. We wanted to give each other a hug because we've worked so hard for this moment."
The selection committee made their choice: Jordan Chiles and McCallum — the top four gymnasts in the all-around score for trials. Tom Forster, the coordinator for USA Gymnastics, said the computer model they use actually said the combo of Simone Biles, Sunisa Lee, Chiles and Skinner would be the best team option, but only by a few tenths of a score.
The committee felt "it wasn't enough to warrant putting her in that position." Instead, the trial results would stand on their own and be the biggest factor in the decision, which meant McCallum would earn the last and final spot on the team.
"We looked at possible team scores and realized, you know, it's just a couple of tenths difference between them," Forster said. "And looking at the whole two-day process and U.S. Championships as well, it seemed appropriate to go in rank order.
"As a committee, we just didn't feel it was worth changing the integrity of the process simply for a couple of tenths."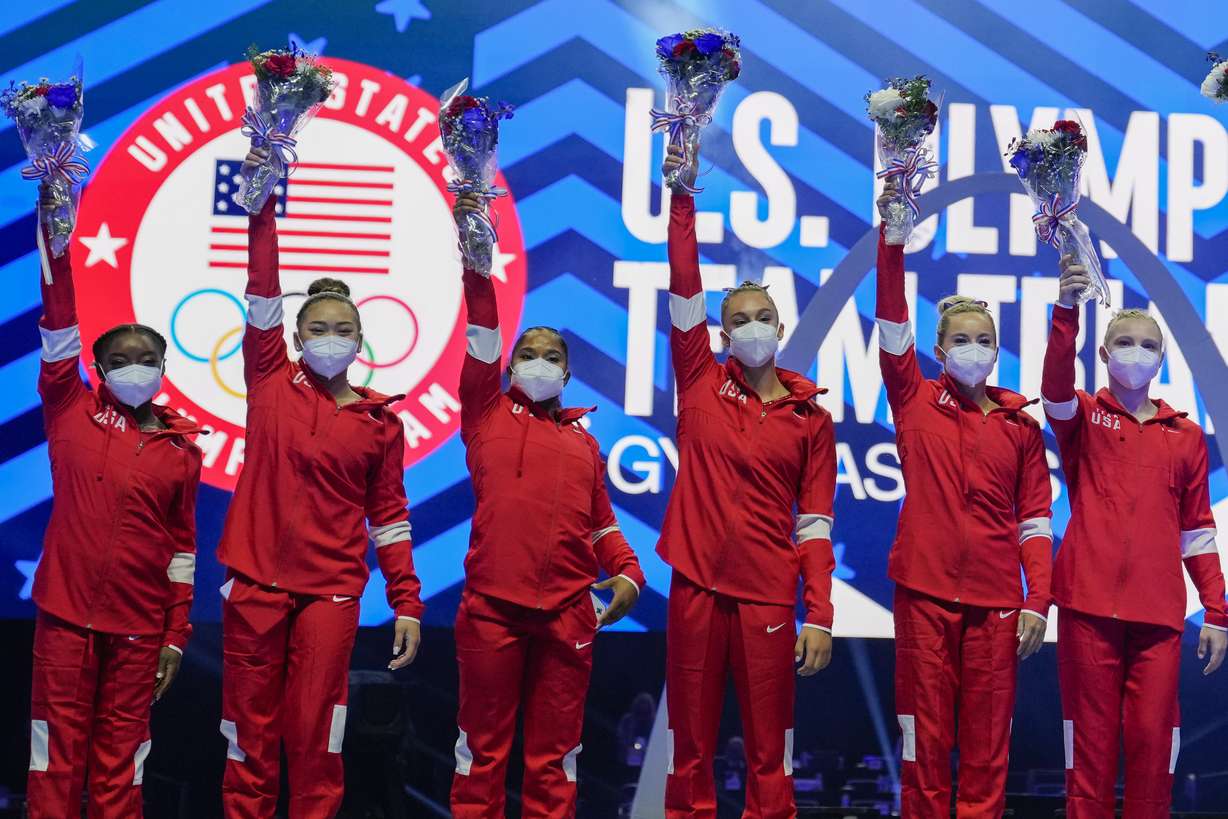 Still, the committee felt Skinner was the most "consistent," especially on vault, and she was named to the only individual spot allotted to the team. That means Skinner will act for herself at the Olympics but still represent the United States. She can compete in all the events in hopes of a medal, or just specialize in one or more events — most likely vault and floor, in her case — but that decision is still yet to come.
"Being in that individual position, I feel like it gives me the opportunity to still try and make other things," Skinner said. "And you never know what can happen, someone can always have a bad day or things might not always go OK. I want to be able to step in if I need to and maybe make bars and beam; I guess you never really know — probably not going to happen.
"I think for me that's the big game plan is being able to go and do all four events if I can, which I think would be really awesome. And whatever events I can make it in then I guess that's awesome, too. So just really wanting to go out there and just do the best that I can and just see where that takes me."
The biggest challenge moving forward — other than preparing for a competition against the world's best gymnasts — is that her family will have to watch from afar as she realizes her dream. Due to the ongoing pandemic, families are barred from entering Japan and being with the gymnasts during the Olympics. For Skinner, that means being away from her husband, too.
It's the casualty of having the Olympic Games amid a pandemic. The games were already delayed a year and nearly caused Skinner and other Olympic hopefuls to end their pursuit of making the team. Add a bout of COVID-19 and pneumonia six months ago and it was almost too much to handle. But in the end, it's all worth it to Skinner.
"My husband was kind of like, you know, out of all the Olympics you're gonna go for for your last one, it had to be this one?" she said. "It is kind of crazy with everything that's happened but he we get to have an Olympics, we're going, we're doing this, so that's just really awesome that they're even letting us go out there.
"I feel like this will just be a great time either way. I get to be out there and just do what I love."
×
Related stories
Most recent Olympics stories