SALT LAKE CITY — Days after Simone Biles pulled out of the women's team final at the Tokyo Games, the gymnast considered the "greatest of all time" addressed what's affecting her and why she can't compete.
Answering questions on her Instagram stories, Biles explained that she's dealing with "the twisties," which is what gymnasts call when they can't figure out where they are in relation to the ground while in the air.
"I seriously cannot comprehend how to twist," she wrote.
When getting the twisties, it becomes a dangerous situation for a gymnast who doesn't know where or how they're going to land when they hit the ground. And it's what Biles said happened to her when she was mid-air on her vault during Tuesday's team final. Biles was supposed to do 2 1/2 twists but looked lost in the air and only managed 1 1/2 twists before she was able to land on her feet.
"I also have no idea how I landed on my feet on the vault bc if you look at the pictures & my eyes you can see how confused I am as to where I am in the air," Biles wrote.
Biles pulled out of the competition for safety reasons and watched from the sideline, cheering on her team en route to a silver medal. She said she didn't quit because of a bad performance.
"I simply got so lost my safety was at risk as well as a team medal," she said, while adding that her body is just not "in sync."
Biles later pulled out of the all-around competition, opening the door for teammate Sunisa Lee to claim gold and for Jade Carey to fill Biles' spot to represent the United States in the all-around competition. And while Biles still has all four individual events she's qualified for, her status remains day-to-day as she works to overcome the twisties.
Biles said she's had them before, most often on floor and vault, and it's taken her a couple weeks to overcome in the past. This bout, however, is affecting her on all four events, which has never happened before, she added.
"It's honestly petrifying trying to do a skill but not having your mind & body in sync," she said.
As part of her stories posted to Instagram, Biles showed herself trying some twists on bars at a gym in Japan where she could landed on a soft surface. The videos showed Biles landing on her back and yelling out in frustration while adding in text: "i don't think you realize how dangerous this is on hard/ competition surface."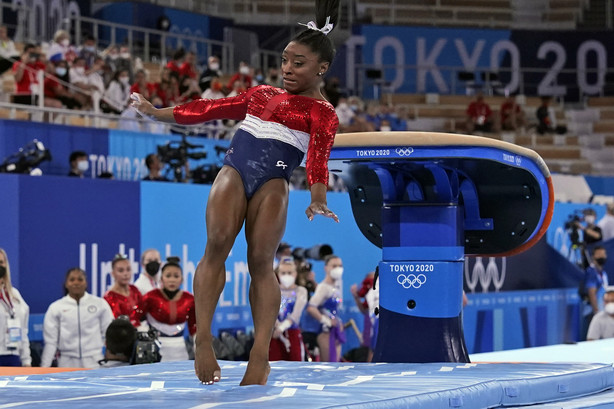 The timeline for Biles to overcome the twisties is running out as her next event, the vault, is scheduled for Sunday at 2:45 a.m. MDT. Biles has yet to confirm whether she'll compete in the event final; however, if she withdraws ahead of the event it opens up a chance for MyKayla Skinner to compete as the next-highest American gymnast to qualify for the event.
Skinner placed fourth in the vault during the qualifying meet, but Biles and Carey, who placed first and second, respectively, were the only two that qualified for the vault final due to Olympic rules that only allow two gymnasts from each country to move forward. Skinner remains in Tokyo and has been front and center cheering on her teammates.
Should Biles not compete in any of the events, Team USA would only have Lee competing on uneven bars and balance beam and only Carey on floor — no other American gymnasts finished in the top eight of the remaining events.
×
Related Stories