FRUIT HEIGHTS — The first interchange as a part of a long and extensive project on U.S. Highway 89 in Davis County is set to open Monday and state transportation officials hope it'll help fix traffic congestion in the county.
The interchange, at 400 North in Fruit Heights and 200 North in Kaysville, is set to open by Monday morning, according to the Utah Department of Transportation. It replaces previous intersections that existed in the area.
Drivers traveling north on U.S. 89 can exit or enter the highway through Mountain Road. Drivers traveling south can enter and exit through 200 North. A bridge was constructed over the highway, as well. UDOT officials say it will improve the connection between U.S. 89 and 200 North, which they view as a "major east-west connector" within Davis County.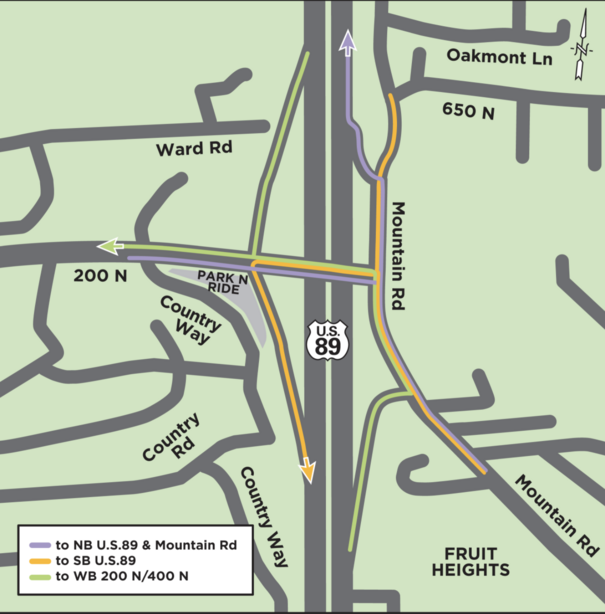 "It should improve the commute times depending on the time of day you come through — like five or 10 minutes, or more," said UDOT Region One Director Rob Wight. "It's really going to improve the commute times for folks coming to and from Salt Lake City."
There are three other new interchanges on U.S. 89 between Farmington and Layton as a part of UDOT's second-largest highway construction project. New interchanges at Oak Hills Drive and Gordon Avenue are expected to open later this summer before they work on one at Antelope Drive.
UDOT officials say the $527 million project will improve local traffic access and crossing efficiency. It's an area that typically sees 48,000 vehicles pass by daily.
The project also includes two new bridges at Nicholls Road and Crestwood Road, pockets of widened highway space and frontage roads for parallel bicycle routes. It's expected to be completed by the end of 2023.
Contributing: Morgan Wolfe, KSL TV
×