SALT LAKE CITY — Utah's Pacific Islander community is coming together once again to celebrate its contributions to the Beehive State.
In a taste of what's to come during Pacific Islander Heritage Month, hundreds gathered outdoors in Salt Lake City Saturday. They took in dance and musical performances, shopped for intricately carved pendants and hand-painted flower pots, and tucked into plates of fragrant Fijian chicken curry or other fare.
An array of August events is set to showcase the diversity of cultures within the broader community that's called Utah home for roughly 150 years. But the celebrations come on the heels of a year filled with tragedy and loss. The pandemic has hit the demographic group harder than others, claiming lives and causing severe illness at elevated rates.
"Whether you're Polynesian, Micronesian, Melanesian, we think of this thing called mana, and the definition of mana is spirit," said Tile Fagatele with nonprofit Pacific Island Knowledge 2 Action Resources. "Each of us carry the mana of our forefathers and of our ancestors and of those who have passed, and think it's important to share that mana with everyone and to celebrate it."
Utah is the only state to designate a month solely to honor the heritage and contributions of Pacific Islanders, said Susi Feltch-Malohifo'ou, executive director of the nonprofit.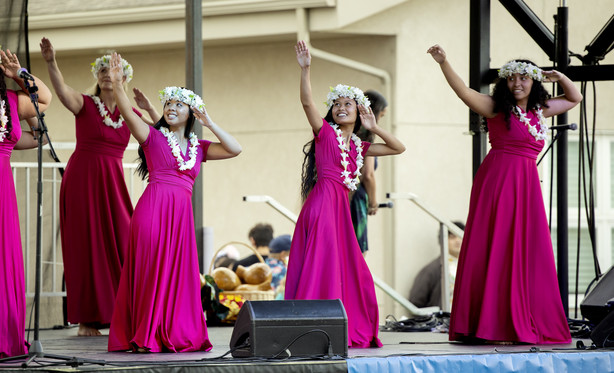 The kickoff event drew thousands before the COVID-19 pandemic forced last year's celebration to go virtual. Now, Feltch-Malohifo'ou says she's planning to work with state lawmakers to make sure a declaration from former Gov. Gary Herbert is codified in state law.
"That's my goal, is that it stays in the books of our state forever," she said.
Keilana Tuitupou, a 15-year-old artist from Rose Park, was among vendors of all ages Saturday perched at tables outside Pacific Heritage Academcy. She painted flower pots in vibrant hues depicting women from Samoa, Tonga and Hawaii sporting traditional headware unique to each place.
Tuitupou said she's proud of her heritage — Tongan, Hawaiian, Japanese and European — and designed her wares in hopes others will feel the same way.
"That's why I started the pots, is to give Pacific Islanders pride to show off their culture in different mediums," she said.
With high rates of essential workers and large, tight-knit families, Utah's Pacific Islanders have been hospitalized and succumbed to the virus at greater rates than the general population. Keeping distance has been especially difficult for families who typically greet each other with warm embraces, said Feltch-Malohifo'ou.
The group makes up 1.6% of Utah's population but accounts for 2.3% of COVID-19 cases, with a higher mortality rate from the virus than those of other ethnicities, according to the Utah Department of Health. To date, 74 people in that population have died and just under 900 have been hospitalized.
Among those who perished was community organizer and activist Margarita Satini, known as a fierce advocate for Utah's Pacific Islanders.
This year's events take on a different tone as many families mourn the deaths of Satini and other loved ones, said Jake Fitisemanu, a West Valley City councilman and senior community health specialist with Intermountain Healthcare.
"This is a really emotional moment, I think, for a lot of folks. We've lost a lot of people, we've lost a lot of opportunities," Fitisemanu said. "We've forgone cultural practices that are crucial to who we are."
Last year, however, many stepped up to help lead efforts to limit the spread of COVID-19 and now have community health training that Fitisemanu hopes can help to address other disparities when it comes to diabetes, mental health, infant mortality and other issues.
"It's not just restoring what we had before. But how do we use, leverage these lessons that we've learned to come out of this pandemic more equipped to handle anything else that comes our way?" he said.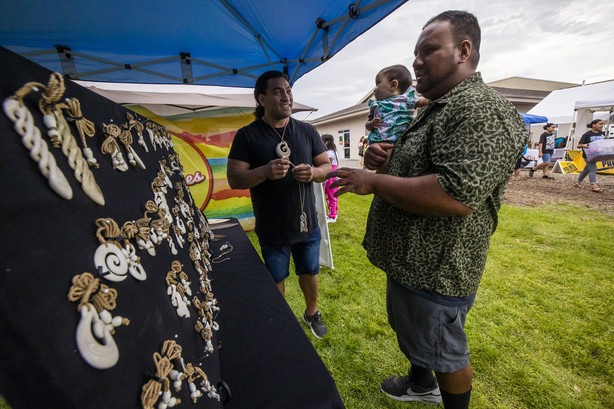 In addition to Utahns of Asian heritage, several Pacific Islanders faced harassment and racism in the pandemic, Fitisemanu said, and he's concerned a resurgence of the virus due to the delta variant could lead to more crimes and harassment.
Feltch-Malohifo'ou and Fagatele are now working with other groups to ensure people have good information about COVID-19 and access to testing and vaccines after initial rounds of messaging in the state targeted a mostly white audience. Many who attended Saturday's event opted to get their shots at a pop-up clinic there.
Feltch-Malohifo'ou said she saw a need for events like Saturday's when she moved to Utah over a decade ago and realized most Utahns don't know about the differences between Tongan, Tahitian, Samoan and other cultures from the region.
"I felt like we needed to have a place where we could bridge and educate our neighbors," she said. "We're very different and unless people can see that, they don't really see us."
×
Photos