NOT HOLDING OUT — Zach Wilson earned a significant distinction Wednesday morning, weeks before he's scheduled to play his first career NFL game.
The No. 2 pick in the NFL draft by the New York Jets was already the highest-drafted former BYU player in program history.
Wilson became the last unsigned first-round pick when the 49ers inked Trey Lance to a four-year, $34.1-million deal Wednesday, as announced by his agency CAA and reported by ESPN. Should Jets (and BYU) fans be concerned?
Wilson did not report to the first day of training camp Wednesday, and his Instagram stories showed him in California as late as this weekend. But no one at Jets HQ or around the league are concerned with his absence; he's had a full rookie minicamp and time to get set in New York and New Jersey, as well.
He's still working through contract negotiations with his agent and Jets general manager Joe Douglas, head coach Robert Saleh told reporters on the even of training camp.
"With regards to Zach, obviously Joe is working on it here this morning and hopefully that gets done," Saleh said. "But as it is with every player on this roster when one person misses, another person has to take over the reps."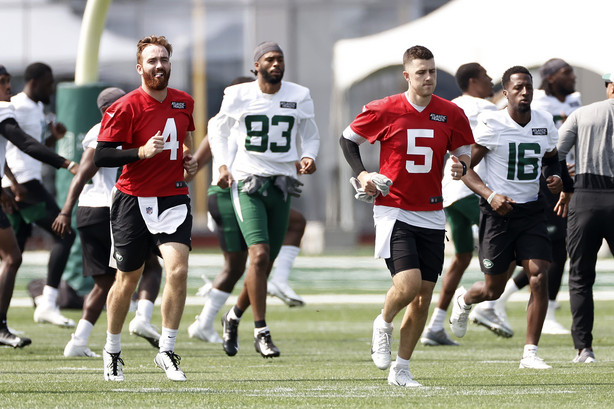 Missing one or two practices won't dramatically hurt any players' development — even for a rookie — and Saleh isn't worried that Wilson won't be gone for long. In other words, he's not intentionally holding out like some veterans have done to try to force a new contract, or even a trade.
"From a rookie standpoint, you need as many reps as you can," Saleh added. "Veterans always get off days here and there anyway, so they do miss. It's something that he'll have to navigate through and I have a lot of faith in Zach, too. He's incredibly intelligent, he has a tremendous drive, so when he does get here, I know somehow, someway he'll make up for it."
NFL rookie contracts are based on a slotted salary system based on draft position that eliminates much of the negotiations for cold, hard cash in a players' first four years (with a fifth-year option that is usually signed). It's why several breakout players — Patrick Mahomes comes to mind the year he won a Super Bowl — have been able to give their team's a significant discount for rising rapidly through the ranks under the terms of their first contract (Mahomes, of course, has been more than handsomely repaid by the Chiefs, with a contract reportedly worth up to $503 million over 10 years).
Wilson is slotted to make $35.15 million over four years, including a $22.9 million signing bonus, according to the preset regulations for rookie deals.
The system has existed for a decade, a brokered point between the NFL and its players' union, so there's no concern about rookie holdouts from the league's perspective.
Most rookie negotiations include a certain amount of back-and-forth related to offset language within the contract, or bonus payout schedules. While the overall salary may not change, the rate of payment and other small details can be up for debate.
That's not unusual for a rookie, either. In addition to Lance, the Chargers just agreed to terms with first-round offensive tackle Rashawn Slater this week. The Chargers are one of two teams that notably don't typically include offset language in their rookie contracts, which also explains why No. 1 overall pick Trevor Lawrence signed his deal July 5.
So why would Wilson not have the contract signed by now?
"Technically, he's late because the rookies were supposed to report for the Jets two days ago. No one is really concerned at all," NFL reporter Mike Garafolo told the NFL Network a few days ago. "If you haven't been following along since these things got locked in a decade now, it's cash flow, it's guarantees as far as the offset, and a small matter for these guys.
"But the agents are there, and they have to justify their existence," he added in quip.
×
Related Stories