Estimated read time: 3-4 minutes
This archived news story is available only for your personal, non-commercial use. Information in the story may be outdated or superseded by additional information. Reading or replaying the story in its archived form does not constitute a republication of the story.
SALT LAKE CITY — University of Utah gymnasts MyKayla Skinner and Grace McCallum have dreamed of representing the United States for as long as they can remember; and on Sunday, the pair will begin their Olympic journey.
Skinner, who recently announced her collegiate retirement after being named to the Olympic team, will compete as an individual representing Team USA, while McCallum, who is expected to enroll at Utah at the conclusion of the Olympics, will be part of the four-member team.
The pair will be among other gymnasts from around the world that take part in the women's artistic qualification round Sunday. Team USA will compete in Subdivision 3 of the qualifying event, which is set to begin at 12:10 a.m. MDT and will be streamed live on NBC. A primetime airing of the event will be shown Sunday evening on KSL.
Skinner and McCallum will compete to advance to the event finals, which begins July 29 for the All-Around Final. To advance, a gymnast must place in the top 24 in the all-around among all gymnasts or be a top-eight gymnast for an individual event — in addition to being in the top two of American gymnasts.
McCallum will also compete with Team USA as part of the qualifying round as the team looks to advance to the team final on July 27 at 4:45 a.m. MDT. McCallum's area of strength is balance beam, where she could claim an individual medal. Earlier this year, McCallum earned a bronze medal at the U.S. Championships, and in 2019 earned a bronze medal in the all-around competition at the U.S. Championships.
Skinner, who is the oldest gymnast to represent the U.S. this year, has a viable chance to medal on vault, where she won a silver medal at this year's U.S. Championships. She's won on the global stage before, too, claiming an all-around title in 2016 at the Glasgow World Cup and a bronze on vault in 2014.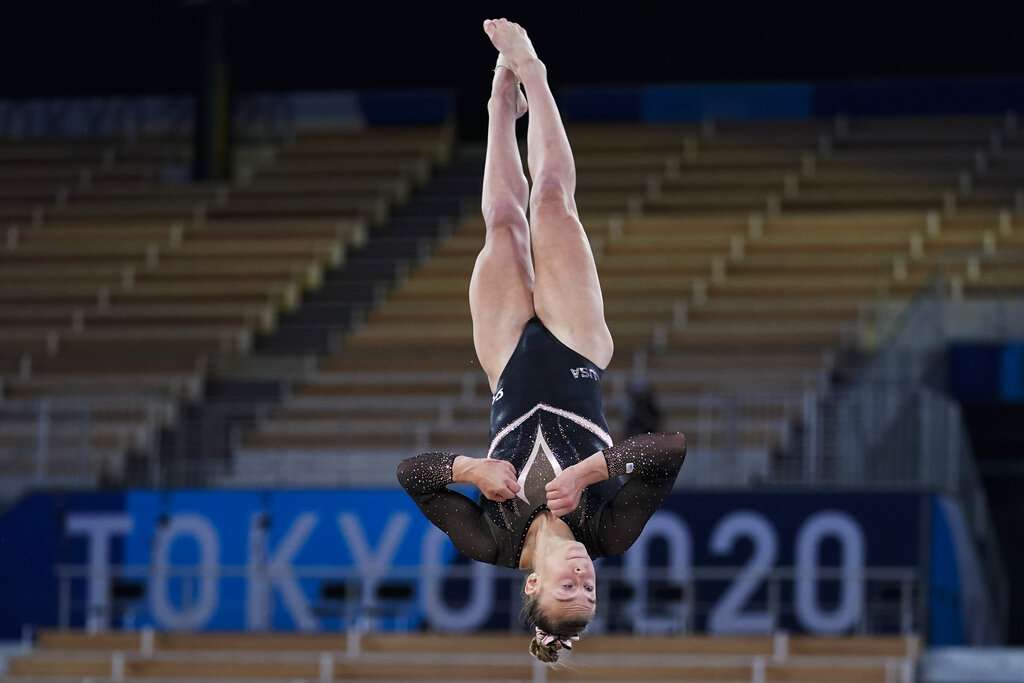 Kara Eaker, another gymnasts expected to enroll at Utah this fall, was named an alternate to Team USA. She, however, tested positive for COVID-19 when she arrived in Tokyo. Eaker, who was vaccinated, received a "false positive" over the weekend, according to the Associated Press, but later returned a negative result before testing positive multiple times.
"We are devastated and heartbroken for Kara as she has worked extremely hard to become a part of Team USA in Tokyo," Utes gymnastic coach Tom Farden said in a statement. "Unfortunately, the virus is still very present and can affect fully vaccinated individuals. We will support her in any capacity she may need with the many resources we have here at Utah."
Schedule:
The following times are when the Olympic women's gymnastics events will be broadcast or streamed live on NBC. A primetime showing of each event will be shown that evening on KSL.
Women's Qualification: July 25, 12:10 a.m. MDT
Women's Team Final: July 27, 4:45 a.m. MDT
Women's All-Around Final: July 29, 4:50 a.m. MDT
Women's Vault and Uneven Bars Final: Aug. 1, 2 a.m. MDT
Women's Floor Final: Aug. 2, 2 a.m. MDT
Women's Beam Final: Aug. 3, 2 a.m. MDT
×
Photos
Related stories
Most recent Olympics stories