SALT LAKE CITY — Coming into the 2020 season, Utah was in full rebuild mode on the defensive side of the ball as nearly the entire defensive unit went to the NFL.
That rebuild, however, wasn't as dramatic as expected given the number of freshmen populating the two-deep roster. Instead, it turned into a relative strength and surprise in an unusual five-game season where the offense was expected to have a better opportunity. And while Utah still has a lot of young players filling key positions, the expectations for the defense is again high.
So let's look at the defensive personnel ahead of Utah's fall camp, which is set to begin in early August.
Defensive end
The two upperclassmen on the edge are Maxs Tupai (right end) and Mika Tafua (left end). Both will claim the majority of minutes at defensive end and will be a force for Utah to crash on opposing offenses. The pair combined for four sacks, three pass breakups and three forced fumbles in the abbreviated 2020 season. Having a full season will only showcase their talent more.
Behind the two upperclassmen, though, is two up-and-coming players that Utah fans will no doubt be talking about for a long time: blue-chip freshmen Van Fillinger and Xavier Carlton. The pair got limited reps in 2020 but made good use of the time they played. In spring, the two used that playing experience to grow even more in the defense. With time (and likely even this year), Utah will have reloaded with the next generation of edge defenders.
But let's not forget about the other Kuithe, too. Blake Kuithe, who has taken a while to get into the system due to early-career injuries, has started to showcase his talent and had a good spring. He'll push for a two-deep roster spot with Carlton and Fillinger, among others. Some other players to watch out for are redshirt freshman Miki Suguturaga and freshman Tyler Wegis.
Wegis likely won't make the two-deep this season, but Suguturaga has been an up-and-coming talent for the last couple years he's been in the program. Past defensive ends have praised his talent and ability to put pressure on opposing offenses.
Similar to my question about the offense: What Utah position group do you expect to have the biggest impact on the defense's success this season?

— Josh Furlong (@JFurKSL) July 22, 2021
Defensive line
Utah has no shortage of athletes ready to step in and create havoc on the defensive line, and a two-deep here will showcase some talented guys that see minutes. Senior Viane Moala will likely get the start at left tackle and Tennessee Pututau at right tackle, though Devin Kaufusi and Hauati Pututau will push for time, too.
Tennessee Pututau has the least amount of experience since he's a freshmen, but he's already made a big impact on Utah coaches and was listed as a starter during the spring two-deep.
Beyond those four, there's several underclassmen that are chomping at the bit to get some playing time. Those include redshirt freshman Semisi Lauaki, sophomore Fua Pututau, and freshmen Simote Pepa, Junior Tafuna, Tanoa Togiai and Aliki Vimahi.
Linebacker
There's no need to get fancy here and try to predict anything but the obvious, and that is that Devin Lloyd is arguably the most valuable asset on the defense this season. Not only will he be integral to Utah's defensive success this season, but Utah head coach Kyle Whittingham told ESPN 700 Tuesday he believes Lloyd will be the highest-ever drafted linebacker by the Utes.
Lloyd has embraced the leader role of the defense and his performance on the field backs up what he preaches. His counterpart on the field will be fellow junior Nephi Sewell, who doesn't get much of the praise but is a more than capable athlete to compliment Lloyd. Don't be surprised to see Sewell have a breakout season as Utah's other starter.
Sophomore Andrew Mata'afa will get some playing time here, too, and provide some needed depth. Mata'afa continues to grow into the position and should take another step forward this season. While it's not expected that he'll pass Lloyd or Sewell, he'll give good minutes when he's on the field with little drop off at the position. Beyond Mata'afa, Utah will have up-and-coming talent in freshmen Josh Calvert, Ethan Calvert and Mason Tufaga to rely on.
Linebacker coach Colton Swan has done a great job of bringing in talent at linebacker, and Utah should be stacked in this position group for some time, especially with the Calvert brothers and Tufaga — all four-star recruits — in the wings learning from the guys ahead of them. Any of them could get some minutes this season and see a spot on the two-deep roster.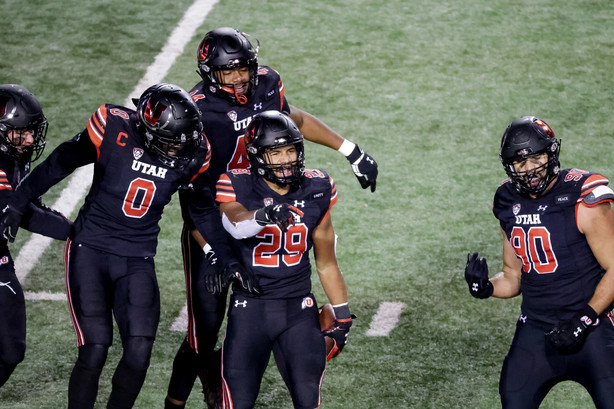 Corner
At corner, Utah will be the most inexperienced, with no starter this season being an upperclassman. Because of that, Whittingham was weary of how well his secondary would do last season in competition. And while it wasn't perfect, Utah's players proved their worth. There's several up-and-coming athletes that provided a spark for the team and turned the defense into a strength.
The headlining names at corner are sophomore JaTravis Broughton and freshman Clark Phillips III, the program's highest-ever recruit. Broughton was an all-Pac-12 honorable mention last season and enters 2021 with more experience as one of the best defenders in the backfield. He's joined by Phillips, who essentially got a free year to acclimate to Division I football.
The pair led cornerbacks in coverage grades from Pro Football Focus last season, but as the team moves to more man press this season — due to COVID, Utah utilized more zone coverage schemes in 2020 — their talent will continue to show. There's plenty of room to grow for the two starters, and 2021 could be a breakout season for them both.
Adding to the team's depth will be sophomore Malone Mataele and freshman Faybian Marks as guys with some experience on defense, and freshmen LaCarea Pleasant-Johnson, Kenzel Lawler and Drew Rawls. Mataele's role on defense continues to grow and he could be a guy worth watching this fall to see if he claims a bigger role, most likely as a nickel back defender. The same could be said about Marks who was acclimating to Division I football in an abbreviated season.
Safety
Whittingham on Tuesday said the safety position has the most questions surrounding it entering fall camp due to starting safety RJ Hubert out with an injury that is likely to keep him out for the season. But the question is more about who and not if Utah has talent here. At free safety, senior Vonte Davis is as good of a lock as any. He was the highest-graded defensive back on the team in coverage, according to PFF, last season and should have another good year.
At strong safety, Utah will likely go with Washington transfer Brandon McKinney, who has playing experience but not in a starter role. McKinney was in a good defensive system at Washington but was buried in the depth chart by other players. That's not to say he's incapable of being a starting-caliber talent for the Utes, but he's not a lock either.
Utah will have two freshmen, Kamo'i Latu and Cole Bishop, that will get a serious look as well, whether they like it or not. Both showed well in spring and had coaches praising their talent. Whether either is ready for a starting role is unknown, but it's likely both will see some playing time.
×
Related Stories