SALT LAKE CITY — Utah's fall camp, or #CampKyle as many like to call it, will kick off in a couple weeks, so it's time to start thinking about football again (as if you haven't been all summer).
Last week I predicted the Utes will go 10-2 and win the South Division, but a lot of that rests on how well Utah's offense can come together for the 2021 season. The Utes return a ton of talent on the offensive side of the ball, but there's still questions at many key positions.
Here's a pre-camp look at some of the top names at each position group and who is expected to compete for starting minutes. This will almost certainly change as fall camp gets underway, but it's an educated look at what Utah has on its hands this year.
Quarterback
Coming off a 2019 season where quarterback Tyler Huntley led the Utes to an 11-1 regular season on a dynamic offense, Utah was expected to see a drop off in production in 2020. But few expected to see it drop off as far as it did under Jake Bentley, a senior quarterback with starting experience at South Carolina. Still, Utah managed to win its last three games of an abbreviated season — largely due to dynamic running back Ty Jordan.
For Utah to have the success many are predicting in 2021, the team has to hit a home run at quarterback. Cameron Rising enters fall camp as last season's starting quarterback, but he's recovering from an injury that sidelined him for a year. Utah head coach Kyle Whittingham has raved about Rising's understanding of and his ability to lead the offense, but it's still an unknown.
Rising has some strong competition, too. Baylor transfer Charlie Brewerclaimed first-team reps in spring and was said to have been the clear QB1 — he went 15-of-15 in the spring game and threw for 151 yards and two touchdowns in limited action. Brewer has thrown for 9,700 career passing yards and consistently passes for over 3,000 yards each season. He's going to get a serious look and is already the perceived favorite to win the job.
Whittingham said in spring it will be a two-quarterback race in fall, but Texas transfer Ja'Quinden Jackson and freshman Peter Costelli are more than capable of pushing the two ahead of them. Jackson showed a natural ability to be a playmaker wherever he's put on the field and Costelli has great mechanics to be an up-and-coming star.
Brewer will have the upper hand going into fall camp due to his veteran experience and control of the offense while Rising recovered, but don't be surprised to see Rising reclaim his role as QB1 when Utah kicks off against Weber State. Also don't be surprised to see Jackson used in different ways to utilize his diverse skillset.
What Utah position group do you expect to have the biggest impact on the offense's success this season?

— Josh Furlong (@JFurKSL) July 20, 2021
Running back
The running back position is rarely, if ever, in doubt under a Whittingham-led team. Someone along the way will put distance on the others and have a breakout season, and there's many athletes in the running back room capable of being Utah's every-down back this year.
Micah Bernard, who enters his third season with the Utes despite only being a redshirt freshman, was Ty Jordan's counterpart last year, and the two led the Utes to victory in the final three games of the season. Bernard did not take any live reps in the spring game but is expected to pick up where he left off in 2020 and will be in the mix for a starting spot again.
But transfers TJ Pledger (Oklahoma) and Chris Curry (LSU) turned some heads in the spring game and will compete for a starting spot. Pledger has amassed 695 rushing yards in three seasons at Oklahoma, including 451 rushing yards and five touchdowns in 2020. He has the most experience of the group and could excel under Andy Ludwig's offensive game plans.
"Very positive," Whittingham said of his running backs in spring. "Those guys showed some good stuff today, and that's what they've been doing all spring long. Between those two and then Micah Bernard, we think we've got three backs, at least, that are really going to be top-notch guys and very capable."
Curry was tough to contain in spring and will push for playing time as well. Tavion Thomas, a transfer from Cincinnati, and four-star freshman Ricky Parks will provide some nice depth for the trio ahead of them. Regardless of who claims the top spot this fall, Utah has a talented group of running backs that will provide depth and talent to a team that relies heavily on its backfield.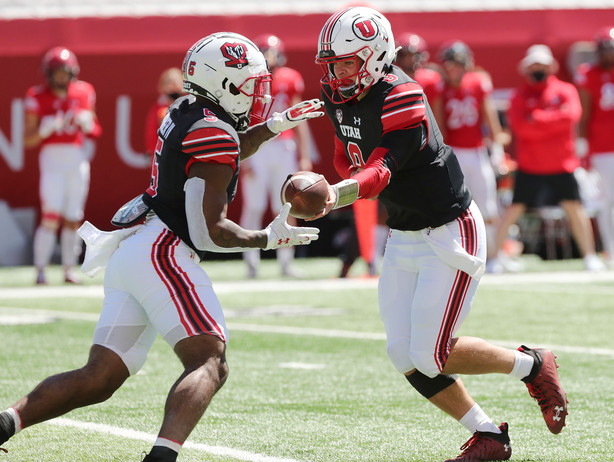 Receiver
Utah already has a trio of receivers that have shown they can be a weapon for the Utes. That group is led by do-it-all receiver Britain Covey, who is slippery and hard to contain. He's been with the program since 2015 — with a two-year church mission sprinkled in there — but enters the 2021 season as a junior. Covey will continue to be a strong threat wherever he plays this season as a returning starter.
Add to Covey's talent, receivers Solomon Enis and Jaylen Dixon, and Utah has a good stable of talent. Enis has long been considered the sideline "jump ball" receiver, but he's got the capability to be put in other spots to make plays for the team. Dixon is a deep-ball threat and any defensive back that gives him an inch will be in for a rude awakening.
Senior Theo Howard, who comes to Utah from Oklahoma and previously before that UCLA, will likely be an immediate impact player for the Utes this season. Howard has 1,522 career receiving yards and nine touchdowns and should round out the starting unit that gets most of the reps. Add to that walk-on receiver Devaughn Vele, who turned heads in spring to lead the Red team with 66 yards on four catches. Whittingham has been impressed with Vele and Enis calls him the team's "secret weapon."
USC transfer Munir McClain could have an impact, too, if he stays healthy — injuries have riddled his collegiate career so far — but Whittingham told ESPN 700 Tuesday that Munir "is developing still" with a "big upside." Freshmen Makai Cope, Money Parks, Connor O'Tooele and Caine Savage, among others, could be the next players to receive some attention in this group this fall.
Tight end
Utah has embraced the tight end position fully and has two proven and capable guys ready to add to the stable of weapons available to Ludwig. Brant Kuithe, who did not participate in the spring game, is the leader of this group as one of the most versatile pass catchers in the league. He's not the biggest guy to put on the line to provide blocking protection, but he gets the job done in several other ways.
Kuithe will be one of the most targeted players on the team, so don't be surprised if he leads, or is near the top, the team in receiving yards this season. Add to Kuithe another proven tight end in Cole Fotheringham, who has the size to combat opposing defenses on the line and has great hands in the field, too. Fotheringham has taken a bit of a back seat to Kuithe over the years, but he's just as capable of catching passes and making big plays.
Dalton Kincaid is a third weapon at Utah's disposal, though he wasn't utilized much in 2020. But Kincaid's 6-foot-4, 240-pound frame allows him to be another great option on the line and in the passing game. Kincaid received the highest blocking grade of the tight ends last year, according to Pro Football Focus, and will likely see more playing time in 2021.
Behind those three is senior Ali Niumatalolo and freshmen Taniela Pututau, Thomas Yassmin and Isaac Vaha — earlier this month Vaha tweeted he was injured, but to what extent is currently unknown. While it's not expected any of these players will beat out the three ahead of them, they'll provide some significant depth to Utah's offense this season.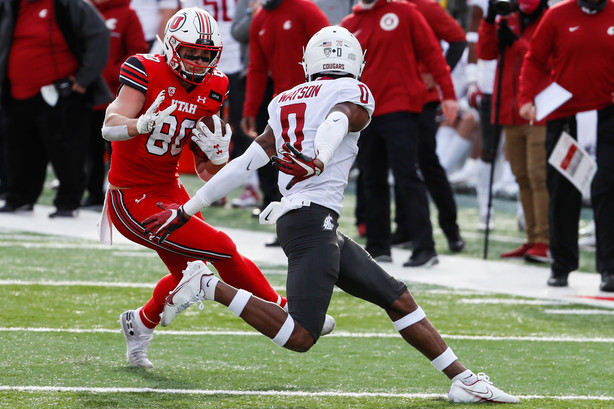 Offensive line
The offensive line gets none of the praise and only the criticism. It's arguably one of the toughest positions in the sport and the one that almost always gets overlooked. But depending on how well the offensive line does will be largely tied to Utah's ability to execute its offense at a high rate, particularly in the passing game where the line has struggled most.
Phil Steele believes Utah has a top 5 offensive line, mostly due to the amount of returning talent, but how that line is cobbled together will be the ongoing question heading into fall. Whittingham has long preached that he wants the five best players on the field and then the positions will get sorted out from there. But we have some clues as to at least the front-runners for the starting five.
Nick Ford is as good of a lock at center as possible. He filled in when Orlando Umana went down with an injury and has been a stable force for the Utes in this position. With Umana leaving the program via the transfer portal, Ford is the most experienced player for that position and should leave Utah in good hands. Sophomore Paul Maile is the likely backup to Ford at center.
The left side of the offensive line could likely be Simi Moala at left tackle — he spent the majority of time there in 2020 — and Keaton Bills or Braeden Daniels at left guard. Bills got more snaps at left guard than Daniels, but Daniels grades out as a better run blocker, according to PFF. Either way, Utah has two talented players that will provide depth since the offensive line will utilize many players.
On the right side, freshman Sataoa Laumea, who is garnering early national attention, is a near lock for right guard. He'll likely compete with Johnny Maea, who got a decent amount of reps at right guard in 2019, but could also be in contention for left guard, too. And at right tackle, freshman Jaren Kump will likely get the nod as the starter.
So who are the guys that could push for some backup minutes (or maybe even starting minutes)? Heralded pickup Bam Olaseni is in his senior season and has made progress since he joined the program. He's only had a few reps at right tackle in 2019, so he's still a bit of a mystery of whether he's one of the best options. But his size alone (6-foot-7, 330 pounds) is enough to clog up some lanes.
Others include freshmen Falcon Kaumatule, Tonai Togiai, Luke Felix-Fualalo, Hunter Lotulelei and Marist Talavou, among others.
×