SALT LAKE CITY — The college football season will officially kickoff this month as the players return to school for summer conditioning and the Pac-12 holds its annual media day on July 27.
With football in striking distance, it's time to look at Utah's 2021 schedule and breakdown the games (with some predictions in there, too). We'll focus on the first six games of the schedule, with a second article to be released Thursday on the final six games of the season.
Coming off the 2020 season, Utah has a lot of returning talent on both sides of the ball, which should bode well for consistency this year. In each game of the shortened season last year, Utah improved and looked better — so how will that carry over to 2021?
Utah has the 37th hardest schedule in the country this year, according to Phil Steele, which should give the Utes more than enough room to compete for a South Division title. ESPN's SP+ sees Utah with eight "likely wins" and four "relative toss-up" games for a No. 18 ranking in SP+ (tied with Arizona State), and early betting lines give Utah an over/under of 8.5 wins.
The projections below are assuming there are no major injuries to any of the teams listed. Injuries are part of the game and will happen, but this can be viewed as kind of a best-case scenario look at the season.
vs. Weber State, Sept. 2
Opponent's previous game: N/A
Weber State is no slouch. The Wildcats have been consistently one of the best FCS programs over the last few years and had several deep runs in their respective playoffs. Former Utes assistant coach Jay Hill has the Wildcats heading in the right direction and likely will for as long as he's the coach.
Unfortunately for the Wildcats, they ended their previous season on April 24 — a first-round exit of a 16-team playoff — and will be short on rest coming into the season. Regardless, Utah shouldn't have a difficult time getting past the team up north. In the last meeting (Aug. 30, 2018) between these two programs, Utah came away with a 41-10 win; it should be another blowout to kickoff the season.
At least a starting quarterback will be defined and get some game reps, and likely his backup, too. Oh, and fans will be able to soak up a fully-expanded Rice-Eccles Stadium for the first time.
Result: Utah win (1-0)
at BYU, Sept. 11
Opponent's previous game: vs. Arizona, Sept. 4
Utah returns to LaVell Edwards Stadium in hopes of its 10th straight win over the rival Cougars — neither team has ever won more than nine straight. But BYU will be in a bit of a rebuild off its 11-1 season and after several players left to pursue an NFL dream. Still, this game presents a unique challenge that can never be understated.
On paper, this should be Utah's game to win without too much trouble; in fact, SP+ gives Utah a 71% chance of winning this game. The Cougars have a strong receiving corps and a running back in Tyler Allgeier that's getting some national attention, but Utah's projected to once again have a strong defense — 10th in SP+ — and could smother BYU's attempts for an upset. Oh, and Utah's really familiar with BYU's new offensive coordinator, too.
But this will be Utah's first real test with a new quarterback — on the road in a hostile environment. Anything is possible here, but this should be Utah's for the taking in the end.
Result: Utah win (2-0)
Looking at Utah's first half of the schedule, which includes USC and ASU, where do the Utes finish?

— Josh Furlong (@JFurKSL) July 13, 2021
at San Diego State, Sept. 18
Opponent's previous game: at Arizona, Sept. 11
The last time Utah had two road games in its nonconference schedule was its first year in the Pac-12 (2011) when it played BYU and Pittsburgh on the road — both wins. This time, Utah is reliving its Mountain West Conference days as it goes from BYU to San Diego State (actually outside Los Angeles due to a stadium rebuild for the Aztecs), and the result should be like many before it.
The Aztecs are coming off a 4-4 season and have a good defense to keep Utah in check, but are a little exposed in the secondary. If Utah's found a solid quarterback that can connect with its receivers, the Utes will extend its win streak over San Diego State to six straight (last meeting was in 2010).
Offensively, the Aztecs have some pieces, but quarterback play is spotty. Utah's defense should have no problem here stopping whatever the Aztecs want to do. Barring an upset, Utah should be undefeated at this point in the season and at least the early stages of a season's identity will be known going into conference play.
Result: Utah win (3-0)
vs. Washington State, Sept. 25
Opponent's previous game: vs. USC, Sept. 18
Washington State, the last game of a rare 2020 season where Drew Lisk became the hero in an unusual come-from-behind win. It just so happened to be the last time dynamic freshman running back Ty Jordan played for the Utes before his tragic death a couple weeks later. All of that will still be close to the surface, no doubt, especially in this game.
The Cougars have eight players on the offensive side returning this season, and they've added a few more assets to continue to enhance an already good unit. Quarterback Jayden de Laura can do some damage with the ball (if he's named starter) and will make Utah work to stop an efficient offense that can put points on the board. And don't forget that Washington State features running back Max Borghi, who was out much of last season due to injury.
The real test here will be Utah's offense against Washington State's less-than-stellar defense, most notably in the passing game. The Cougars have been near the bottom of Division I football the last couple of years in this category. While crazier things have happened, there's no real chance of them suddenly becoming efficient in passing defense.
If Washington State can't stop USC's version of the Air Raid the week prior — they likely won't — Utah has a blueprint (to some extent) on how to beat the Cougars. Utah won't suddenly become a pass-heavy team, but it's there for the taking with USC seemingly providing a good formula to beat Washington State.
Result: Utah win (4-0)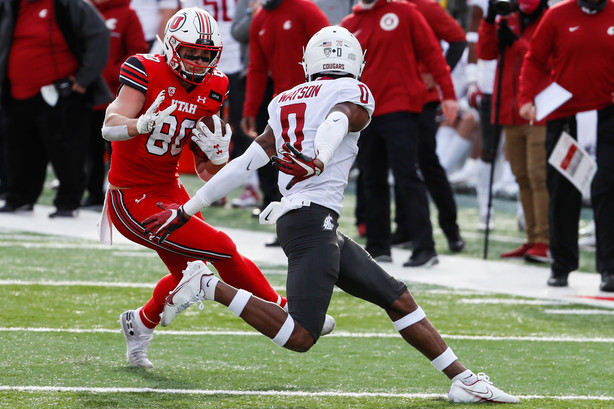 Bye Week, Oct. 2
If ever a bye week came at the perfect time for Utah, this is nearly it. Sure, the only other better position would have been between USC and Arizona State, but it's negligible, in my opinion. Utah gets a good test against Washington State the week before and now has a good idea of what it has — for better or worse. And if there are injuries, this is a great time to heal up before a vital road contest against a South Division foe.
Two weeks won't suddenly help the Utes figure out how to beat USC in the Coliseum, but it doesn't hurt either. Plus, USC will have already played four conference games — Stanford, Washington State, Oregon State and Colorado — so there's going to be good tape out there on the Trojans. All four games are projected wins for the Trojans, by the way.
at USC, Oct. 9
Opponent's previous game: at Colorado, Oct. 2
Although only the second conference game of the season for Utah, it could have significant South Division title ramifications at the end of the season. It's what has made this matchup so fun since Utah joined the conference a decade ago. Some Utah fans will call it a new rivalry — it has those makings at least in a division title race.
On paper, USC should be favored going into this game. It's a home game — Utah can't seem to ever win in the Coliseum — and talent continues to flock to the LA school. Add an Air Raid offense that has given Utah fits over the years and it's a bad combination for the Utes to escape with a win. Still, Utah finds a way to be mostly competitive in this series and has had several opportunities to get a win on the road.
SP+ calls this game a "relative toss-up" but one that the Trojans are projected to win (60% chance). That number will likely shrink as the game draws closer (assuming that both teams win the games they're supposed to leading up to this matchup), but it will still be a tough draw for the Utes.
USC quarterback Kedon Slovis has shown the makings for a great season, but he's also struggled under pressure at times. Utah's best bet is to dial up some pressure and make him think quick on his toes. Still, until Utah can actually get the monkey off their back, this is scheduled in as a loss for me.
Result: USC win (4-1)
vs. Arizona State, Oct. 16
Opponent's previous game: vs. Stanford, Oct. 8
Assuming the NCAA hasn't done anything to punish Arizona State for its alleged recruiting violations during the pandemic (among others), this will be another vital game for Utah to win to stay in the South Division title race. Utah will be looking to bounce back from a loss the week prior to USC and will be at home to stop an opponent that has no love for the Utes in an often hostile matchup.
The two teams didn't play in 2020 due to COVID-19, but in 2019 Utah got the upper hand in a 21-3 win. The Utes held then freshman-quarterback Jayden Daniels to only 25 yards on 4-of-18 passing in a high-pressure night for the new talent. This time around, Daniels is expected to be a more veteran signal-caller with a bevy of receivers around him to move the chains. Add to that the team's high-powered run game and it's a strong offensive attack.
Still, Utah regularly features one of the best run defenses in the country, and 2021 won't be any different with a front seven that should be dialed in now six games into the season. For the Sun Devils, its run defense was subpar in 2020, but what can you learn in four games?
This game is another one of those "relative toss-up" games by SP+, with Utah holding a 55% win projection. If Utah does in fact lose to USC the week before, this feels like a win; but if Utah manages to upset the Trojans, this has the potential to be a loss. So pick your poison: beat the Trojans on the road or lose to the Sun Devils at home.
I'll give Utah the edge because they're at home and Rice-Eccles Stadium will be bringing the noise. Call it a coin flip at this point.
Result: Utah win (5-1)
Agree with my predictions for the season? What do you see happening? Share your predictions in the comment section.
×