SALT LAKE CITY — Earlier this week, I released my first half of the season's predictions for Utah.
The season is broken up well for the Utes to have a good balance of tough games mixed in with some "easier" games. As such, I predicted a 5-1 start to the season, barring injuries or major setbacks; but even a 4-2 season at this point in the season would be considered a success, and both outcomes are absolutely likely.
The remaining six games of the season will go a long way in showing what type of team Utah is this year. No, it's not because of the old November curse. This is where Utah has to overcome adversity — injuries, inefficiencies and simply being tired and beat up — to show whether it can compete at a high level consistently.
Utah improved in every game of a five-game season last year, but that will likely be harder to do this year. Still, there's opportunities for the taking in the final six games of the season. Utah's ceiling, in my estimation, is 11 wins — not very likely and very difficult to accomplish. In reality, Utah is most likely a nine- to 10-win team, with eight being a bit of a disappointment to what is expected to be a promising year.
at Oregon State, Oct. 23
Opponent's previous game: Bye
Coming off back-to-back games against vital South Division opponents, Utah has to travel to Corvallis, Oregon, in what can only be viewed as the ultimate trap game. Conversely, the Beavers will be coming off a bye week after a fairly difficult first half to its season — three of the six are projected losses and the fourth is a toss-up game with only a 37% of winning, according to ESPN's SP+.
Still, under John Smith, the Beavers have been a high-powered offense that features tempo and playmakers to put the hurt on opponents. The quarterback situation is still a bit unknown, but there's enough talent to make Utah work for a win.
Defensively, the Beavers don't quite have it figured out yet. The run defense significantly lacked in 2020 (110th) but was only marginally better in a full 2019 season (79th). The Beavers' pass defense was better last year (55th), but terrible in 2019 (117th). It's likely that Oregon State will improve, but by how much?
If Utah is expected to contend for a South Division title and be a team worth what many are projecting them to be, it can't have an upset on the road in Corvallis. Although it has the makings for a trap game, Utah should get past the Beavers fairly easily.
Result: Utah (6-1) — Bowl eligible
On Tuesday, 51% of responses to my poll said @Utah_Football would finish 5-1 in the first half of the season. How does Utah finish the last half assuming that's true?

— Josh Furlong (@JFurKSL) July 15, 2021
vs. UCLA, Oct. 30
Opponent's previous game: vs. Oregon, Oct. 23
Coming off a game against Oregon will be no small feat for UCLA, but this Bruins team is starting to look more like a Chip Kelly offense, especially with quarterback Dorian Thompson-Robinson leading the charge. It features some tempo and an offense that can put points on the board quickly, which will be a good test for the Utes at home against the LA school.
This matchup is the third of four toss-up games for the Utes, but the one with the best odds (60%) for a Utah win. Depending on how Utah responds on the road against Oregon State, I could see this being more of a test than some may expect. The Bruins have some momentum, have made some good offseason additions and are trending in the right direction.
But like most of Utah's opponents this season, the defense will be the biggest question mark going into the game. The Bruins bring back nearly everybody on defense, but they allowed opponents to score 30.7 points last season (73rd) and 34.8 points the year before (116th). There won't be some overnight revelation that suddenly makes the defense better, but they could be good enough to still be in contention for the South title and it starts on defense.
If Utah's offense is clicking at this point of the season, UCLA should be a good test but not an insurmountable one. UCLA isn't going to just roll over and let Utah claim a home win, either. Preseason me says this could be a close game, but Utah gets the home help to claim the win.
Result: Utah win (7-1)
at Stanford, Nov. 5
Opponent's previous game: vs. Washington, Oct. 30
This is not the Stanford of the early Pac-12 days where the defense stifled opponents and the team was consistently ranked high in the Top 25. The offense also lacks the fire power of a star running back of years past and will be forced to transition to a new quarterback. That's not to say the offense will be bad, the team has shown progress and could be good enough to beat Utah.
But for Stanford to compete, it needs to be more solid on the defensive side of the ball, especially in the run game where it was bullied last season. The Cardinal ranked 112th in rush defense in 2020 and 58th in 2019; but on the flip side, Stanford significantly improved in its pass defense last season (44th) from 2019 (121st).
There's talent there for the Cardinal, but likely not enough yet to compete again at a high level, especially with its schedule. The Cardinal have the eighth toughest schedule in the country, according to Phil Steele, and will have already played five projected Top 25 teams in SP+ when it takes on Utah. SP+, which ranks Utah 18th and makes it the sixth Top 25 opponent for Stanford, gives the Utes a 78% chance of going into Stanford and coming away with a win.
Result: Utah win (8-1)
at Arizona, Nov. 13
Opponent's previous game: vs. California, Nov. 6
As far as Pac-12 opponents go, Arizona should be the easiest matchup in conference play; in fact, SP+ gives Utah an 89% chance to win this game. Arizona has been going in the wrong direction for some time now and doesn't have the talent to compete regularly in the Pac-12 at this point. Recruiting has significantly dropped off and they don't have the depth as most other teams in the conference.
I believe Jedd Fisch can do better than his predecessors, but it's a tall task to turn Arizona into a contender anytime soon. With that being said, Arizona isn't devoid of talent — they have guys that can still play. But being the 10th game of the season where the Wildcats are considered underdogs in all but one, it could be a worn-down program by the time Utah gets to it.
But herein lies the trap. Utah can't expect to walk through this game and roll to a victory, especially on the road. As long as Utah takes care of its business, there shouldn't be much of a problem here. But overlooking Arizona to prepare for Oregon the week after could be a real threat. It's a game like this where Utah will put a stamp on its season — a true South contender or simply a good team.
Result: Utah win (9-1)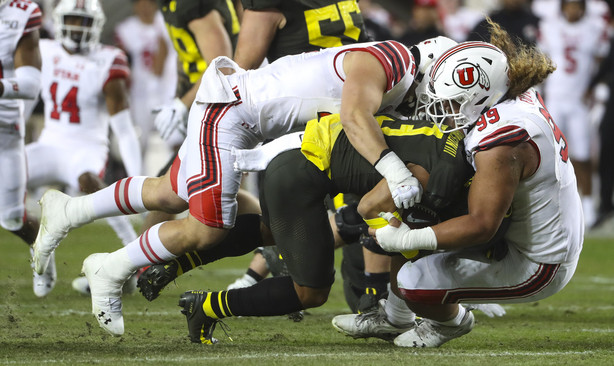 vs. Oregon, Nov. 20
Opponent's previous game: vs. Washington State, Nov. 13
Nothing is a guarantee in a Utah-Oregon matchup. The Ducks have recruited at an incredible level and have arguably the best talent in the conference, and it often shows on the field. But the Ducks aren't perfect, either, as the 2020 season showed. Yes, Oregon won the conference title last year, but Washington was the better team in the North.
Oregon has questions at quarterback and has a new defensive coordinator in Tim DeRuyter, who was previously at California in the same position. DeRuyter's defenses were either a Top 25 defense or were subpar — often back and forth each season. But he gets arguably the best talent on the field he's had, so the potential is at an all-time high for him to be successful.
Utah is projected to have the fifth-best offensive line in the country, according to Phil Steele, and it will certainly be tested by disruptor defensive end Kayvon Thibodeaux, who is projected to be picked in the top 5 of the NFL draft. If Utah can neutralize, at least to some degree, Thibodeaux, it could go a long way in competing with Oregon — but that's a big if.
This is a game where we'll know a lot about both teams when they play. This could either be lopsided for one team or it could be more competitive — I'm guessing it remains competitive, barring injury, and Oregon remains the better team. This is the final "relative toss-up" game for Utah, but SP+ gives Oregon a 59% chance to win this game.
Like any game this season, Utah has as good of a chance as any to be competitive here, but Oregon comes away with a win in my early estimation. But I wouldn't be surprised, either, if Utah pulls off the win at home.
Result: Oregon win (9-2)
vs. Colorado, Nov. 26
Opponent's previous game: vs. Washington, Nov. 20
Colorado is not Arizona, but it's not exactly expected to contend for a South Division title, either. But much like Utah's true rivalry with BYU, this matchup can often be bizarre and unpredictable. At this point in the season (if not earlier), Utah will know its chances of a division title. If everything plays out like above, Utah has a real shot at its third division title in four years — not bad.
Colorado will be coming off a tough meeting at home against Washington, which should be in contention for a North Division title. The schedule is not kind to the Buffs — they're favored in only three games (one is a toss-up game against Oregon State) and have to face six opponents projected in the top 25 of SP+ before facing a seventh in Utah.
Last year, when Utah was less experienced and had troubles on offense, the Utes rolled to a 38-21 victory against a previously undefeated Buffs team. Colorado returns a good amount of players (eight on both sides of the ball), but there's questions at quarterback and the offensive line — and to some degree its defense.
The Buffs feature running back Jarek Broussard and receiver Dimitri Stanley that could cause some problems, and add to that receiver La'Vontae Shenault — yes, the brother to former dynamic Buffs receiver Laviska Shenault who was drafted in the second round of the 2020 NFL draft. There's talent there if a quarterback can establish himself and the line can protect.
Result: Utah win (10-2)
Agree with my predictions for the season? What do you see happening? Share your predictions in the comment section.
×