HIGHLAND — In a Utah state amateur tournament known as much for comebacks and rallies as birdies and eagles, the final followed suit.
Eighteen holes haven't been enough to settle the championship match between University of Utah teammates for the second straight year, which is why the Utah Golf Association has moved toward a 36-hole final.
But not even 36 holes could separate Martin Leon and Blake Tomlinson, who was back in the championship match for the second straight season.
Nor could 37 or 38 holes.
On the 39th green, Leon finally broke through.
With his father by his side the whole way, the Chilean-born freshman held off a rally from his college team's No. 1 golfer to upset Tomlinson, 1 up in 39 holes Saturday afternoon at Alpine Country Club to clinch Leon's first U.S. tournament title of his career.
The 39-hole finale is the longest title match in the state amateur history, and the longest since 1938. Leon is believed to be the first international-born winner in Utah amateur history, and the first winner from Chile.
"I'm glad I just hit good shots at the right moment," said Leon, a former South American junior golf champion and pre-med major at Utah. "I'm happy for the win. I really respect Blake; when I got here, he really pushed me to work harder and I could have a chance for next year. Playing against him, I knew he was going to be the favorite today. He finished second last year, and it was kind of tough for him.
"If I didn't win today, I was going to be really happy for him. He deserves all of it."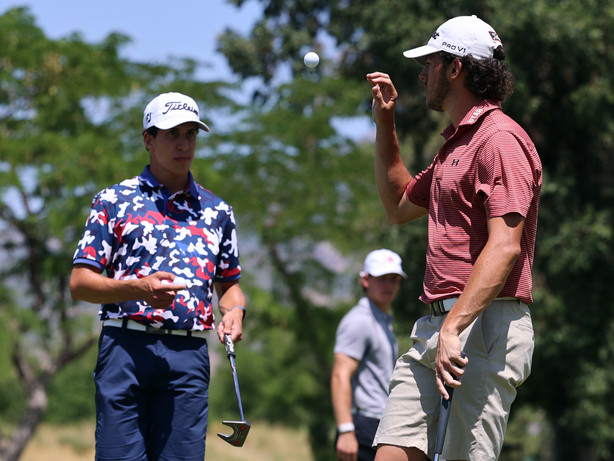 Tomlinson admitted the same thing; both competitive golfers wanted to win.
"It's one of the longest weeks of the summer for anyone who plays in this event," Tomlinson said. "Although I didn't win, I'm still happy that we had two Utes in the final match. I always want that."
It also bodes well for Utah coach Garrett Clegg's program next year, based on last year's precedent, when Tomlinson fell to former teammate Mitchell Schow, 3 and 2, in the state amateur final before leading the Utes to their first NCAA regional appearance since 1992.
"It was a lot of emotions; definitely taxing for sure," Tomlinson said. "But it was fun. It was fun for 39 holes."
After redshirting the 2020-21 season at the U., Leon's father Juan Pablo offered to visit him during the week of the state amateur. It would be the first time the elder Leon watched his son play competitive golf since December 2019.
With precedent behind him, he may have to find a way to visit stateside during the collegiate season, as well. Perhaps the best part about winning, the younger Leon joked, is that Juan Pablo didn't have to get a call from his son telling him he was a champion.
"I don't know; my dad is already here," the Utah golfer quipped when asked by a reporter who his first phone call will be. "In Chile, we still can't do much for COVID, and he decided to come visit me. I'm glad he was here today, and throughout the week to watch me play.
"They can come every summer, though; that would be sweet. It's way hotter here than in Chile right now, so I'd rather them come here then go down to Chile."
Leon went up with a birdie on No. 3, but neither golfer could pull away from his collegiate teammate as the two Utes moved swiftly through the morning's front nine. The redshirt freshman then took a 2 up lead with an unofficial 32 after nine of the 36-hole final.
Tomlinson pulled one back with a long drive and a tap-in birdie on No. 13. But the rising Utah senior from Skyline High found the bunker just off the 16th green, and fell down 2 midway through the final.
Leon pushed his lead to 3 up after driving the green on the par-3 10th hole the second time around and holding out from the fringe. But Tomlinson stuck close, and with both golfers having experience in extra sessions, no lead was safe.
Leon had to make a late birdie in his final round of stroke play Tuesday just to make a playoff for one of the final 11 spots in the 64-man match-play field. Tomlinson survived matches of 19 and 20 holes in earlier rounds.
Neither one had to go to a third playoff hole.
But when Tomlinson whittled Leon's lead down twice in the final five holes of regulation, the outcome seemed almost predetermined.
"I knew it was going to come down to the wire," Tomlinson said. "Martin has played great this week, and I've been playing well, too. We just played solid the whole day; we had a couple of bad holes, but that happens at the end of a long week.
"It's just a grind to get through — and to have three extra holes is even more. But congrats to Martin; he made it all the way."
123rd Utah State Amateur Championship
Alpine Country Club, Highland
Championship match
Martin Leon, Bonneville, d. Blake Tomlinson, The Country Club, 39 holes
×
Photos
Related Stories