HIGHLAND — Thousands of miles away from home, Martin Leon's run in the 123rd Utah State Amateur championship nearly ended when it had scarcely begun.
The University of Utah redshirt freshman from Santiago, Chile, was one of the last golfers to advance to the 64-man match-play bracket of the tournament, and he even had to battle a 16-man playoff for the final 11 spots just to earn a spot opposite second-seeded Elijah Turner.
But a funny thing happened to Martin since that moment. First, he beat Turner, the BYU sophomore who prepped at Lone Peak, 5 and 3 in his first match.
Then he kept winning — through playoffs and comeback bids, all the way up to the final, where he'll face Utah teammate Blake Tomlinson in a 36-hole, winner-take-all championship Saturday at 8 a.m. MT at Alpine Country Club.
It's believed to be the first time in Utah golf's modern era that two current Utes have met in the finals in back-to-back years.
"I knew my game was good enough to be here. I think I got kind of lucky in my first two matches, but then once I got to the round of 16, I knew I could make a great move," said Martin, moments after eliminating recent BYU graduate Spencer Dunaway, 6 and 5 in Friday's semifinals. "My game is feeling good, I felt confident, my putts were going in — and I'm very happy to play against Blake tomorrow. I'm kind of tired of playing against BYU players."
Leon started the day by going to a place he knows well — a playoff, or a 19th-hole tiebreaker against local amateur golf standout Dan Horner.
After surviving 19 holes, the native Chilean jumped out to an early lead on Dunaway, the reigning Hawaii amateur champion. Martin birdied the first hole, took two of the first three holes to go 2 up, and never looked back.
The 2017 South American Junior champion — one of just two in his country's history from Chile — shot an unofficial 4-under-par 32 on the front nine, and never let up. Dunaway won just one hole, with a par on the par-4 11th hole, but Leon finished off the match with a birdie on 12 and a calm even-par at No. 13 to advance to Saturday's final.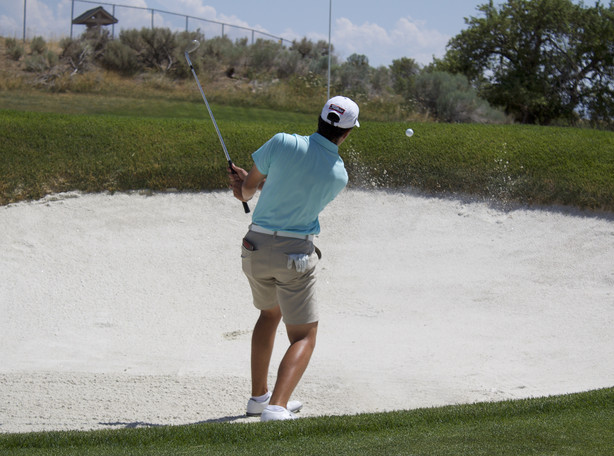 It's a far cry from surviving the early playoff to make the match-play field. But Leon knows a thing or two about surviving.
Forced to redshirt after the COVID-19 pandemic threw his practice schedule awry when he committed to Utah, Leon took a redshirt last year while focusing on his studies. The pre-med major claims he still struggles with English — he was more than proficient interviewing with a half-dozen local reports on No. 13 — but put together a near-4.0 freshman year on the Hill.
Leon remained in Utah during the summer, opting not to travel to Chile during the country's winter and with COVID-19 cases surging in the country. His father Juan Pablo was able to visit him this week, walking a few rounds with him at Alpine as he survived at least one match with a golfer from the Utes' archrivals every day.
It will be nice to not have to play a BYU golfer Saturday, Leon said with a cheeky grin. Better, though, will be facing his teammate and close friend in Tomlinson.
"I love playing with him," Leon said. "It's impressive how far he hits it. He's definitely the No. 1 on our team. It would be great to beat him, but I know he was close last year, and if he wins tomorrow, I will be super happy. He has been struggling a bit the last couple of tournaments, and if he wins tomorrow, I know it will mean more for him than me.
"I'm still going to try to beat him. But I just want to make sure tomorrow I play my best golf."
For Tomlinson, the feeling is mutual.
"He's been adjusting to life in the U.S., and he's finally starting to play well, to come out of his shell and be comfortable," Tomlinson said. "He's a great player, and I'm going to have to bring my A-game tomorrow."
The Skyline High graduate opened Friday with a 2 and 1 win over former Utah golfer Carl Jensen on Jensen's home course. He then followed up with a 5 and 4 victory over Weber State alum Luke Crapo, taking a 3 up lead at the turn and leading by as much as four twice before ending the match when Crapo got into trouble with a bogey on the par-5 14th hole.
It's the second consecutive year Tomlinson will play for the Utah amateur championship, after falling to former teammate Mitchell Schow in last year's final.
"I played good enough," Tomlinson said. "Luke didn't have his best today, but he's a solid player and competitor. I knew I'd be in the hunt, and I'm excited for tomorrow."
It will also likely be his last, as the Utah junior intends to turn pro after next season. A former Pac-12 All-Freshman golfer in 2017-18, Tomlinson has competed in 29 events over the past three years for the Utes, including six in the COVID-19 shortened season of 2020.
"This is more than likely my last year playing in this event," Tomlinson said. "It's been dwelling in my mind a little, just always been there. And I have one more opportunity to get the job done tomorrow."
Chilean-born @UtesGolf RS-freshman Martin Leon will play for the 123rd annual @UtahGolfAssn state amateur championship tomorrow against teammate Blake Tomlinson.

🏌️‍♂️ 8 a.m. MT
⛳️ Alpine Country Club
📊 https://t.co/fDlzyCgvrS#UtahGolf | #UtahStateAmpic.twitter.com/cksnFLAGz3

— KSL.com Sports (@KSLcomSports) July 16, 2021
---
123rd Utah State Amateur championship
Alpine Country Club, Highland
Quarterfinals
Luke Crapo, Ogden G&CC, d. Kelton Hirsch, Oakridge, 20 holes
Blake Tomlinson, The Country Club, d. Carl Jensen, Alpine, 2 and 1
Martin Leon, Bonneville, d. Dan Horner, Buck Club, 19 holes
Spencer Dunaway, Timpanogos, d. Brock Goyen, Fox Hollow, 2 up
Semifinals
Tomlinson d. Crapo, 5 and 4
Martin d. Dunaway, 6 and 5
×
Photos
Related Stories