HIGHLAND — Early Thursday morning, Brock Goyen looked to have very little chance of playing in the Utah state amateur quarterfinals Friday.
The BYU sophomore was down five with five holes to play after Utah State golfer Cameron Tucker dropped a birdie on the par-4 13th hole.
But match play golf does weird things.
Goyen rallied in short order, dropping five-straight birdies capped by his short putt on No. 18, then secured the Round of 32 win with a birdie on the 19th green Thursday at Alpine Country Club.
"It's one thing coming back from 1 or 2 up. But 5 down with five holes to play was pretty tough," Goyen said. "But I'm glad I got it done. It was a hard match, and huge respect to Cameron; he was a great competitor all day long. I'm glad I could pull through in the end."
After a birdie on the 19th hole, Goyen breathed a sigh of relief against the Bonneville High product who averaged 76.11 strokes as a junior last year.
"It's crazy, coming back from five down," Goyen said. "Words can't describe it; it's tough to do, and I don't know where to begin in telling you how I did it."
Despite the incredible comeback, Goyen still had another match to play. That's when he jumped out to an early lead to eliminate BYU teammate Max Brenchley, 4 and 3 in the Round of 16.
The sophomore from Gilbert, Arizona, took a 1-up lead with a birdie on the par-4 sixth, then collected birdies on Nos. 10, 13 and 15 to eliminate his teammate on the 15th green.
"I love Max; he's a great teammate, a great friend and a great competitor," Goyen said. "But I knew it was going to be a difficult day. I tried just playing my game, not doing anything too crazy — and I hit most fairways, which gave me an opportunity to hit at pins."
Goyen will face former BYU teammate Spencer Dunaway at 8 a.m. MT in Friday's quarterfinals after the Hawaii state amateur eliminated former SUU basketball player Ryan Brimley.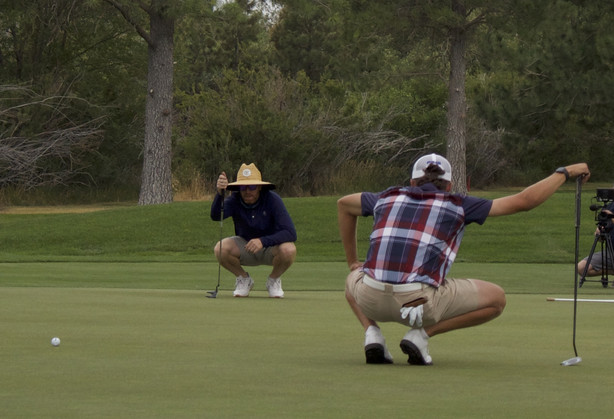 Goyen wasn't the only BYU golfer to have success in Thursday's 36-hole elimination station. Kelton Hirsch, who graduated from BYU this past spring and will turn pro ahead of August's Utah Open, dispatched incoming Southern Utah freshman Leo Torres, 3 and 2 to advance to Friday's quarterfinals.
Hirsch turned the match around forcing Torres into a three-foot putt for bogey on the par-4 No. 13, then used his knowledge of the course to put the match away and secure his bid Friday.
"They're not the easiest holes, and I knew if I could put a good drive in, I would be able to make birdie," Hirsch said. "I just knew if I kept it in play and hit my spots, I'd be fine."
It wasn't nearly as impressive as Goyen's feat, by Hirsch's own admission. But the recent BYU grad beamed when he learned of his former teammate's success.
"That's a lot of fun, to see him play well," Hirsch said. "It's also great momentum when you're playing match play, too."
The Viewpoint High product will face Weber State's Luke Crapo at 7:30 a.m. MT Friday. Utah golfer and reigning state amateur runner-up Blake Tomlinson will face Lehi resident and former Utah golfer Carl Jensen in the other quarterfinal of the tournament's upper bracket.
In the other bracket, former champion Dan Horner rallied from 1 down, dropping a 30-foot birdie on No. 18 to tie the match and down BYU sophomore David Timmins in 19 holes.
Horner advanced to face Utah's Martin Leon, the former South American junior champion who held off BYU's Keanu Akina, 1 up in the Round of 32.
Leon played the closest matches of the day that didn't go to extra holes, overturning a 1-down deficit on No. 10, going 1 up on No. 15 and holding off the former Pleasant Grove basketball standout in 18.
Friday's quarterfinals will include three players who played college golf at BYU, two who played at Utah, Crapo from Weber State, and Horner, a New Jersey transplant who has become a fixture on the local golf scene.
A year after deferring to the Utes with a pair of finalists and a standout tournament in Park City for the Pac-12 program, BYU has come roaring back in its home territory in Utah County.
"I think we had a little bit of a chip on our shoulder this year," said Hirsch, who will become a local teaching pro this summer. "Last year was all about Utah, the Utes killing it, two in the final; I think our guys came ready to play this year, and wanted to prove that we can compete."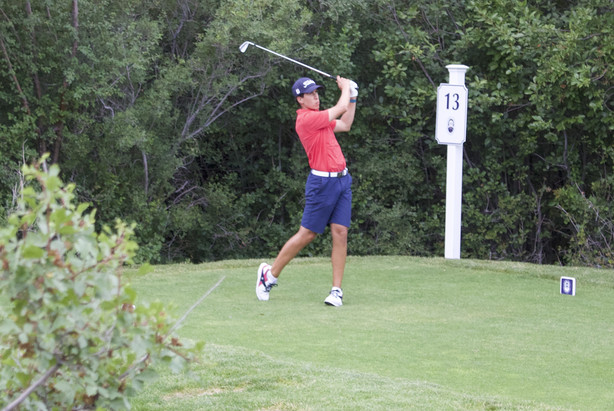 ---
123rd Utah State Amateur Championship
Round of 32
Bracket 1
Luke Crapo, Ogden G&CC, d. Colton Tanner, Park City GC, 3 and 1
Denny Job, Buck Club, d. Tyson Tanner, Riverband GC, 2 and 1
Kelton Hirsch, Oakridge, d. Justin Shluker, Park City, 3 and 1
Leo Torres, Cedar Ridge, d. Preston Cheney, Willow Creek, 3 and 2
Jake Godfrey, Talonscove, d. Cooper Jones, Youth on Course, 7 and 5
Carl Jensen, Alpine, d. Jack Sargent, Youth on Course, 2 and 1
Brock Nielson, Gladstan, d. Carter Frisbry,Youth on Course, 19 holes
Blake Tomlinson, The Country Club, d. Evan Lawrence, Alpine, 20 holes
Bracket 2
Martin Leon, Bonneville, d. Brendan Thomas, Bountiful Ridge, 4 and 3
Keanu Akina, Fox Hollow, d. Reed Nielsen, Valley View, 19 holes
Dan Horner, Buck Club, d. Jake Vincent, Cedar Ridge, 2 and 1
David Timmins, Willow Creek, d. John Owen, Mountain View, by concession
Spencer Dunaway, Timpanogos, d. Landon Herndon, Mick Riley GC, 3 and 2
Ryan Brimley, Bountiful Ridge, d. Darrin Overson, Timpanogos, 2 and 1
Brock Goyen, Fox Hollow, d. Cameron Tucker, Valley View, 19 holes
Max Brenchley, Alpine, d. Braxton Leetham, Fox Hollow, 5 and 3
Round of 16
Bracket 1
Luke Crapo, Ogden G&C, d. Denny Job, Buck Club, 6 and 4
Kelton Hirsch, Oakridge, d. Leo Torres, Cedar Ridge, 3 and 2
Carl Jensen, Alpine, d. Jake Godfrey, Talonscove, 1 up
Blake Tomlinson, The Country Club, d. Brock Nielson, Gladstan, 19 holes
Bracket 2
Dan Horner, Buck Club, d. David Timmins, Willow Creek, 19 holes
Martin Leon, Bonneville, d. Keanu Akina, Fox Hollow, 1 up
Spencer Dunaway, Timpanogos, d. Ryan Brimley, Bountiful Ridge, 4 and 2
Brock Goyen, Fox Hollow, d. Max Brenchley, Alpine, 4 and 3
Full results and Friday tee times available at uga.org
×
Photos
Related Stories