This archived news story is available only for your personal, non-commercial use. Information in the story may be outdated or superseded by additional information. Reading or replaying the story in its archived form does not constitute a republication of the story.
PARK CITY — If there was one person to which Utah senior golfer Mitchell Schow was going to give up the Utah State Amateur championship trophy, it could only be Blake Tomlinson, his Ute teammate and close friend.
Being that both are as competitive as two Division I golfers are, it would've been, for obvious reasons, the second-best outcome for Schow would've been a runner-up finish.
But there was always only one No. 1.
Schow went up as much as five holes on his college teammate, and held off a late rally to down Tomlinson, 3 and 2 Saturday afternoon to capture the 122nd Utah State Amateur title at Jeremy Ranch Golf and Country Club.
"You never want to have a losing mindset," Schow said. "But if I were to lose, I would've been proud of Blake."
Ditto for Tomlinson, who joked with Schow as the two sat side-by-side on the 16th green after clinching victory.
"Overall, it was a good thing," Tomlinson said. "When we were over our shots, we were absolutely serious and being pretty professional about it. But in between shots, him and I are the type of golfers where we can laugh a bit.
"It's fun out here, playing a great round and playing with my best buddy."
The duo have been nearly inseparable in their time at the U., and both also grew up on the local junior golf circuit, where Schow prepped at Park City and Tomlinson at Skyline.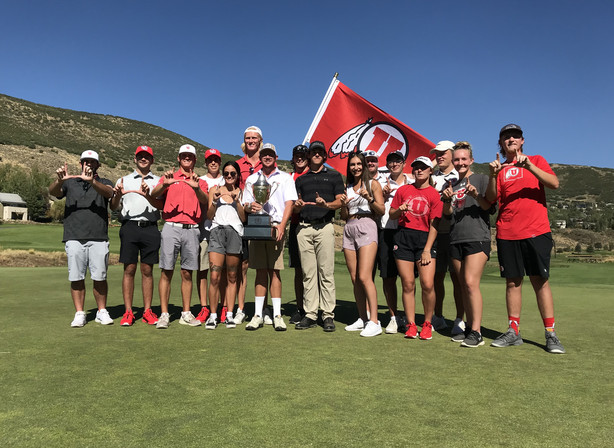 Schow, who will return to Utah for his second senior season next year, estimates the two have played more than 500 rounds together, making Saturday's final have the feel of a qualifying round at the U. Dozens of Utah fans and the duo's own teammates and coaches even crowded the gallery with crimson gear and a giant drum-and-feather flag, leaning further into the perception.
"It was kind of hard to give each other crap, and be in that competitive mindset everyone wants to be in. But I like to stay loose, and I don't take anything very serious. So it kind of helped me in that way," said Schow, who visited the Tahoe area with Tomlinson for a week during the summer, after the novel coronavirus pandemic had cut short the 2019-20 season. "We played a bunch of golf up there, and that was a family trip. It was awesome to have him up there."
With the win, Schow became the first active Ute golfer to win the state's amateur title since 1981. Either way, really, the two teammates were bound to make history for their college team in a tournament that has featured its fair share of BYU golf teammates and alums, or been dominated be a Summerhays, like 18-year-old Preston who did not return to defend his back-to-back titles to participate in an American Junior Golf Association event in Florida.
When the two held off a pair of semifinal opponents in extra holes — Schow over Utah Open low amateur Hayden Christensen in 21 holes, and Tomlinson over Jake Vincent of Cedar Ridge in 20 — they guaranteed a win for red in the state's premier amateur golf championship.
That left the door wide open for a new champion, and Schow — who led from the opening day and tied for medalist honors after stroke play.
Tomlinson didn't make it easy, though, taking advantage of the length of the course at Jeremy Ranch to keep it close.
"I've gotten into the gym, and have gotten some consistency going off the tee," he said. "It really helps, and it really helps when I can consistently hit the ball like that. I play to my strengths a lot, and so I do hit driver a lot, too."
Tomlinson used his length of close to 370 yards average off the tee to get an early advantage. But Schow won six holes on the second nine of the 36-hole final to turn a 1-down deficit into a 5-up advantage after 18.
"Getting 5-up with the last 18 to go really carried me off that," Schow said. "Blake was really tough out there; I knew I had to get birdies in order to win holes."
The Utah senior birdied the par-4 16th hole with a pin-perfect iron shot to go 4-up, then added No. 18 for good measure. Tomlinson pulled back consecutive holes with a birdie on the par-5 No. 3, and cut the deficit as low as 2-up with a birdie on No. 8.
But Schow recovered with a birdie on No. 10 then shot eagle on No. 13 to pull away for the 3 and 2 victory.
"Mitchell played really good," Tomlinson said. "He beat me today. All credit goes to him; I fought as hard as I could."
Next year's Utah State Amateur — the 123rd edition of the longest continuous running amateur golf tournament in the world — will be held at Alpine Country Club in Highland.
×
Photos
Related Links