Estimated read time: 4-5 minutes
This archived news story is available only for your personal, non-commercial use. Information in the story may be outdated or superseded by additional information. Reading or replaying the story in its archived form does not constitute a republication of the story.
SALT LAKE CITY — Young, educated and diverse, newcomers are helping to change the face of Utah as they roll in largely from other western states.
About 133,000 people — equivalent to more than half of Salt Lake City's population — moved to the Beehive State from 2014 to 2018, according to a new report from the University of Utah's Kem C. Gardner Policy Institute.
California contributed the most new faces, at roughly 18,000 — or 16.6% — the most of any state, followed by Texas at 7.2%; Idaho at 6.6% and Washington state at 5.3%. But the Golden State also received more people from Utah in the same period than anywhere else.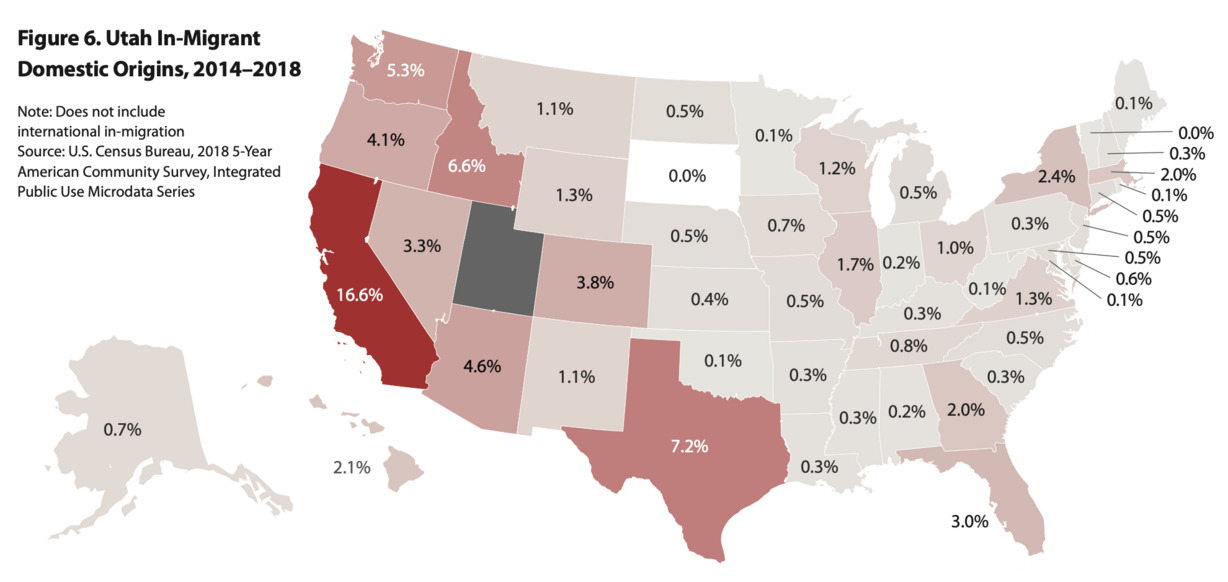 Demographer Emily Harris said her findings help to answer questions about migration that have popped up in recent years as newcomers fuel more of the state's growth.
"We know that Utah is growing. We can feel it on the roads, we can feel it on the trails," Harris said. "But who are these people and what is that impact on Utah, besides just more people?"
In analyzing census data, Harris found that those who moved here in the five-year period tend to be younger than those already here, with a median age of 25. They were also more diverse and more likely to have a bachelor's degree.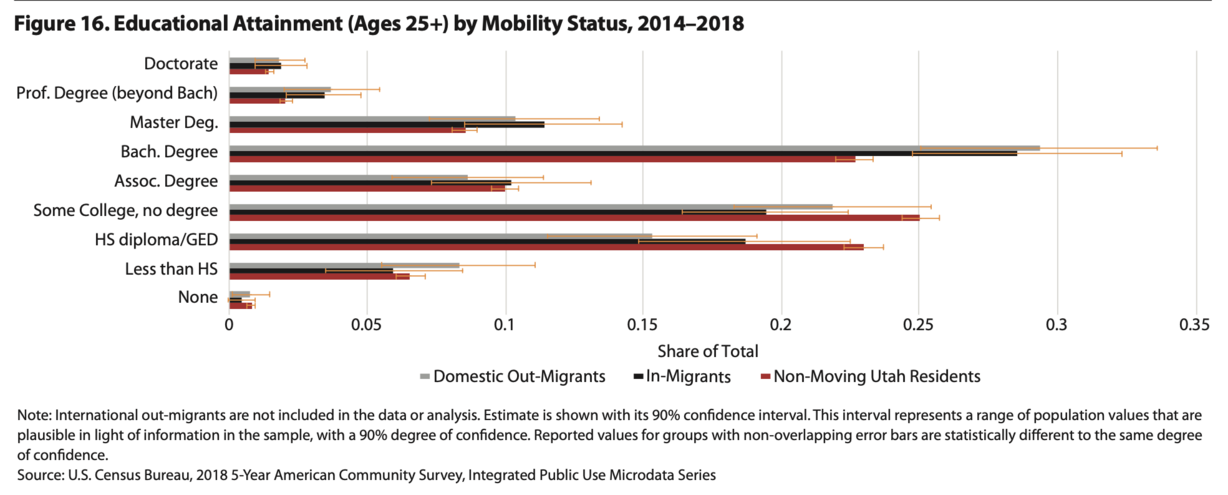 Many end up putting down roots and raising children in their own traditions, leading to cumulative cultural change over time, Harris noted.
They include 42-year-old Vinay Cardwell, originally from Vancouver, Canada, who attended the University of Utah, found work in the state's growing tech sector and started a family in the Beehive State. His son and daughter are now ages 5 and 8.
Cardwell, president of Young Professionals Salt Lake City, says he wants job seekers to know they can still feel at home in Utah if they've never been to the state and are not members of The Church of Jesus Christ of Latter-day Saints.
The word is getting out, he said, as more newcomers arrive for jobs at tech startup companies and stay to ski, hike and take in mountain views.
"You go to New York and it's just a concrete jungle — or Chicago. But when you can get out into nature, it's like, wow. You just get this rejuvenation," he said. "That's probably one of the biggest things that people say when I ask them, 'What brought you out here?' It's skiing or the outdoors."
Related:
Like Cardwell, whose parents are from Fiji and New Zealand, many are of mixed heritage, he said.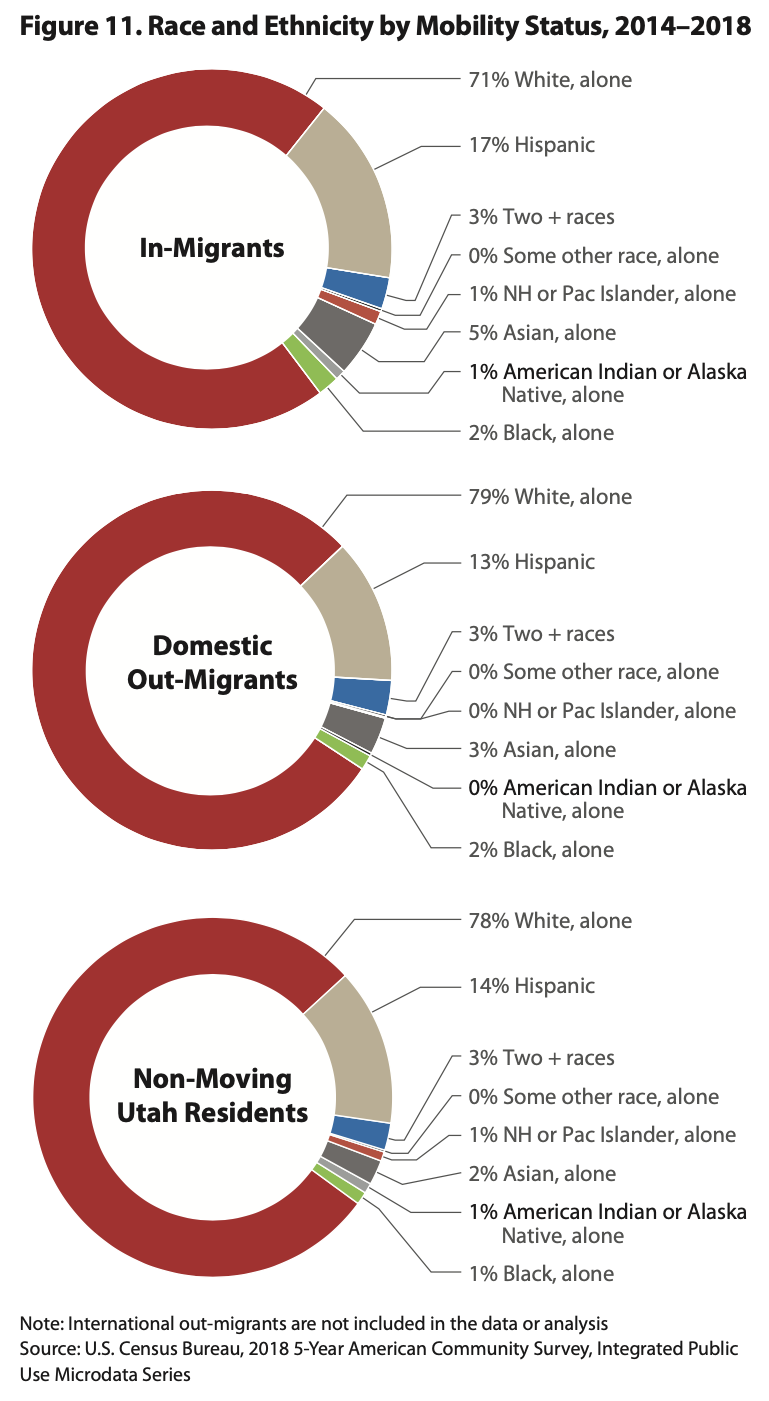 The data doesn't delve into who is staying for a little while before moving on, but Cardwell says many do so after getting a few years of work experience and taking advantage of the state's vast outdoor recreation opportunities.
The uptick in migration to the state following the Great Recession is tied to a strong economy and low unemployment, Harris said, and is playing a greater role in Utah's growth as families have fewer kids and wait longer to do so, she added.

In what may be a surprise for some, the Beehive State doesn't crack the top 10 destinations for Californians, Harris noted. Almost three times as many have moved to neighboring Nevada, for example.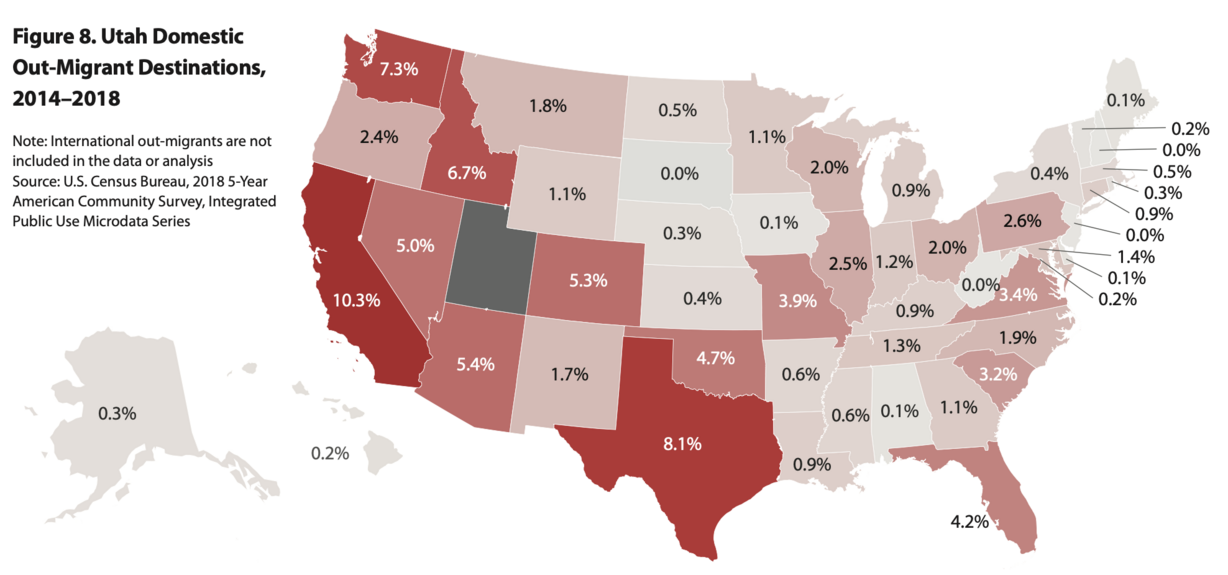 She found that fewer Utahns are leaving than coming — about 95,000 headed out in the same time period, although the data doesn't track how many more went abroad. Their median age was 27, compared to 31 for Utahns who stayed put during the same time frame. Those leaving also tend to have bachelor's and advanced degrees at higher rates.
The influx of newcomers, combined with Utah's housing crunch, stand to strain rental and homebuying markets and harm Utah's ability to draw out-of-state workers in the future, the report notes.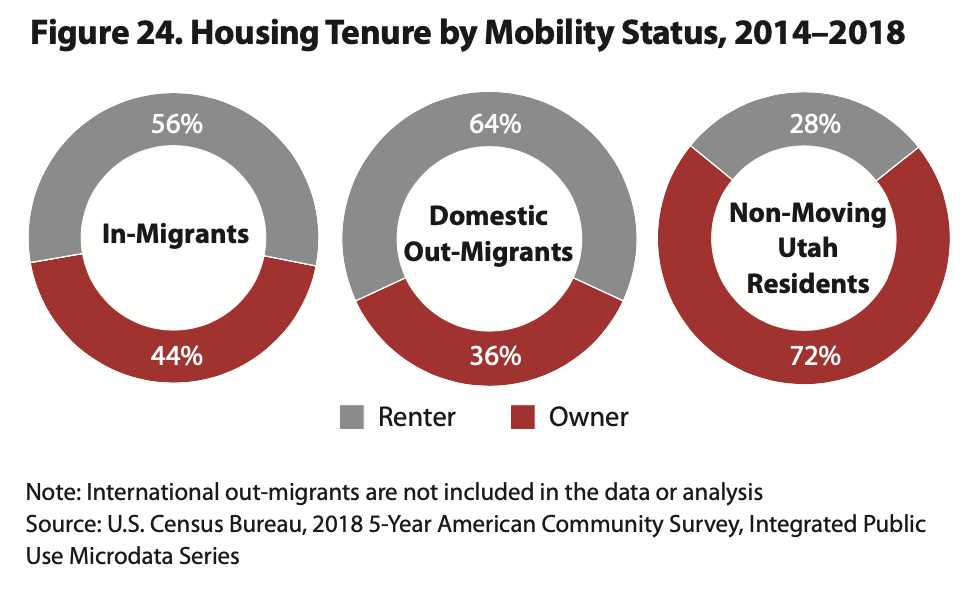 "When we have more migrants moving in than we have people leaving, that's an even larger hole we're digging ourselves into in terms of housing inventory for the people that want to live here," Harris said.
Not everyone coming to Utah is an out-of-towner. About 1 in 4 are native Utahns who moved away for a time and are now coming home.
They're like Steven O'Donnell, a 28-year-old father and real estate agent who lived in Albuquerque, San Diego and Las Vegas before returning to Utah in 2019. The timeline on his plan to move home sped up after his father fell sick with cancer, succumbing to the disease about a month before O'Donnell's infant daughter was born.
The girl babbled this week as O'Donnell recounted taking to the open road as a child with his father, a truck driver. He realized as a youngster that he preferred Utah's mountains and vast canyons to the landscape of any other state, he said.
"For my parents in Santaquin, there are three canyons within like 10 minutes," he said. "I think Utah's just a hidden gem."
×
Photos
Related stories
Most recent Utah stories