HERRIMAN — In some ways, Salt Lake native Danny Christensen wasn't supposed to be on the pitch Saturday night in the Utah Warriors' penultimate match of the 2021 regular season, a crucial game against Rugby ATL with playoff implications.
Coming off five consecutive victories, the Warriors needed a win over Atlanta — or at least a bonus point against the No. 1 team in the Eastern Conference, a team Utah had never beaten — to secure its spot in the four-team playoffs. With top-seeded LA Giltinis scheduled a week later in the season finale, anything less would be detrimental to Utah's playoff chances.
Christensen started the season as a third-string scrumhalf, a practice squad player who was cut by the Warriors twice before finally earning a spot on the pitch. But with regular starter Michael Baska away with the U.S. national team and backup Fraser Hurst gone on Canadian national team duty, the 5-foot-9 Olympus High grad was in the right position to earn his first start at home — and prove to be the difference between staying home and clinching Utah's first postseason bid since its inaugural season in 2018.
Christensen scored two tries, and Sama Malolo added two more as the Utah Warriors booked a critical bonus point in Saturday's 41-31 loss to Rugby ATL in front of a sold-out crowd at Zions Bank Stadium that guaranteed a playoff spot.
"One of the strengths that we've had all season is picking up bonus points, even when we don't play well enough to win," said Christensen, a two-time All-American at the University of Utah who works for a local software company. "Once again, the boys put it together and we figured out a way to get the points that we needed and to solidify a playoff spot. That's really exciting."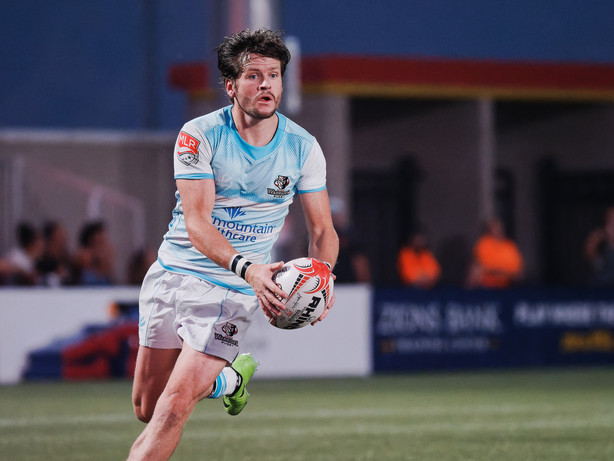 Playoffs clinched
Christensen scored the only try of the first half as the Warriors (9-6-0, 52 points) fell behind 17-7 at the break.
But a 10-point deficit against one of the two best teams in the 12-team Major League Rugby, and assistant coach Shaun Davies designed a plan to free up his backs — including Christensen — to exploit enough holes in Atlanta's stout defense to secure the points needed.
In MLR, points are secured for results — four points to the winning team, or two points per team for a draw — while two bonus points are available to losing teams each week for scoring four or more tries and losing by seven or fewer points.
The bonus point structure incentivizes teams to continue attacking, if when losing in an effort to grow the game on American shores. After all, one bonus point could be the difference in the playoffs and a regular-season defeat.
And it proved to be Saturday night, pushing the Warriors six points clear of third-place Austin and punching their ticket to the postseason.
"We were just a lot more intense in the second half when it came to our attack," said Davies, who helped lead BYU rugby to national championships in 2009 and 2012. "In the second half, we spoke about holding onto the ball, playing with intensity, concentrating on the details of kicking out and the boys came in and played much better with ball in hand.
"We know as a team that if we hold onto the ball and go through the phases then we will look really good."
So even when the Warriors fell behind 24-6 just two minutes into the second half, there was plenty still on the line. Sama Malolo scored two tries just 10 minutes apart for the second and third tries of the night for Utah, putting them on the verge of the four-try bonus point.
So when Warriors original Saia Uhila came off the bench in the 74th minute, picked up a loose ball off a maul inside the five-meter line, and barreled in for touch, Utah's packed house went crazy.
They were down — but they were also in. And the biggest celebration came as Christensen wrapped up the scoring in the final moments of the match, exhaustedly picking up the ball, faking a pass and dub-stepping in for the final try of the 41-31 finish.
The Warriors were one of the worst teams in Major League Rugby in 2019 and 2020, finishing no higher than seventh both seasons. Saturday's match capped a turnaround for third place, and guaranteed the club a top-four finish for the first time since 2018.
But it's hardly the most surprising part about the team. That honor deservedly belongs to the third-string scrumhalf who stepped up for his hometown club at a time when they needed him most.
"My brother-in-law set up the internet connection at my house recently, and he named it Rudy Ruettiger. I'm that guy who just won't quit," said Christensen, referencing the famed Notre Dame walk-on. "I'm 31 years old, and I'm just getting my first professional minutes. It's really, really lucky."
Survive and advance
Christensen could barely stand after scoring his second try — but his face told the world all it needed to know about the occasion. Emotion took over.
"I have so many people in my corner, and I'm so lucky to have the support I do," said Christensen, who was greeted by a small army of family, friends and former high school, college and club coaches after the match. "I'm just really lucky to be supported the way I've been supported. That's why I was so emotional.
"It wasn't just something for me. It was something that a lot of these guys who put a lot of effort and time into me got to see it pay off."
Christensen's professional career almost ended before it started. In many ways, it should have.
The 31-year-old scrumhalf initially played for the Utah Select 15s out of college, training and competing in the amateur league that was a precursor to the Warriors' Selects pathway program.
When Utah was granted one of seven franchises for Major League Rugby's inaugural season in 2018, Christensen went to the first combine — and was promptly cut. He returned to the club's combine a year later, and made the final stages of the tryout — before being cut again.
But the persistent Salt Lake native who served a two-year mission for The Church of Jesus Christ of Latter-day Saints in rugby-mad Fiji stuck around. He approached then-Warriors head coach Alf Daniels about practicing with the team, and paid his own way in becoming a third-string scrumhalf that helped prepare the team's starters each week.
He almost made it on the field in the COVID-19-truncated 2020 season, but a work assignment took him to Nashville the same weekend the injury-depleted Warriors were playing in Seattle, and Christensen never got the chance to play.
Still, he hung around — and it finally paid off this year, when national team callups depleted Utah's pool so much that interim head coach Shawn Pittman and Davies almost had to offer him a chance.
"I've just been sneaking my way onto the field here and there," Christensen said, "and as the boys got called up, I raised my hand, the boys backed me, and my coaches backed me."
Saturday night fulfilled a lifelong dream for Christensen, ever since the 100-pound eighth grader was getting beat up in his first practice with the storied Highland rugby club. That same 100-pounder went on to help Highland win a national championship his senior year, and Christensen — perhaps somewhat ironically, he says with a self-deprecating laugh — was named MVP of the national tournament.
The same former 100-pound eighth grader was equally surprised in 2014 and 2015, when — despite starring for the Utes' club rugby sevens and 15-man squads — he was named an All-American in both years.
And at 31 years old, Christensen is still surprising people — most notably, himself, as a professional rugby player in his hometown leading the club into the postseason.
"It's honestly something I never would've imagined as a little 100-pound eighth grader, getting the crap kicked out of me," he said. "But it's a journey that you couldn't make up, that you couldn't write. It's a dream come true."
×
Photos
Related Stories