Estimated read time: 4-5 minutes
This archived news story is available only for your personal, non-commercial use. Information in the story may be outdated or superseded by additional information. Reading or replaying the story in its archived form does not constitute a republication of the story.
LEHI — Utah Warriors coach Alf Daniels might have reasonably expected to see a couple dozen fans show up to the team's inaugural "Pies and Tries" fan fest in Lehi at noon on a Wednesday afternoon.
What he saw instead amazed him.
After nearly 400 people registered for the event online, more than 500 people emerged at noon in Lehi, lining up to take a crack at tackling one of the Warriors, or toss a rugby ball through pre-made targets, or just chow down on authentic New Zealand meat pies from local food truck The Meat Pie Wagon.
"We want to engage with our community away from the game," said Daniels, the first-year head coach from New Zealand who also has experience in Utah through the state's powerhouse Highland youth team. "It was also an opportunity for the community to come down and learn a little more about rugby. When you are sitting in the stands and you see a pass or a tackle, then you try to do it yourself, you appreciate a little more how it happens."
The players had several laughs after Wednesday morning's practice at what is called "Warrior Field," on the plot of land between several tech startups on the Silicon Slopes and the UTA FrontRunner platform.
And the fans got … well, maybe a little bit more than they expected when they hit a 50-pound tackling dummy that didn't always want to go down.
And whether or not the Warriors is one of four teams that can clinch a spot in the league's four-team postseason, the team can call this year a success.
"It's just fun to see the fans, to get the community around rugby and around the team together, to play some games and to win some prizes," Williams said. "We wanted to interact with our fans. They support us day in and day out, and rain or shine, we still see our supporters coming out," Utah flanker Lance Williams told KSL Sports. "We thought it would be pretty rough for people watching our games. But the state of Utah has been awesome, and we wanted to say thank you."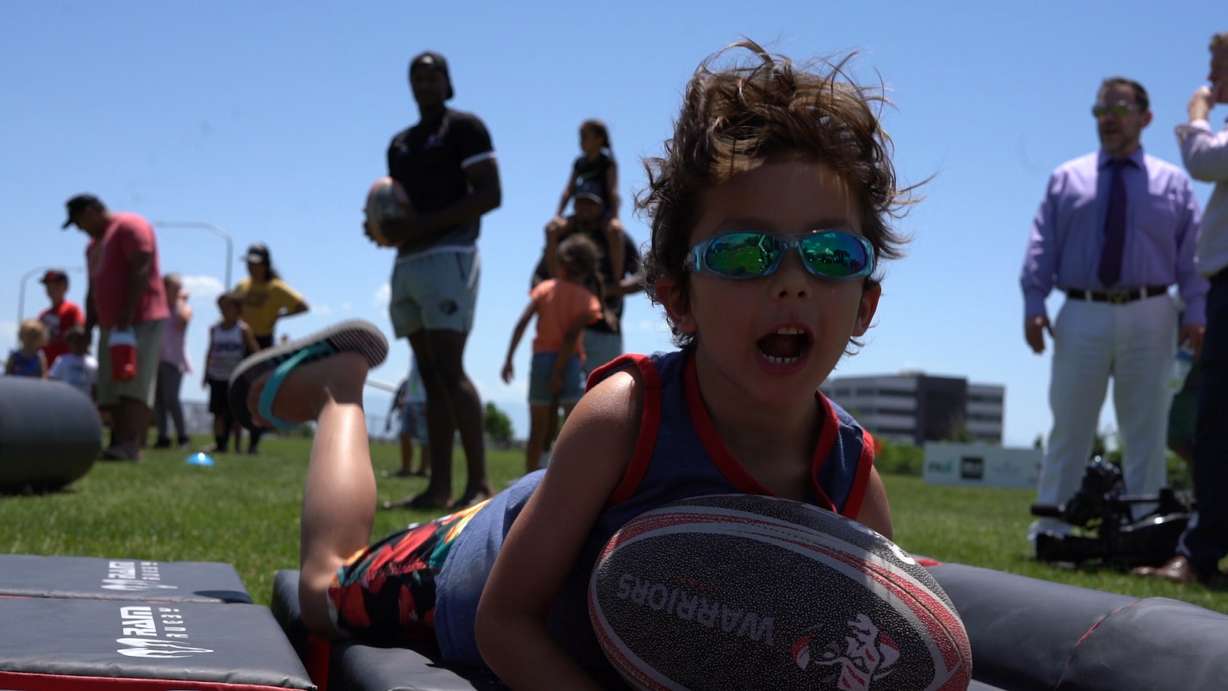 Wednesday's event was just one piece of the warm welcome the Utah Warriors, the state's professional rugby franchise that competes in Major League Rugby, has seen during its first season.
When Warriors prop Don Pati thought about what to expect for Major League Rugby's inaugural season, he tried not to get his hopes too high; building a sport is a marathon, not a sprint.
Yet he has been blown away.
"I didn't want to expect too much and be disappointed," Pati said. "But it was pleasing to see the community come out, and we love having them come out to the games."
The league plans to add New York City to the current seven-team league by 2019 — strongly implying that there will be a 2019 season — and wants to add a team in Washington, D.C., "no later" than 2020, according to The Guardian. CBS Sports Network has signed a multi-year television contract that will air at least one national TV game per week, and ESPN is contracted to show each game on its ESPN+ streaming platform.
For the Warriors, the season has been a challenge. They struggled to mesh as a first-year franchise early, but found their footing with some quality veteran signings like former BYU rugby All-American and NFL fullback Paul Lasike, as well as Tonga's all-time scoring leader Kurt Morath.
But they've also learned why they play rugby, thanks to a teaching tool by Daniels. Each player submitted a photo of "their why" for a team banner, and Daniels had them proudly displayed at every Warriors game, home and away, rain or shine, inside the stadium.
The banner become more of a tribute — to family, both living and departed; to parents, girlfriends, wives and children who motivate them to move forward; even to an old couch from college, reminding one player who wished not to be identified to keep playing "because otherwise, I'll be sleeping on my friend's couch."
"As coaches, sometimes we get caught up in the what and how of a sport," said Daniels as he motioned to the banner. "But a lot of the players' understanding is why they play.
"When we get to dark spots, what brings us back? What is our why? This is it."
It's worked. The Warriors (2-3) have won two of their last four matches during a three-match road spell, and home wins over New Orleans (June 16) and Houston (June 23) should lock up a postseason berth for the club to close out the regular season — even after last week's 41-33 loss to third-place Austin Elite.
Take care of business at home. That's all Utah is asking to do.
"The home advantage is always a good thing," Pati said. "We want everyone to come out and enjoy themselves, because it will help us."
×
Photos
Most recent Sports stories