SPRINGDALE — In light of recent weather events and given the state of drought in Utah, Zion National Park officials have released information in advance of what they anticipate to be a busy holiday weekend, during which visitors should expect vehicle and pedestrian congestion and high temperatures.
Due to recent flooding on Tuesday, which brought more than 1 1/2 inches of rain within an hour and caused damage in Springdale and the park, visitors should expect traffic delays and debris on roads as clean-up continues and damage is being assessed. According to a press release from park officials, the Watchman Trail is currently closed due to flood damage, but the oversized vehicle parking lot will reopen on Friday.
Park visitors are reminded to recreate responsibility and plan ahead. This includes knowing the local fire restrictions. Currently, no campfires are allowed in Zion National Park due to extreme fire conditions.
Additionally, those celebrating the holiday need to be aware that discharging or using any kind of fireworks or other pyrotechnic devices is prohibited at all times on all federal public lands, including Zion National Park. Firefighters are responding to increasing numbers of human caused wildfires across the region, and increasing fire danger is expected for the summer months.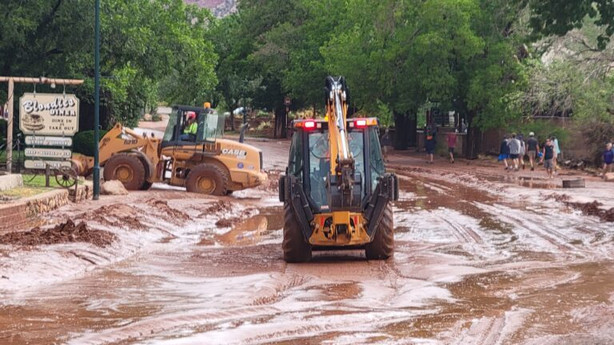 Visitors should expect crowded conditions and long lines. Parking typically fills very early, so visitors entering later should plan on parking in Springdale and walking or taking the free town shuttle to the park's pedestrian/bike entrance. Once parking is full, vehicle admittance into the park will be metered based upon availability.
The Zion Mount Carmel Highway may be closed to through traffic periodically when parking has filled in order to safely relieve congestion both east and west of the large tunnel and to restore traffic flow. Alternative routes include Utah Highway 59 /Arizona Highway 389, Utah Highway 14 and Utah Highway 20.
---
×
Related Stories