MURRAY — One man was taken into custody for questioning in connection with a fire at a Murray apartment complex that displaced 50 residents, according to Murray fire officials.
Police took the man into custody Thursday afternoon but a motive for the fire hasn't been determined yet, Murray Assistant Fire Chief Joey Mittelman said.
Firefighters estimated damages were near $500,000.
Murray firefighters responded to a two-alarm fire at the Stillwater Apartments, 5560 S. Vine Street, about 3 a.m. Some residents reported hearing a pop or small explosion before the fire started. Witnesses told investigators at the scene that they believe the fire may have been intentionally set, Mittelman said.
All residents are accounted for and none of them were injured, Murray Fire Chief Jon Harris said. One firefighter had a knee injury and was taken to St. Mark's Hospital.
I've been told by fire officials that someone has been taken into custody for questioning.

The Stillwater Apartments burst into flames overnight. It started in one apartment and spread to the whole building. Not firework related— per fire officials.

🎥: Kelsey Hansen @KSL5TVpic.twitter.com/iKqNP2dmdm

— Morgan Wolfe (@MorganWolfeKSL) July 1, 2021
About 50 firefighters from three agencies brought the fire under control. Harris said the origin was on the third floor in one unit, then spread across the roof. Most damage is to the roof and upper floor apartments.
Investigators don't know what the popping sound was, and the cause of the fire isn't yet known. It's not believed to be fireworks-related, Harris added. Murray fire investigators are working to determine the cause and have not yet deemed it to be arson. Arson dogs were brought to the scene, but Mittelman said he couldn't say whether the dogs hit on anything.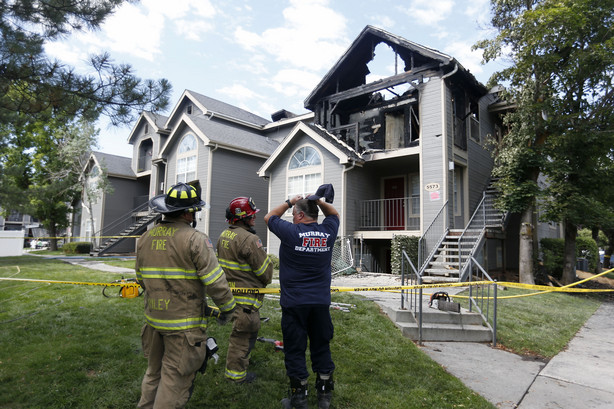 "I'm just so glad everyone made it out OK," Harris said.
The apartment complex managers and Red Cross were working together to assist the 50 displaced residents, according to fire officials. A limited amount of people were allowed to enter the building to determine the structure's stability, Mittleman said. Once the structure has been deemed safe, the building will begin to reopen to allow residents to assess the damage, he added.
"The smoke alarms weren't going off yet, so we are kind of concerned about that," said Jordan Watt, who was awakened by his dog after the fire started.
Watt's girlfriend made it out safely with their dogs, but they didn't imagine they'd never be able to return home again.
"Pretty stressed out because we got a baby on the way," Watt said. "And all of our baby stuff is gone."
Thursday's fire was the third major residential fire along the Wasatch Front this week.
Monday, a fire broke out at the Incline Terrace apartments in Salt Lake City. On Tuesday, a blaze in Ogden damaged several homes.
Harris said the three fires might be attributed to the recent heatwave and drought across the region, though the official causes of all three fires remain under investigation. Fire officials emphasized the importance of checking smoke alarms in case of a fire.
Contributing: Mary Richards, Morgan Wolfe, Sean Moody, Linda Williams
×
Photos