SOUTH BEND, Indiana — Society benefits from the accountability believers have to God and the good works they perform for others, so religions should work together to reduce polarization, faith leaders and scholars said Monday during the inaugural Notre Dame Law School Religious Liberty Summit in South Bend, Indiana.
The keynote address was delivered by Cardinal Timothy Dolan, the Catholic archbishop of New York, and was followed by a panel that included his good friend, Elder Quentin L. Cook of the Quorum of the Twelve Apostles of The Church of Jesus Christ of Latter-day Saints.
"My plea today is that all religions work together to defend faith and religious freedom in a manner that protects people of diverse faith as well as those of no faith," Elder Cook said. "Catholics, Evangelicals, Jews, Muslims, Latter-day Saints and other faiths must be part of a coalition of faiths that succor, act as a sanctuary and promulgate religious freedom across the world. We must not only protect our ability to profess our own religion, but also protect the right of each religion to administer its own doctrines and laws."
The pluralistic summit and the multifaith keynote panel embodied Elder Cook's plea. Cardinal Dolan referred to the event as "a family reunion, because I recognize and appreciate so many of you from our work in defense and advocacy of religious freedom."
The panelists have worked together for years, some for more than a decade. In addition to Cardinal Dolan and Elder Cook, speakers included Rabbi Meir Y. Soloveichik of New York City's Congregation Shearith Israel and Dr. Jacqueline Rivers, a Pentecostal who is executive director of the Seymour Institute for Black Church and Policy Studies.
The four have joined together multiple times to speak on behalf of religion in American life.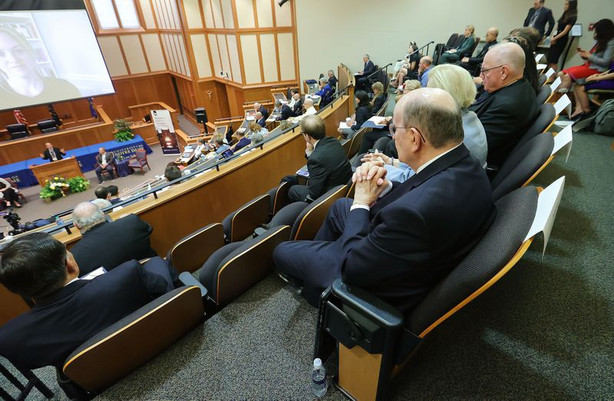 "Many in this room have been valiant in protecting the religiously inspired conduct of those who feel accountable to God," Elder Cook said. "You have been engaged in the 'fighting in the trenches' that has been going on in the United States for some time. You have tried to overcome the societal malady represented by being tone-deaf to the 'music of faith.'"
He expressed concern that American society is increasingly tone-deaf to that faith.
"I am deeply concerned that the profound blessings that flow from the religious impulse are often seen as antithetical to what is valued most in our society," he said.
He said that religious accountability benefits secular society and that religion inspires people to perform multitudes of good works that benefit others.
"My challenge to you today is that in our various capacities, we will need to tack against the prevailing winds of disbelief and division," Elder Cook said.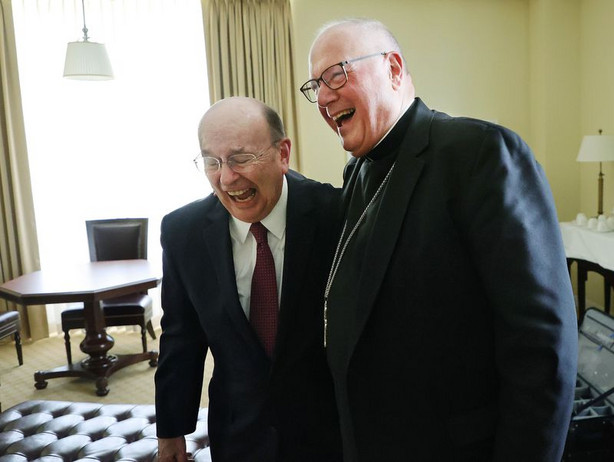 'Correcting the narrative'
Cardinal Dolan titled his remarks "Correcting the narrative," a reference to progressive views that religious liberty has become an excuse to discriminate.
"Religious liberty used to be a noncontroversial no-brainer," Cardinal Dolan said, "like mom, apple pie, the flag and Knute Rockne. ... Now some call it a buzzword for discrimination. Now here I stupidly thought that opposition to religious liberty was discrimination."
Instead, he said religious freedom historically is a progressive and reforming moderator of American life.
"Freedom of religion has been the driving force of almost every enlightening, unshackling, noble cause in American history," Cardinal Dolan said. "Thus, the defense of religious freedom is not some white, evangelical, Christian polemic or wild strategy of discredited religious leaders. It is the quintessential American cause."
The summit is intended to become international and influential. Next year, it will be held in Rome, followed by Jerusalem in 2023.
In addition to religious leaders, the event drew advocates, academics, religious liberty attorneys, journalists and jurists like Judge Thomas Griffith, retired member of the U.S. Court of Appeals for the D.C. Circuit.
The summit's other panels considered the issue of overcoming polarization in American society, international threats to religious liberty and the role of the media in covering religious liberty issues.
Justin Giboney of the AND Campaign, which seeks to organize Christians to engage in seeking more just policies and healthier political culture, said that Black churches in general have been late to religious liberty issues because religious freedom is not the most pressing issue they face. Rivers said many Black churches lack the resources to engage because they are busy responding to poverty, violence and political issues like voting rights.
"On the issue of religious freedom, we are the sleeping giant," she said.
Racial discrimination also has made some Black churches reluctant to engage.
"That's really a disadvantage to the movement for religious freedom," Rivers said, "because there's a level of moral authority that the Black church can bring to this fight that white evangelicals, with their association with discrimination in the south, with segregation, cannot bring. There's a level of moral authority. That's why we are the sleeping giant. If we can overcome some of these barriers and fully engage the Black church, we can do so much to advance the cause of religious freedom."
In an interview, she expressed optimism over the NAACP's relationship with The Church of Jesus Christ of Latter-day Saints, which is providing $9.25 million for scholarships, humanitarian aid and education resources to the NAACP and the United Negro College Fund.
Cardinal Dolan, Rabbi Soloveichik and Dr. Rivers each has been to Utah to speak as guests of Latter-day Saint leaders. Cardinal Dolan, who holds Catholicism's most prominent American post, spoke at America's Freedom Festival in 2019.
Cardinal Dolan and Rabbi Soloveichik spoke with Elder David A. Bednar of the Quorum of the Twelve Apostles at a marriage forum in New York in 2017. In 2016, Elder Jeffrey R. Holland helped honor Cardinal Dolan with the Visionary Leadership Award of the New York Latter-day Saint Professional Association.
Rabbi Soloveichik visited the BYU Jerusalem Center with Elders Cook and Holland in 2016 and on Monday called their friendship a profound fellowship. Elder Cook has visited the rabbi's synagogue four times. President M. Russell Ballard, acting president of the Quorum of the Twelve Apostles, visited Rabbi Soloveichik and his synagogue in November 2019.
Rivers and President Henry B. Eyring, second counselor in the First Presidency of The Church of Jesus Christ of Latter-day Saints, delivered talks at the Vatican conference on marriage in 2014. She also was in Philadelphia at the Catholic World Meeting of Families with Elder D. Todd Christofferson of the Quorum of the Twelve Apostles in 2015, then spoke at BYU in Provo, Utah, later that year.
Rivers also wrote an article for the current issue of Deseret Magazine on the Black church and religious freedom.
×
Related Stories