Estimated read time: 6-7 minutes
This archived news story is available only for your personal, non-commercial use. Information in the story may be outdated or superseded by additional information. Reading or replaying the story in its archived form does not constitute a republication of the story.
SALT LAKE CITY — The Olympics trials are nothing new to MyKayla Skinner, even if the pressure of competing for one of the coveted spots on Team USA is at an all-time high this weekend.
Skinner comes into the two-day weekend event as the oldest of 18 gymnasts competing for one of four spots on the team and one individual spot. But factor in that seven-time national champion Simone Biles is essentially a lock for Team USA and the number of spots only gets smaller. Still, Skinner isn't worried about the stress of the weekend's meet hanging over her experience at trials.
"If we weren't good enough we wouldn't be here, so I think it's just cool enough that we even got to come to Olympic trials and have this experience, so it's just something that you really need to enjoy," Skinner said. "I think for me it's just been — these Olympic trials have been a lot more fun.
"I just want to really enjoy it this time and not worry too much about other things."
But just making it to the Olympic trials isn't her end goal, and she's working as hard as ever to ensure she gives it her all to be considered for the team. In 2016, Skinner was named an alternate for Team USA, but this time around — her last time, in fact — she wants a piece of the action in Tokyo, Japan.
"There's no other feeling like being an alternate. It's just super hard being out there with the team and not being able to compete — it's kinda brutal in a way, but you want to be there for your team," Skinner said ahead of Friday's Day 1 session of trials (5:20 p.m. MT, NBC). "Really hoping I don't get put in that alternate position. But whatever happens, I think — making the team or the individual spot, or even the alternate — just to be able to be there, to be a part of Team USA, I think, will be super cool."
Skinner put a pause on her collegiate career after three decorated years at the University of Utah for a shot again at the Olympics — this time as one of the gymnasts competing and not as an alternate. But her path to trials hasn't been an easy one.
A global pandemic delayed her training and pushed the 2020 Olympics to a year later, and in December she contracted COVID-19 and pneumonia, which only made things more difficult for her training. But Skinner qualified for the trials and now hopes she can show other budding gymnasts that age doesn't define talent in a sport dominated by younger athletes.
"For me it's just been cool to be able to do gymnastics this long, and even going through all the trials I've been through and everything I've done, it's just so cool to even make it," Skinner said.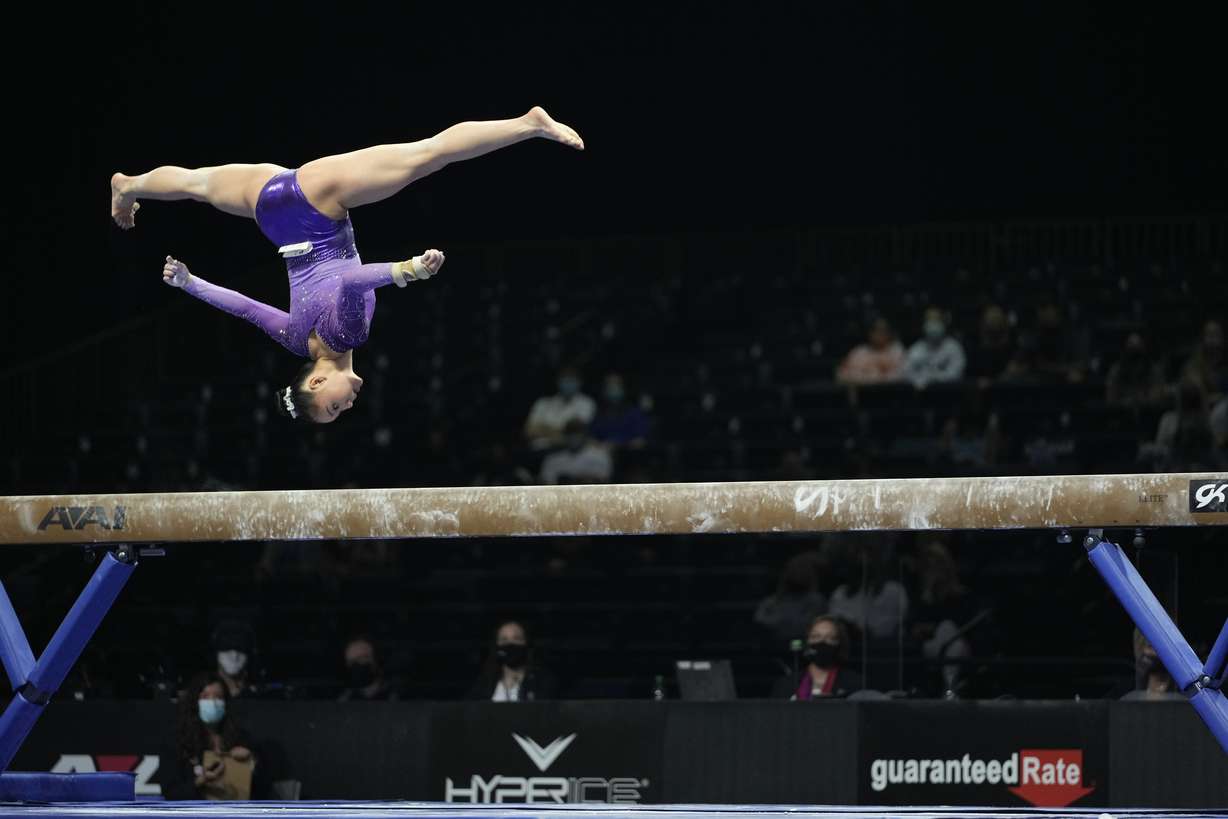 This time around, she's more experienced and has the maturity to be the "mom" or "grandma" figure, as she describes it, to some of the younger gymnasts — the youngest Olympic hopeful at trials this year is 15-year-old Zoe Miller. That maturity and the support of her husband, Jonas, and family have helped propel her to another Olympic opportunity.
"Even with COVID and having that down time for a year was really, really hard," she said. "I wanted to quit 24/7. I was ready to come back for a year, start my life, move on. And so I feel having my family and Jonas being able to support me has definitely helped me stay strong through all of this and make it to where I am today. I wouldn't be here without my coaches, my family, definitely that support from everybody."
Skinner is joined at trials by two future University of Utah gymnasts, Kara Eaker and Grace McCallum, who are expected to be with the program in fall, though their dreams of making the Olympic team are as real as Skinner's. And both have the resumes to challenge for a spot on Team USA, too.
The pair were a part of the world team championship in 2019, where Eaker advanced to the balance beam final. That same year, Eaker was a silver medalist on balance beam at the U.S. Championships, and McCallum was an all-around bronze medalist. In 2021, McCallum was a bronze medalist on balance beam.
At the U.S. Championships two-day event earlier this month, McCallum finished the all-around tied for seventh overall with a score of 109.550. She was trailed by Skinner, who finished in ninth with an all-around score of 109.500, and Eaker in 10th with a score of 109.050.
"I'm super excited to be here and it's an honor to be up with the best of the best," McCallum said. "The past two weeks, I've just gone back in the gym and worked really hard and work on my consistency and making fine little tweaks and everything to make my routines exactly how they need to be."
The experience so far, regardless of whether she makes the team, is chosen as an alternate or has to watch from afar, is something McCallum believes will be valuable as she soon transitions to the collegiate ranks.
"I think this has been such an amazing experience and it'll be great leading up to NCAA because there's so much pressure at these meets — like tons of people and big crowds," McCallum said. "So I think it will be an easier transition going into college gymnastics knowing that they have huge crowds and lots of fans."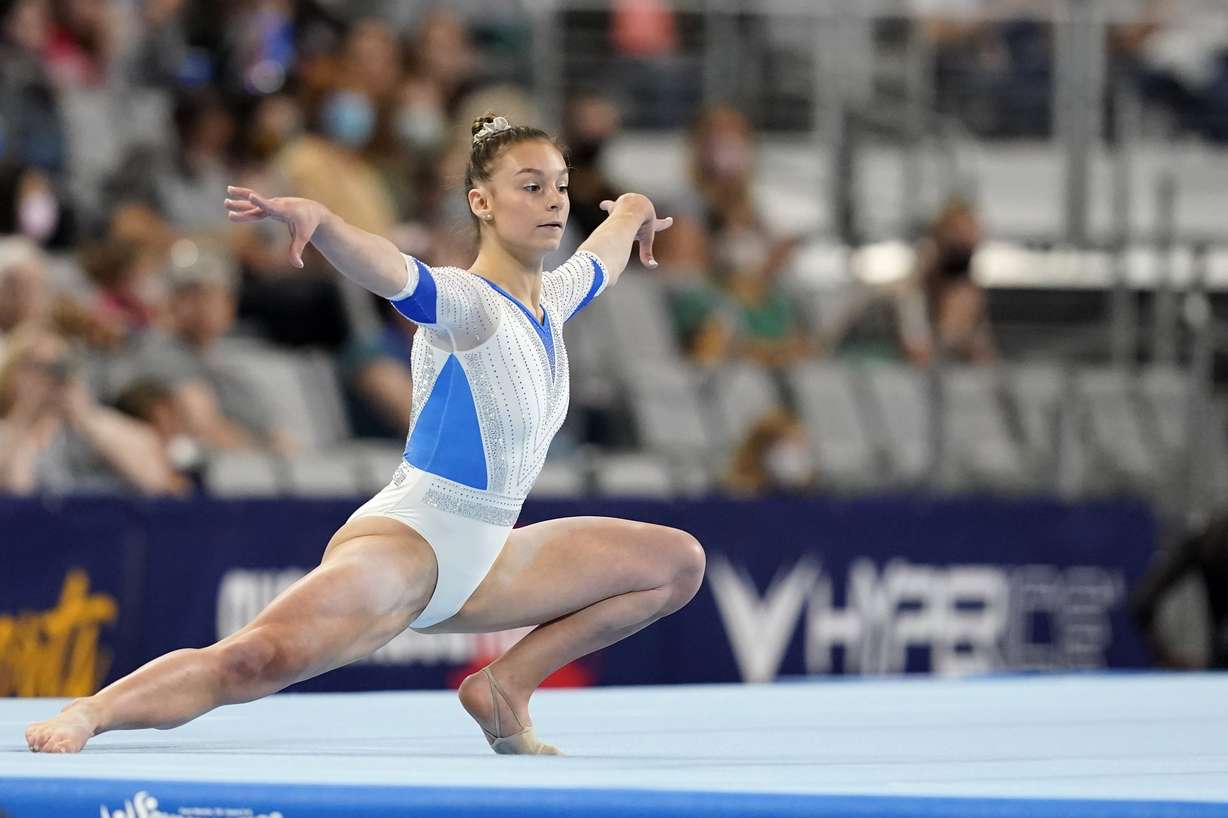 Utah head coach Tom Farden will be watching at the meet as he cheers on his gymnasts. He said it's a "fantastic accomplishment for the athletes" and that he's excited to see how well they do over the weekend event.
"They've just been so focused and driven on these goals of making the Olympic team — it's inspiring," Farden said. "Whether they make the Olympic team or don't make the Olympic team, just for them to put it all out there over these last several years and verbalize that the Olympics is my goal, that I want to be a part of that team, I mean, how does that not excite you in terms of somebody watching a human being with that kind of perseverance and that kind of determination.
On Sunday night, following the two-day event of the Olympic trials, the top two gymnasts in the all-around competition will automatically qualify for the Olympic team, with the other two members added by the women's selection committee that's made up team coordinator Tom Forster and other USA Gymnastics representatives.
"We're just tickled pink we have three of them in the running for the Olympics, let's be honest," Farden said.
×
Most recent Utah Utes stories