Estimated read time: 5-6 minutes
This archived news story is available only for your personal, non-commercial use. Information in the story may be outdated or superseded by additional information. Reading or replaying the story in its archived form does not constitute a republication of the story.
SANDY — Real Salt Lake didn't lack for chances, for attack, or for bite during Saturday evening's home match.
All they lacked was finishing.
But it was plenty to lack.
Justen Glad scored an early goal off a set piece, but the Houston Dynamo rallied to equalize in the second half and take a 1-1 draw out of Rio Tinto Stadium.
RSL (3-2-4, 13 points) outshot the Dynamo 21-6, but goalkeeper Mark Maric made seven saves for Houston (3-3-5, 14 points) to stay just ahead of Salt Lake in the Western Conference standings.
Even after striker Bobby Wood made his home debut with RSL in the 66th minute, the former U.S. international couldn't help but think about it before he got something off his chance. He was, in many ways, still seething about one moment.
So, too, were his teammates.
"I'm just kind of still pissed off right now. How we kind of conceded that goal it's disappointing," Wood said. "I think we just have to learn from it. There's no excuses. I think the team is very disappointed."
RSL goalkeeper David Ochoa made two saves in the draw, including a touch on Ariel Lassiter's try in the 86th minute to keep the match level.
Glad gave the hosts an early lead after a quick start, finishing off Albert Rusnak's corner kick in the 11th minute for a 1-0 advantage. The veteran center back threw himself into the box and gingerly turned aside Rusnak's cross toward the near post to put it past Houston's Maric.
The goal was perfect — from the setup, to Rusnak's assist from the corner flag, to Glad's finish, and everything in between. It was exactly the kind of start RSL needed as it returned home, looking to scrape away the sting of a 2-1 loss at Seattle on Wednesday.
And yet, Saturday's performance won't do that. In some ways, Saturday's draw may feel more disappointing. The Seattle Sounders are on top of the league with a historic start in the franchise's MLS history.
Houston is … well, not. No disrespect was shown to the Dynamo, but the club rallied from 2-0 down to take a 2-2 home draw Wednesday night against Portland and hasn't won in over a month, since May 22, against Vancouver.
"I think a lot of the emphasis is just on focus, and staying focused for 90 minutes," Glad said. "At this level, it just takes one mistake and one play for the other team to capitalize. We've been harping on that. Obviously, something's not going right at some moments during these games, and we're letting in soft goals. I'm sure we'll talk about it more."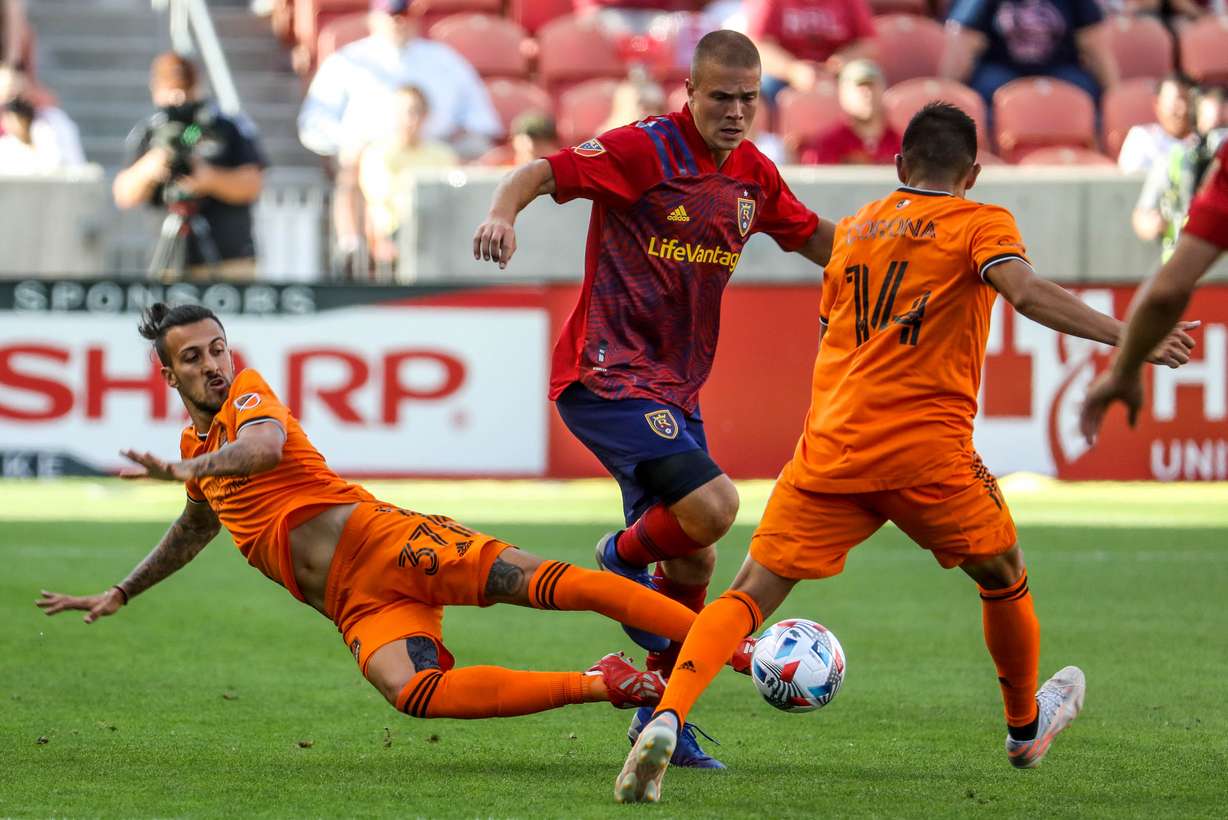 That one lapse — or at least, the first one —occurred in the 52nd minute.
Despite more than enough chances, RSL's goal did not stand up. Maxi Urruti scored seven minutes into the second half to draw level and help the Dynamo split the points.
"The team will grow," RSL coach Freddy Juarez said. "You're watching, and it's tough to go three games in a week and see this. But it's a tough league; Houston was winning 2-0 the other day, and got a tie. But we've got to learn how to kill the games.
"We definitely could've scored at least two goals. But there are still some goals that we cannot concede. I think some of the goals have been a little too innocent."
Still, perhaps the biggest disappointment in the RSL locker room was the feeling of "not again."
Rinse. Repeat.
RSL will no doubt be disappointed with the draw — the club's fourth in the last six matches, including three at home.
"Obviously, when it happens over and over again, it's going to be more and more frustrating," Glad said. "Everyone knows that it's one point sometimes that separates teams from making the playoffs or not. It just feels like we've been letting ourselves down, especially with home games.
"The fact that it's happened a couple of times now, it definitely stings more."
Credit also has to go to Maric, the 25-year-old goalkeeper from Vienna, Austria. But credit — or blame — also has to go to an RSL squad that was very good for several moments before — much like in past incidents against San Jose or Nashville or Minnesota, with just a stoppage-time win over Vancouver to break them up — simply turned off the switch in the wrong moment.
Real Salt Lake has a new sponsored element in 2021 called "flip the switch," referring to a play who can turn a game around for the better. But what happens when a "switch" is flipped the other direction?
You can still give plenty of credit to a fantastic goalkeeping effort — in this case, Maric, though Ochoa had his moments as well — while also coming away disappointed at another set of dropped points.
"I think it's the next phase of the team developing," Juarez said. "We should've been up 2-0, 3-0 at half. That said, their goalkeeper had a very good game. Credit to their goalie — but we've got to punish them. It's a credit to the guys the way we started the game, the way we finished."
Real Salt Lake returns to Rio Tinto Stadium next Saturday, July 3 to face LAFC. Kickoff is scheduled for 8 p.m. MT.
×
Photos
Related stories
Most recent Real Salt Lake stories