Estimated read time: 3-4 minutes
This archived news story is available only for your personal, non-commercial use. Information in the story may be outdated or superseded by additional information. Reading or replaying the story in its archived form does not constitute a republication of the story.
SALT LAKE CITY — The Utah Department of Health reported 462 new cases of COVID-19, one new death and 7,412 new vaccinations administered in Utah Thursday.
It also released a new dataset for the first time that shows the number of "breakthrough" cases, hospitalizations and deaths for those who aren't vaccinated account for a vast majority of recent trends. It also shows rate of new COVID-19 vaccinations is very slowly rising.
Utah's rolling seven-day average for new positive cases in the state is now at 324, which is a slight increase from 312 Wednesday. The number of new cases is still well below any of the previous increases experienced since March 2020.
The health department also reports that Utah's seven-day average for percent positivity for "people over people" tests is now 8.9% while its seven-day average for percent positivity for "tests over tests" is now 5.9%. The "people over people" rate was 5.8% and the "tests over tests" rate was 3.7% on Memorial Day and both began to slowly climb since then after months of case decline.
The health department reported that a Sanpete County man between the ages of 65 and 84 died from COVID-19. He was hospitalized at the time of his death. There are now 2,337 total COVID-19 deaths in Utah since March 2020.
One hundred and fifty-eight Utahns are currently hospitalized for COVID-19, department officials added. That's a slight decrease from 167 the day before.
Meanwhile, the department reports there are now 1,559,098 Utahns who have received at least one dose of the COVID-19 vaccine and 1,370,627 Utahns fully vaccinated.
About 60% of Utahns 12 or older have now received at least one dose of a COVID-19 vaccine while nearly 53% are fully vaccinated. It also means that about 48.6% of Utah's entire population has received at least one vaccine and 42.8% is considered fully vaccinated.
'Breakthrough' cases on the rise but not as fast as other cases
Also Thursday, the state health department released new data regarding the number of "breakthrough" COVID-19 cases in Utah. These are new cases even after someone is fully vaccinated, which is 14 days after receiving their final dose.
The state reports 1,331 breakthrough cases, 131 hospitalizations and three deaths since the start of the vaccination process in December. That breaks down to about 102 new cases per 100,000 people vaccinated or about 0.1% of Utahns who are fully vaccinated.
The data doesn't indicate the drug manufacturer in breakthrough cases, hospitalizations or death.
So how does it compare with unvaccinated Utahns?
On June 1, the seven-day case rate for vaccinated Utahns was 8.2 per 100,000, while the case rate for unvaccinated Utahns was 64.1 per 100,000.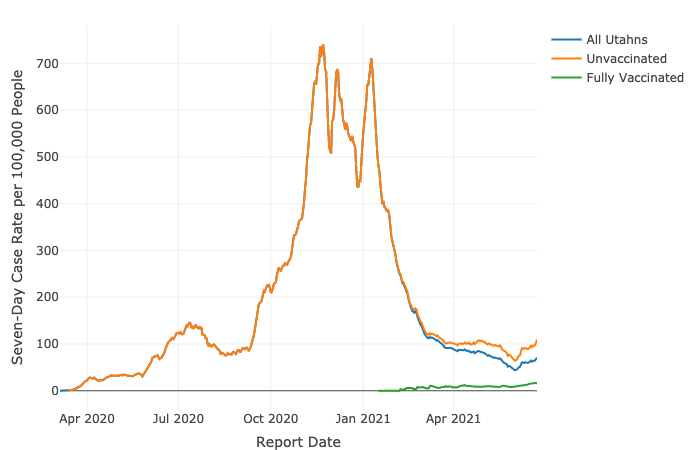 Another dataset shows the number of daily cases broken down between vaccinated and unvaccinated Utahns. So on June 1, unvaccinated Utahns accounted for 90% of new cases.
But as the total number of new Utah cases has slowly risen over the past few weeks, so have cases involving vaccinated and unvaccinated Utahns. The breakthrough cases just aren't rising as sharply as unvaccinated cases.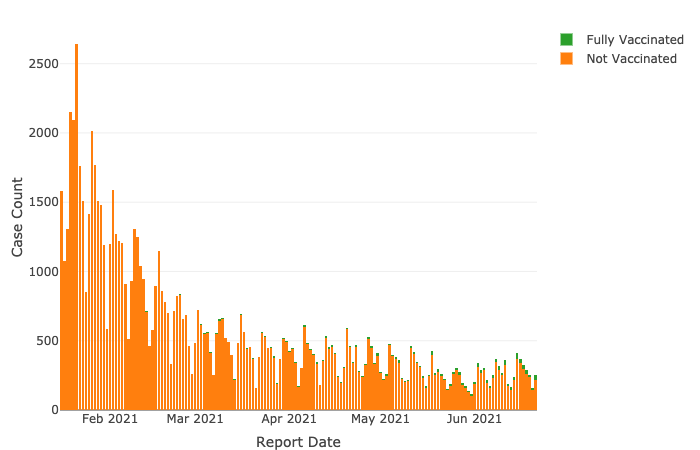 The case rate for vaccinated Utahns is now 14.9 per 100,000 compared to 109.2 per 100,000 for unvaccinated Utahns. About 85% of new COVID-19 cases on Monday involved unvaccinated Utahns. That was the most recent data regarding daily case counts by vaccination status.
"While no vaccines are 100% effective at preventing illness in vaccinated people, Utah data shows the vaccines have been remarkably effective in protecting vaccinated Utahns from COVID-19," the health department wrote in a statement Thursday. "The data also indicates the vast majority of new cases are in unvaccinated people which is driving the recent increase in COVID-19 cases."
Officials added that the state still hopes to get 70% of Utah adults vaccinated by July 4.
"The COVID-19 vaccine has never been more readily available or easier to get," the wrote. "We encourage anyone who hasn't been vaccinated yet to make plans now to get vaccinated. Visit coronavirus.utah.gov to find out where you can be vaccinated."
×
Most recent Utah stories