SALT LAKE CITY — Approximately 100 people marched in the streets of downtown Salt Lake City to commemorate Juneteenth's first year as a federally recognized holiday on Saturday.
"This event is to showcase, support, empower and unify the Black and brown community," said Natasha, a speaker at the event who declined to give her last name. "The point of this event is to celebrate each other and to love each other."
"I hope you meet new people here," Natasha told attendees before the march. "We are all about loving people and widening our community network. This is the 'Summer of Love,'" she said, referencing the name of the event.
Attendees walked a multiblock route that began and ended in Washington Square.
A truck led the procession, equipped with a stereo blaring popular music and the words of activists, who spoke into microphones during periodic stops at traffic lights. Some led chants, others performed poetry, and some shared personal victories and challenges.
Those in attendance danced in the streets, celebrated, and chanted "Freedom Day," "Emancipation Day" and "Black Lives Matter every day," as well as the names of George Floyd, Breonna Taylor, and Tamir Rice — all of whom were killed by police and have become symbols in protests against police brutality.
Passing cars frequently honked in support, and marchers cheered back, creating a cheerful cacophony between the two.
Free posters, water bottles, popsicles, donuts, Twinkies and cupcakes were all passed out during the march.
#Juneteenth march in downtown Salt Lake City pauses to dance pic.twitter.com/q7M1syrXfd

— Katie Workman (@KSL_Katie) June 19, 2021
Many attendees wore Black Lives Matter shirts or attire commemorating Black history. Marchers also carried posters and signs referencing the emancipation of slaves or need for further justice.
Others dressed in rainbow pride merchandise or the red, green and black of the Pan-African flag, which symbolizes the African diaspora and liberation of Black people in the United States.
Amid a week of record-breaking heat, the truck leading the march stood with organizers in its bed squirting water into the crowd — and passed multiple multicolored plastic water squirters to those in attendance. Volunteers also passed out water bottles and encouraged marchers to drink.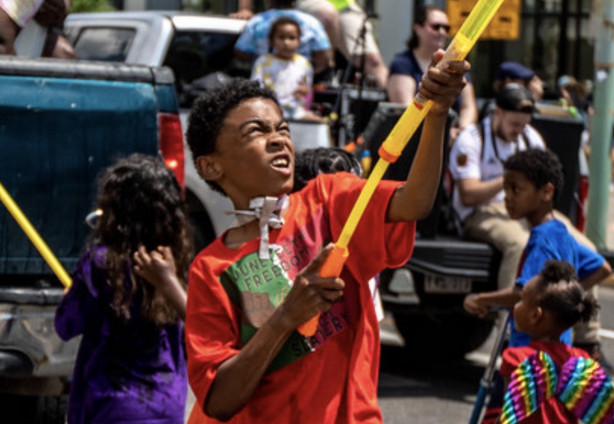 Many of the children led the crowd on scooters and doused each other with the water squirters, frequently running back up to the truck for refills.
"It's recognition of failed, taught history," said Rae Duckworth, another organizer who stood at the front of the march in a tie-dye Black Lives Matter shirt and a megaphone, leading chants and dancing, sometimes while holding her daughter.
"It's liberation, jubilee, freedom," she added.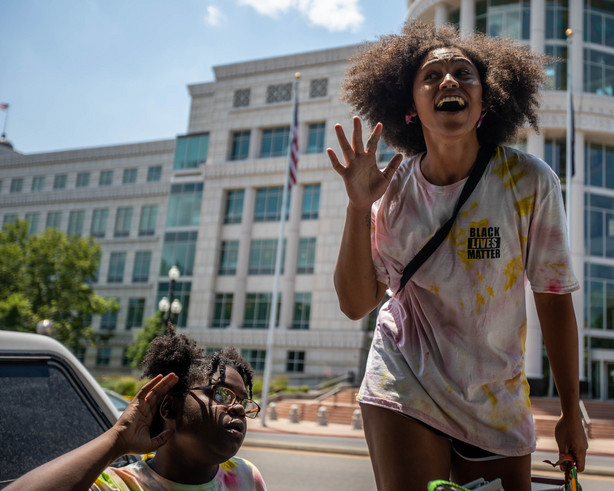 "It's a happy opportunity to show up for people," said Noelle Jenkins, a half-Black and half-white resident of Salt Lake City.
"It's a part of my culture, and I wanted to be able to experience a part of me that I never got to learn about or see, kind of, growing up in the culture around me," she said.
"I've never attended a Juneteenth before," Jenkins added.
"I learned about Juneteenth when I was probably in middle school. But not through school," she explained. "I learned about it through friends who were African American as well."
"I'm happy I have the opportunity to be a part of something, bringing something like this to Utah and giving people an opportunity to get a view of culture that maybe they don't know much about," Jenkins said.
---
It's the liberation of Black Americans; it should be a big deal for everybody.
–Dean Stewart, a white attendee who came out to support the Black community
---
"It's important for us as a community to come together on a united front and overall just try to move forward with lasting change," said Kenidra Carey-Woods on what Juneteenth means for her.
Attendees also reflected on the last year of injustice, protests and progress that prompted the passing of the national holiday, and the ongoing fight many Black Americans still face.
"My cousin, Bobby Duckworth, was killed by police in Wellington," said Duckworth said, referencing the 2019 case in Utah.
"That pretty much lit the flame underneath me," she said of her motivation for activism.
"I have Black brothers — it's hard not to be passionate about it because it's so close to home," said Carey-Woods, who is a 20-year-old activist who moved from St. Louis, Missouri, to Utah for college. Carey-Woods has attended racial and social justice protests since she was 13.
"It's really hard to one day imagine my brothers being killed by police, or ever falling victim to the injustice in this country, and the racism, the bigotry. It frightens me," she added.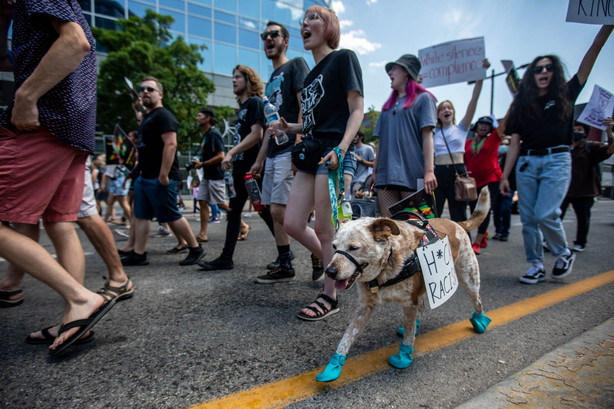 The national holiday declaration prompted both joy and frustration for attendees.
"I really love the fact that it became a federal holiday, but I guess at the same time, I guess I'm kinda bitter about it," said Carey-Woods. "It's been long overdue."
"I feel like with July 4 — everyone knows about that and it's supposedly Independence Day. But how is it Independence Day — how is it the right to life, liberty, and the pursuit of happiness — if there were still people enslaved?" she said.
"Nobody's free until everybody's free," she added. "I just don't think it makes sense that it took this long, but I got to say I am grateful."
"We should not be celebrating being freed people," Natasha said as the event began. "We should not have been slaves in the first place."
---
Nobody's free until everybody's free ...I just don't think it makes sense that it took this long, but I got to say I am grateful.
–Kenidra Carey-Woods, 20-year-old activist
---
The event also provided an opportunity for solidarity between peoples and cultures.
Dean Stewart, who is white, attended the event with a rainbow pride flag with additional brown and black stripes to represent black and brown people.
Asked why he brought the flag, Stewart said, "because I feel like they're kind of linked — the struggles are linked."
"I'm not part of either group, but I think I should show support for both," Stewart said.
"We should be able to show compassion toward other people," Stewart said of the importance of Juneteenth as a white person. "Even if it might not necessarily be a big deal for us personally in our history, it's a big deal to other people in their history. Especially because it's the liberation of Black Americans; it should be a big deal for everybody."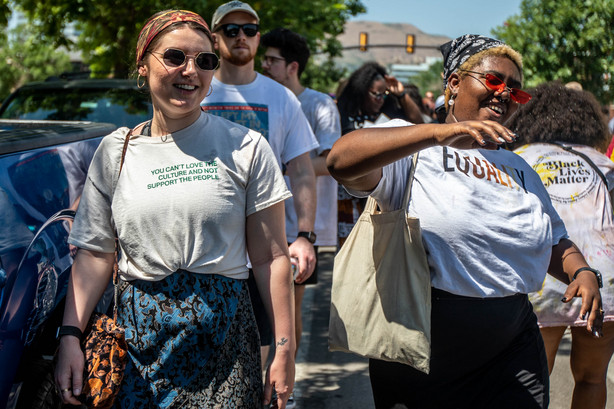 "If you can be involved in the community — I truly believe if you're passionate about any of this, involve yourself in any way," Carey-Woods said. "Don't sit in silence."
"You don't need anyone's validation … just stand up," she added.
After the approximately hourlong march, attendees arrived back at Washington Square, where over 50 local Black and minority-owned businesses had set up vending booths and food trucks. The Utah Black History Museum, which is a mobile museum on a bus, was also there.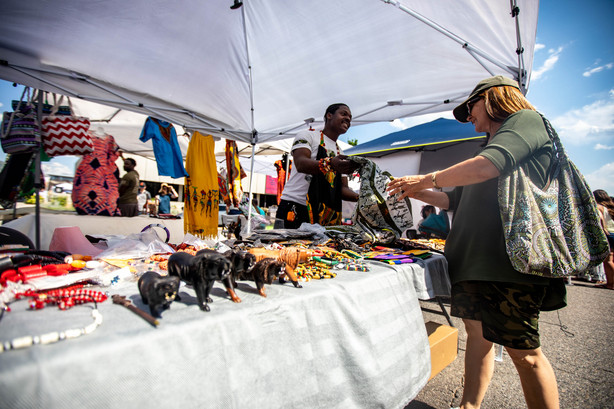 "It's beautiful," Jenkins said as she stood on the grass near the row of vendors. "Really great music, very fun, and lots of vendors and lots of wonderful food. It just seems like there's a lot of different walks of life and different types of people. It's not just one demographic, which is really wonderful to see that some people are maybe stepping out of their comfort zones."
×
Photos
Related Stories