OGDEN — Multiple fire and police departments were seeking help from the public to identify whoever was responsible for setting a series of fires along county trails.
The Ogden City Police Department, Ogden City Fire Department, Riverdale Police Department, Riverdale Fire Department, the Weber County Sheriff's Office and the Weber Fire District issued a joint statement Wednesday as they "teamed up to provide increased safety and security."
"With record-setting, high temperatures and our current drought conditions, the above agencies are concerned about individuals not exercising fire safety or purposely setting fires on the Weber County Trailways extending from Ogden through Riverdale, out west into West Haven and Marriott-Slaterville," the statement read. "Please be on the lookout for suspicious behavior, especially those that would start fires along the pathways."
Weber Fire District Fire Marshal David Reed said on June 3, someone or possibly a group set 11 different fires on the trails, leading to 14 total fires.
"Most of us would never do that, you and I — we just, we wouldn't do that," Reed told KSL TV. "It takes someone that has something wrong with them to want to start fires and cause damage and potentially hurt somebody."
On Wednesday afternoon, fire officials walked a stretch of the trail along the Weber River in Marriott-Slaterville as they showed burn scars left behind and the hazardous conditions that exist right now.
"You see all this cotton — everything's already super dry and the fact that it's cotton season, this stuff is just like gasoline," said Deputy Fire Marshal Jared Taylor.
Please read and share!

Regarding the fires along Weber County Pathways. #carepreparerespond#weberfiredistrict#webercounty#fires#utahpic.twitter.com/j6ZkjsDwdz

— Weber Fire District (@WeberFireDist) June 16, 2021
Reed said the cotton can easily spread to other areas and spark new fires, including potentially in neighboring industrial yards and businesses.
"It is extremely dangerous," Reed said. "It's like an accelerant."
Reed was hopeful his team could track down those responsible before any more fires are started, but he also hoped anyone recreating on the trails would help them watch for any suspicious behavior or activity.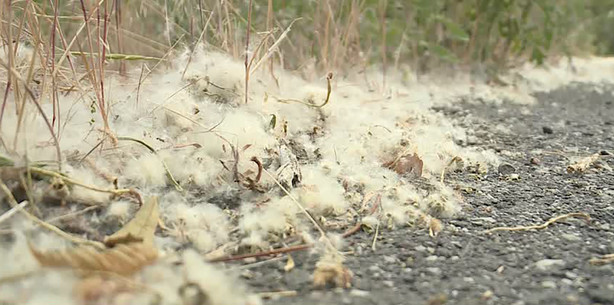 "Part of the scary thing is what would they do next?" he questioned. "What is this leading up to? It would be important to get them."
Reed said people who directly witness suspicious behavior or active fires are asked to call 911, while anyone who has information about the series of fires should call the tip hotline at 801-778-6631.
"Hopefully we can catch somebody doing this or they can quit doing this and stop threatening our citizens and businesses," Taylor said.
×
Photos