TAYLORSVILLE — The moment still hadn't completely hit Ryen Jiba, even as he stepped off the bus on the main campus of Salt Lake Community College wearing a "national championship" T-shirt and holding the trophy of the National Junior College Athletic Association's Division I men's soccer tournament over his head.
Ever since the 6-foot forward from Salt Lake City scored in the national championship match for Salt Lake Community College en route to a 2-1 extra-time win over No. 1-ranked Iowa Western in Wichita, Kansas, a smile hasn't left his face.
Jiba was a national champion. So, too, were the Bruins.
For the first time in the program's five-year history — and the first time in the state of Utah's NCAA and NJCAA history, at any level — a national champion men's soccer team hailed from the state's borders.
"It means a lot to me. Growing up in Salt Lake, they've never won a national championship," said Jiba, an East High graduate. "I came into SLCC and they took a chance on me. So winning this means a lot to me. I have a lot of supporters, but without them, I wouldn't be able to be here without them."
To get to overtime in the championship, the second-ranked Bruins (16-1-1) had to rely on something they thought they had for a while, but were tested beyond the remainder of the season: their grit.
Down 1-0 thanks to a goal by Iowa Western's Ibrahim Conde in the 24th minute, the Bruins took a deficit into halftime.
That's when Davis' side turned to a stable veteran — a player who hasn't always received the highest praise or biggest accolades, but a leader on the team, no less.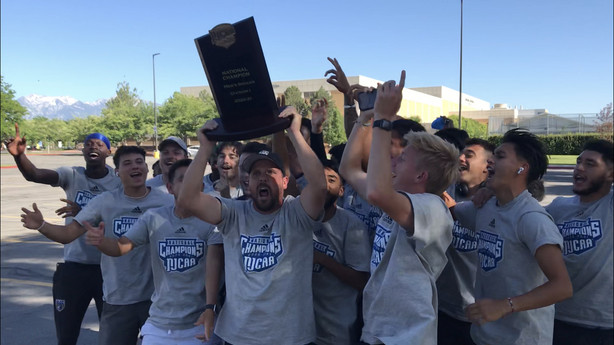 Jiba stepped up in the 53rd minute, scoring the equalizer with aplomb that helped the Bruins slide into extra time. From there, it was anyone's game.
For head coach Mark Davis, who was the founding coach of the Bruins' program five years ago, it was Salt Lake's game, too.
"Ryen has been one of our team players to ever come out of this program," Davis told KSL.com. "He prepped at East, and I always knew I wanted him there, with how dynamic he is. He can do so much. Ryen's been 'that guy' for the last two years, when our backs are against the wall, he always steps up.
"The kid is just phenomenal, and that left foot is absolutely lethal. Once he scored, he's our emotional leader and we knew it was 'game on.'"
In the end, maybe it was Paul Richnow's game. The sophomore from Christchurch, New Zealand — an All-Region 18 selection in 2019 — scored his sixth goal of the season, and one that will be remembered for years to come in the annals of the fifth-year program's history.
But the two goal-scorers weren't the only ones to win the championship. From goalkeeper Christian Olivares, who had four saves, to the front of the line and down the bench, every player contributed to the title.
Jiba's goal ignited a belief in the Bruins, that they could topple a powerhouse. Richnow's goal sealed that belief with a trophy.
"In games like that, you can't let yourself down. You can't pull yourself down," Jiba said. "You just have to be confident, have faith in your team. The team had faith in me, I had an open chance, and put it into the back of the net.
"Once I scored, that's when I knew we could win the game."
Welcome home, national champion @slcc_msoccer ...

🏆 🏅 ⚽️ pic.twitter.com/iFhSd35kOG

— KSL.com Sports (@KSLcomSports) June 12, 2021
With the win, Salt Lake won just its third-ever national championship in the athletic department's history — and the first in a sport other than men's basketball, which won the NJCAA Tournament in 2009 and 2016.
For a program whose entire history can be written on one hand, comparing itself to the likes of the Bruins' well-regarded hoops program or a powerhouse like Iowa Western is the ultimate compliment.
"I know Iowa Western, their facilities, their tradition, their culture. That patch means something to me," said Davis, who played at Iowa Western as a recently returned missionary freshman in 2009 and whose volunteer assistant Jordan Carver coached there from 2008-19. "In a lot of ways, we've shaped our program here at Salt Lake like Iowa Western. The way we've built our culture, that way we recruit, the way we try to get better.
"So did it make it that much sweeter? Yeah, to be honest, it did. I have nothing but respect for them, and think the world of that program, to win this title against such a high-caliber program like Iowa Western."
The morning after the championship, before the Bruins jumped on a plane to return to Salt Lake City before dispersing for a brief summer vacation (SLCC will begin preparations to defend their title in the fall 2021 season on Aug. 1, after all), Jiba got a phone call from the University of Portland.
Not only was the sophomore celebrating the big moments of his career, but he was also being offered a chance to come play at the next level. His career isn't over, like the 11 other players on his team who have already signed to play Division I soccer next year.
More important for Jiba, though? His educational career isn't over.
"It's opened a lot of doors for me," said Jiba, a first-generation college student who also has offers from Ohio State and Grand Canyon, among others. "It really means a lot. I don't think my family ever thought I could get this far into college. At times, I wasn't even sure if I could go this far. So my emotions right now? It's just nothing but happiness.
"It's been a crazy experience for me."
The win adds to a crazy week for the Bruins, whose women's soccer team finished second to repeat champion Tyler in the other NJCAA tournament in Georgia.
×
Photos
Related Stories