This archived news story is available only for your personal, non-commercial use. Information in the story may be outdated or superseded by additional information. Reading or replaying the story in its archived form does not constitute a republication of the story.
TAYLORSVILLE — First-year Salt Lake Community College men's soccer coach Mark Davis isn't shy about revealing the program's lofty goals for its inaugural season.
A Scenic West Athletic Conference title. A Region 18 championship. A run at the junior college national championship.
Slow down, coach.
Or maybe the Bruins are right on track, as they've nearly clinched a SWAC regular-season title with a 5-1 home win over Colorado Northwestern on Wednesday.
The match comes less than a week after a 4-3 victory over then-No. 19 Trinidad State (Colorado) that vaulted Salt Lake to No. 20 in the latest NJCAA national poll.
"From the guys that we have around us, I know it's doable," said sophomore Luis Vargas, who scored all four goals against Trinidad State and won national player of the week honors. "We have the players to be a top-10 team, and we take things game by game. We don't care if we are ranked or where we are ranked. But we have the coaching staff, the players and the school to go as far as we want to."
With two games left in conference play, the Bruins (12-1-1) are 9-0-1 with 28 points in league play, more than 10 points ahead of second-place College of Southern Nevada. The Coyotes (10-2-1, 5-2 SWAC) have five regular-season games remaining, including a showdown with SLCC in Henderson, Nevada on Oct. 20.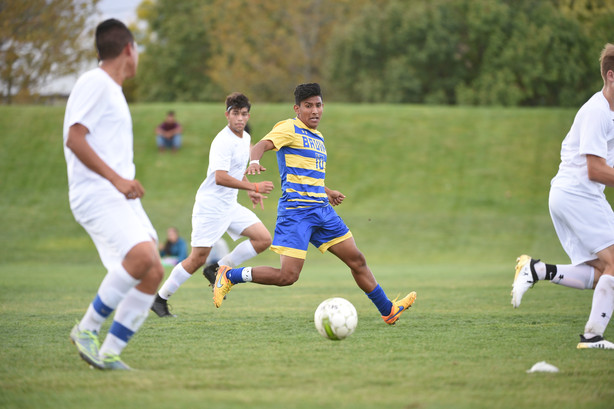 Davis earned the job at Salt Lake to inaugurate the men's and women's soccer programs by installing high expectations. In his first meeting with athletic director Kevin Dustin, the former BYU-Hawaii coach laid out a plan to take the Bruins to the national stage.
Taking a step from NCAA Division II to NJCAA gave Davis confidence. Then he had to find the right fit for his program, which opened play on the fields outside SLCC's Lifetime Arena and has allowed just 10 goals in 14 games.
"The boys defend with a lot of passion," said Davis, who also coaches the Salt Lake women's squad. "My women's team is the same way.
"That's a big part that we stress: we defend with heart and passion, and don't allow any balls behind us."
Goalkeeper Jacob Sollis, a Herriman High product who recently returned from a two-year mission for the LDS Church, has allowed just seven goals with a .864 save percentage to marshall the defense.
Davis' program is built on local high school soccer players overlooked by Division I programs who are out to prove they can compete at the next level.
"That's always going to be the type of kids I want on my teams: high-character kids who are willing to compete every day in training and to compete for a national championship," Davis said. "That's the end goal."
MSOC: GOOOOOOAL BRUINS!!! Abdi kanyare with the goal and Luis Vargas on the assist 🙌. Bruins lead 5-1 in the 80th minute. #bruinwaypic.twitter.com/Dx7P1Vh8mh

— SLCC Athletics (@BruinAthletics) October 12, 2016
He isn't scaring away recruits with brash talk of athletic success, either. Vargas leads the team with 10 goals and three assists on the year, and fellow Copper Hills grad Junior Estrada has six goals, as well.
The Bruins' roster is comprised of 24 in-state recruits, including six from Copper Hills — the same alma mater as Davis.
"It puts a huge smile on my face to see local boys being successful," Davis said. "Men's soccer in the United States is hard. The level of play is extremely hard, but we have a lot of local boys and we are going to continue to try to keep those local kids to stay home and play for us at Salt Lake Community College, where they can compete for a conference championship and a region championship."
Coming home to Salt Lake was a decision for Vargas. The Grizzlies' former football kicker originally signed to play soccer at San Jose State, and he finished his freshman season with one goal — against local school Utah Valley, coincidentally.
But Vargas wanted to transfer closer to home. He made inquiries with the Wolverines in Orem, but the top-25 squad had a loaded roster.
Vargas then made the decision to transfer down for one season of eligibility at the JUCO ranks, and he's proving himself capable of another shot at Division I with the first-year Bruins.
Salt Lake is on an eight-game win streak, and haven't lost a match since a 2-0 loss at Western Wyoming in the season opener.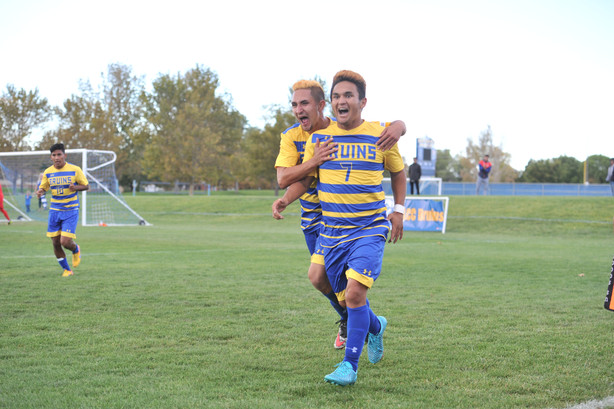 "The first game was a punch in the face," Vargas said. "We played them the week before (in a scrimmage), and beat them 5-0. Then coach couldn't make it to the game, and we lost.
"It was a wake-up call. I'm glad it happened that early, and not later, like in the playoffs."
With two matches left at Snow College and Southern Nevada, the Bruins have a 13 point lead for a top seed in the Region 18 tournament, which begins Oct. 27. The winner of Region 18 automatically qualifies for the district tournament Nov. 4, followed by the NJCAA national tournament Nov. 14 in Tyler, Texas.
The Bruins refuse to look too far down the road of their inaugural season, even at the potential history of bringing a championship to Salt Lake.
After all, they know that everything they do this fall is historic.
"It means everything to me," Davis said of winning a title. "To get to go into that beautiful gym and see '2016 Champions', it gives me chills. It means a lot to me to bring a title back to Salt Lake, and being a first-year program and able to do that."
×
Photos