Estimated read time: 6-7 minutes
This archived news story is available only for your personal, non-commercial use. Information in the story may be outdated or superseded by additional information. Reading or replaying the story in its archived form does not constitute a republication of the story.
SALT LAKE CITY — Jo Adell came here to chew bubblegum and blast home runs; and, sorry Triple-A pitchers, he's all out of bubblegum.
OK, fine, maybe that's embellishing his role as the Los Angeles Angels' highest-rated prospect in nearly a decade but he's put together power numbers quite worthy of a Hollywood action hero role. It's also possible he will return there soon, too, especially if he keeps playing as well as he has to start the season.
Adell entered the Salt Lake Bees' current homestand Thursday with an eye-popping 1.001 OPS, which combined on-base and slugging percentage, through the first 28 games of the season. Batting a respectable .264, his main strength through the first month of the year is the long ball.
He belted 15 home runs and 22 total extra-base hits through those 28 games. To put that into comparison, he had 11 extra-base hits and no home runs in 27 games with the Bees in 2019 (although he did hit two home runs in a game that was ultimately rained out before it became official that year).
His home run total doesn't just lead the Bees or the Triple-A West but all of minor league baseball. Boston Red Sox prospect Johan Mieses is next at 13 entering Thursday, which he hit between Double-A and Triple-A. The second-most Triple-A homers hit this year entering Thursday? Nine.
Adell's power numbers have matched his plate mindset this year.
"I'm not here just to get tap balls and get little base hits here and there, I want to do damage," Adell told KSL.com Thursday. "So I'm working on honing in on those pitches I know I can do damage on and making it happen."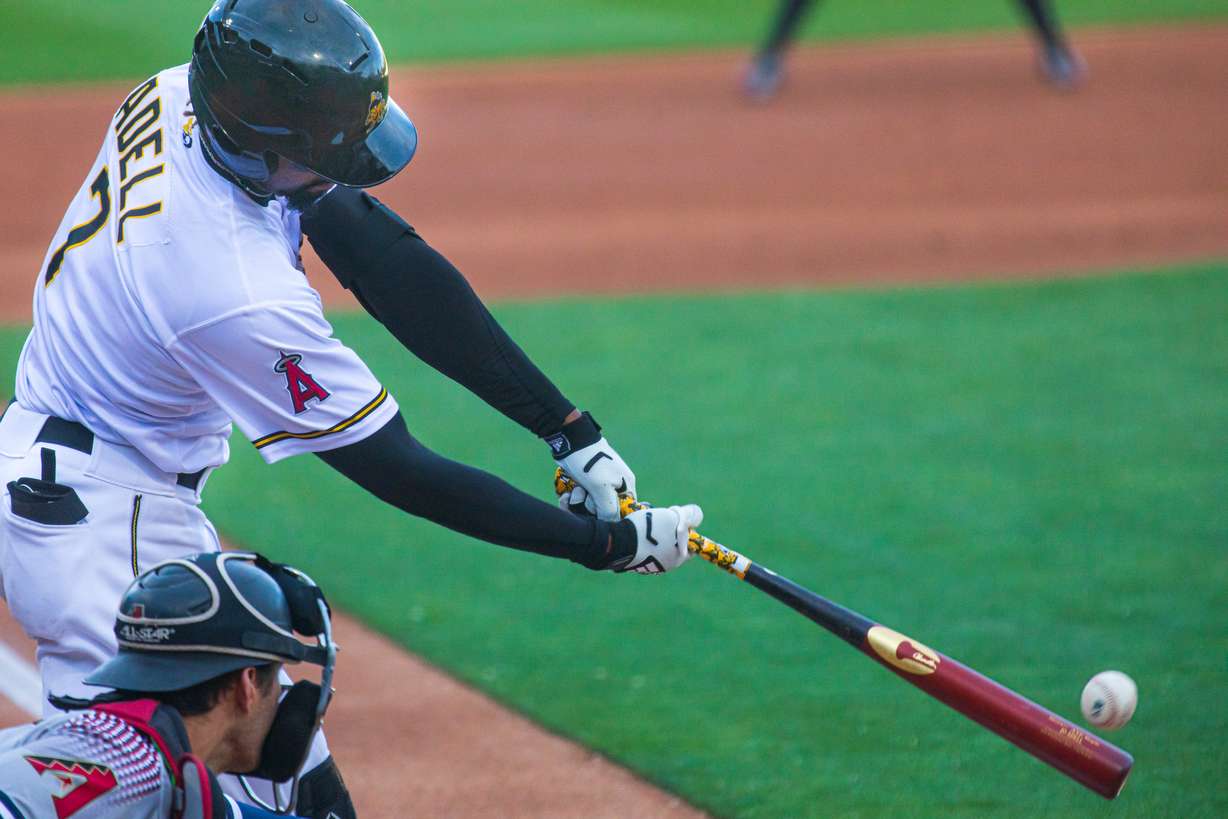 That power has mesmerized everyone from Bees skipper Lou Marson to even opposing fans. Adell joked about a recent encounter with hecklers in Tacoma, Washington, that ended after he launched a massive home run.
Marson, on the other hand, has been thrilled with the progress he's seen in the young outfielder.
"The ball comes off his bat like nobody I've seen or played with before," he said. "He impacts the baseball — when he barrels it, it comes off hot."
That's quite a compliment considering Marson played alongside teammates like Chase Utley, Ryan Howard and Grady Sizemore during his own major league career.
Getting to this spot where he's quite loudly knocking on the Angels' door again has been a quiet process. The 22-year-old struggled in his first major league season, which was last year's abbreviated 60-game schedule. He hit .161 with three home runs and 7 RBIs, and struck out 55 times in 38 games with the Angels.
Angels brass had made it clear that Adell would also start 2021 in the minors to work on his defensive skills in the outfield while he gets acclimated in the minors.
But anyone in the game would tell you baseball is a game of failures and learning to rebound from the mistakes. Development is a process that can take time for results to yield at the major league level.
Perhaps nobody is as eager to learn from the struggles as Adell. It's not uncommon to find him extensively reviewing video from previous games with coaches well before the team conducts pregame batting practice, Marson said.
There's no doubt that making adjustments from those sessions and learning has helped Adell improve, too.
He'll take those daily sessions to review at-bats, base running and defensive plays to see if there was a pitch he missed or a better teammate to throw a ball to that will keep opposing runners from advancing on the base pads.
For instance, he reviewed tape of a recent strikeout from a road trip in Tacoma that left a bitter taste in his mouth. When he reviewed it the next day, he found the pitcher dealt him a devastating pitch that he just couldn't hit.
It ended up being another at-bat earlier in the game that he had forgotten that caught his attention the next day. Had he not swung at a bad pitch early in the count of that at-bat, it could have changed the outcome of the entire at-bat to be more favorable for him.
It's this type of every-day approach that he began working on this year after getting a taste of the majors.
"I try to take something from every game," he said. "I'm trying to take some information and go back and see how I can get better, and some of the things I can do to improve. … That's kind of the way I'm looking at things this year that's a little bit different from years prior. I'm not just looking at a stretch of games, I'm trying to look at every game and what happened."
The end result is what you see in the statistics.
Adell said he feels more comfortable and the game has slowed down even more to where he feels that he's "in the zone," which results in better at-bats. When he's locked onto a certain pitch in an at-bat, he's looking to use his "A-swing" and do damage.
The improvements are noticeable for coaches like Marson, who said that Adell has looked more confident along different aspects of his game to start this season. The Bees skipper said he believes Adell is close to getting another big-league promotion, but he added there isn't really any urgency for that to happen now.
"There's nothing bad that could come from keeping him here as long as we can and let him have success and, at the same time, let him fail … and learn how to come out of those moments," Marson said. "Have him stay even-keeled and figure out what he needs to do in those times where he's not swinging it well."
If all things go as scheduled, the hope is that Adell will latch on in Los Angeles for good when he's called up the second time. It's not clear when that promotion will happen but it's also not on Adell's mind.
He finds himself busy with the daily Triple-A schedule and the time fine-tuning his craft. So Hollywood will have to wait for its possible next action hero-type slugger to arrive.
"Whether it's this year, whether it's next year, I'm focused on now and getting the work in that I need and just try to get better," he said. "At the end of the day, you just have to focus in and remind yourself it's one day at a time. You're here, you have a goal here, you have a goal every single day … and we'll see what happens."
×
Photos
Related stories
Most recent MLB stories