SALT LAKE CITY — Much like everyone in the world, last year threw baseball players quite a curveball.
Spring training was nearing its end by the time sports shut down over concerns of the coronavirus spreading. When Major League Baseball restarted in the summer, teams were only allowed to have 60 players on their "player pool."
There was no minor league baseball. It left guys like Utah native, BYU alumnus and Salt Lake Bees outfielder Brennon Lund temporarily out of a job.
For players lucky enough to make a 60-player pool, like Bees outfielder Jo Adell, the experience was also weird. He made his big league debut and hit his first career home run without family, friends and fans to celebrate it with.
That's why Lund, Adell and the remaining members of the Bees are eager for the first pitch of the Bees season, which is Thursday evening at Smith's Ballpark. With 3,200 fans expected in the seats, it'll be the first time nearly all of them have played a meaningful game in front of a crowd since the 2019 season ended.
It'll also be the first Bees game in over 600 days.
"I'm looking forward to a little bit of that normalcy coming back," Adell said. "Having people sitting there, it adds to the fire — really wanting to go out and get something done and do something. I'm looking forward to that."
Related:
The players weren't alone in last year's confusion. Salt Lake Bees manager Lou Marson also ended up caught figuring out what to do.
That worked out for him early in the break. His wife gave birth to a daughter in January 2020, which allowed more family time until he was called back in to help coach members of the Angels' 60-player pool not on the active roster at an alternate site in Long Beach, California.
He's just as excited with the ability to manage a game again Thursday.
"It's exciting to get back to the daily grind and get back to competing, and playing against other uniforms," he said. "I'm just excited to watch these guys play and hopefully help them try to get to the big leagues."
Returning to the game
Fans may be eager to see live baseball again after the Bees season was canceled, but for minor leaguers like Lund, Thursday's game means a whole lot more.
The Utah native found himself out of a job after the March shutdown. That's because he wasn't selected to the Los Angeles Angels' 60-player pool. It led to a missed year of playing during his pro career.
Some minor leaguers got creative with the missing year of minor league baseball. For instance, fellow Utah native and former Utah Valley University pitcher Paxton Schultz traveled all the way to Brisbane, Australia, just to find playing time anywhere.
Lund took the route most minor leaguers were forced into. That meant mostly lifting weights and taking batting practice at home, which he said he was "grateful" for because he still had the chance to play baseball again someday and it helped him build more character.
"I know a lot of guys don't have that opportunity, and just go out every day and do my work and get my workouts in and go and hit, make sure my arm is feeling good, and stick to that long process," he said. "It can get old after the first month. A lot of guys drop off but about nine months into my lifting program — five days, six days a week — you really find out what you're made of at that point."
The thought of stepping on the field again Thursday is something he looks forward to.
"It's been a long build-up but I'm really excited to be here again," he said. "It'll be cool to have a limited amount of fans, as well, but I'm just excited to play baseball. … It's been a long time so I'm excited."
All eyes on Adell in Salt Lake
Adell first arrived in Salt Lake for the final full month of the Bees' 2019 season. At that point, he was the highest-touted prospect to play for the team since Mike Trout, who has since gone on to be arguably the best player in all of baseball.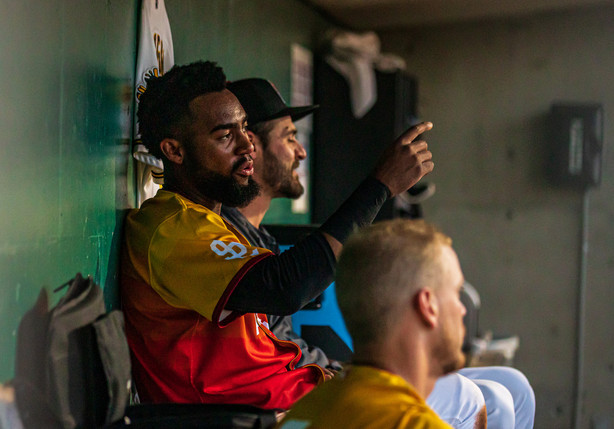 This time Adell arrives in Salt Lake as someone with a few major league games under his belt, even if he struggled by batting .161 in 38 games in his first stint with the Los Angeles Angels.
The 22-year-old outfielder said most of last year felt more like a practice session than actually playing in the big leagues since the seats were empty.
"I couldn't have guessed I'd make a debut with no one in the stands," he said, with a chuckle.
But much like when he first arrived in Triple-A two years ago, Adell enters the 2021 season looking to build off of experiences at the highest level while also absorbing all the learning he can from the players around him.
To that point, the Angels brought in, released and then brought back in veteran outfielder and 2011 World Series champion Jon Jay during the offseason. Jay was also named to the Bees' opening day roster after he was designated for assignment following two games in the majors this year.
---
(W)e're excited for (Jo Adell). The ceiling is just huge and the potential is just huge there.
–Salt Lake Bees manager Lou Marson
---
Marson said that he made sure to have Jay's and Adell's lockers next to each other so the young outfielder could learn as much as possible from the experienced veteran.
"He's just been unbelievable talking to the guys," the skipper said. "That's what you need as a manager. You want guys like that who can hold the other players accountable and he's not afraid to say something to them. Having guys like that at this level is huge and they're priceless."
It's a welcomed clubhouse neighbor for Adell, who grew up idolizing Jay during his run with the St. Louis Cardinals. He was quick to point out all the things he's learned not just from conversations with Jay but by observing his work ethic.
Here's what Jo Adell and Lou Marson had to say about veteran outfielder Jon Jay and his impact on the Salt Lake Bees before the season begins: pic.twitter.com/OAWd24jk1z

— Carter Williams (@cwilliamsKSL) May 6, 2021
Jay built a reputation as a hard worker, the type of player to arrive for batting practice or any other training early.
"You're talking about a guy who has played on a lot of different teams. He's always been the clubhouse guy that everybody looked up to," Adell said. "You start to watch some of these guys go and veterans play and watch what they do day in and day out and it's all routine."
It's something that Adell said he wants to mirror as his career takes shape.
"When you stop to take notes of how some of these guys do that, you want to be a part of that," he added. "You want to put yourself there and have that be what you do."
Time will only tell what that means for his major league career. In a best case scenario, he could follow something Trout also did. That is, Trout only hit .220 in his first stint with the Angels, which was 40 games in 2011.
He started 2012 with the Bees but performed well enough that he got called up again and he never looked back.
In Adell's case, he's already shown promise in the games he's played at the Angels' alternate site while they waited for the Triple-A season to begin. Marson said the promising outfielder slugged "a bunch" of home runs in the handful of games.
One of the larger reasons the Angels wanted Adell to start the season in Salt Lake was also so he could work on his defensive skills. Marson said Adell has improved on that aspect but still has "a long way to go."
He'll get a bulk of his time in right field, which is the spot the Angels have a hole in the lineup with at the moment. Former Salt Lake Bee standout Jared Walsh, who has traditionally been a first baseman, has taken over most of that role after Dexter Fowler suffered a season-ending injury.
That said, Bees plan to have Adell play all over the outfield to help him gain experience.
"He needs to get his work in during (batting practice), taking live balls off the bat but we're excited for this guy. The ceiling is just huge and the potential is just huge there," Marson added. "(If we) keep him in the lineup, keep him healthy, keep him positive, he should be back in Anaheim (when he's ready)."
×
Related Stories