This archived news story is available only for your personal, non-commercial use. Information in the story may be outdated or superseded by additional information. Reading or replaying the story in its archived form does not constitute a republication of the story.
SALT LAKE CITY — If Jo Adell hadn't immersed himself in Utah's quirks during his short stint playing for the Orem Owlz two years ago, he certainly had a refresher during his Salt Lake Bees debut Thursday night.
On the night that he went 1-for-4 with an RBI single and a walk, the team celebrated "801 Day" with a plethora of uniquely Utah events. The team donned Utah Jazz "City Edition"-themed jerseys; there was a contest of who could pull the most carrots out of a kiddie pool filled with green Jello and a fry sauce-eating competition. It was a perfect way to welcome someone new to the city.
Of course, the focus that night could have just solely been on Adell instead.
All eyes were on the 20-year-old outfielder from Louisville, Kentucky, before he even took the field. Aside from the autograph requests, there were about a half-dozen photographers — a number far from the norm — peering into the dugout trying to snag a picture of him chatting with teammates before the game.
But that's something Adell has grown accustomed to in the two years since the Los Angeles Angels selected him with the 10th overall pick in the 2017 MLB Draft. He played just 18 games in Orem and made it to Double-A Mobile by the end of his first full year in the minors in 2018.
Bees skipper Lou Marson managed the Mobile club last year when the young outfielder came through. Marson praised Adell's pitch selection at the plate and his ability to hit the ball hard.
"He looks like he's going to be a special player," Marson said. "The whole organization is anxious to see him perform here and it's going to be a fun last month (of the season)."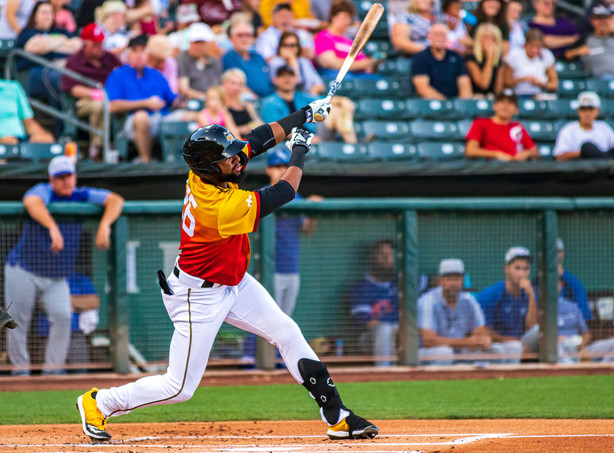 Entering August, he wasn't just a Triple-A ballplayer, but the fourth-highest rated prospect in all of baseball, according to MiLB Pipeline. He's the highest-rated outfield prospect and also the highest-rated prospect to play for Salt Lake since Mike Trout in 2012. Yes, that Mike Trout, who has gone on to become arguably the best baseball player of the 21st Century so far.
No pressure, right?
"I'm obviously aware of that stuff, but for me, I think it's all about the game and I know my capabilities and what I can do on the field. I've got to do them every day now, but it's really just about bringing the best I can to the table and everything else will take care of itself," Adell said Friday, after batting practice at Smith's Ballpark before the Bees' game against New Orleans. He wasn't made available to the media Thursday because the club wanted to give him time to check in with his new club after he was promoted earlier in the day.
That's actually why Adell sounded excited to be back in Utah. Not for those unique Utah quirks on display Thursday, but to spend time with the teammates he learned from while in spring training with the big league club earlier this year.
He seemed to fit in with the team just fine on Day 1, joking with teammates in the dugout before the game and cheering after every Bees run was scored in a 14-4 blowout win over Oklahoma City.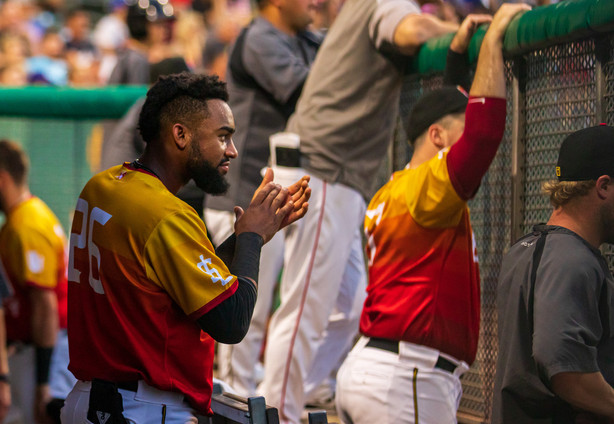 A good chunk of the players currently on the Bees roster have spent time at the major league level at some point in their careers, including stints with the Angels this year. Adell said he's looking forward to absorbing their knowledge so he can be a better ballplayer as he tries to make it to Los Angeles, too.
"The more I can learn, the better," he said. "A lot of these guys have big-league time, so (I want) to soak up all the information I can and just really learn from them and the experiences they've had, and really just embrace the competition as well."
The only downside of his first day in Triple-A, Adell joked, was taking batting practice with a group that included slugger Justin Bour, who he said was teeing off 500-foot home runs during the session — an impressive feat for sure.
Adell's journey to Salt Lake this season hasn't necessarily been smooth. He injured his ankle running the bases during a spring training game, and that sidelined him for a couple of months before his regular season could begin. He rehabbed at the Angels' facility in Arizona and said he took those rehab sessions as serious as if it were preparing for game day.
That's paid off for him. In 43 games with Mobile, he hit .308, collected 22 extra-base hits and 28 RBIs, and scored 28 runs.
When asked if he had any thoughts about his timetable through the minors, Adell shrugged it off. It's the same mentality many have in Triple-A, where the big leagues are just one step away.
"I knew if I played well and I continued to show what I can do and handle a level and show my skill sets will work at that level that I was going to be able to move (up the organization)," he said. "Part of it is buying in, being responsible and just being professional — coming to the park every day, doing things I need to do. Obviously, I have to play decently, but that's for me: be all about business and good things will happen."
×
Photos
Related Stories