Estimated read time: 2-3 minutes
This archived news story is available only for your personal, non-commercial use. Information in the story may be outdated or superseded by additional information. Reading or replaying the story in its archived form does not constitute a republication of the story.
SALT LAKE CITY — The Church of Jesus Christ of Latter-day Saints revealed the next phase of its major renovation project on the Salt Lake Temple at Temple Square in downtown Salt Lake City on Thursday.
Temple Square: What's changing?
The North Visitors' Center on Temple Square — recognized by many for its centerpiece 11-foot statue of Jesus Christ — will soon be decommissioned and demolished later this year as part of the ongoing renovation project, according to a statement released Thursday.
A garden, designed as a contemplative space, will replace the northwest section of Temple Square in the future.
New restrooms will also be installed to support public events in the Tabernacle and Assembly Hall.
"This area will become a peaceful, quiet space on Temple Square," said Andy Kirby, the church's director of historic temple renovations. "The plans for this area will also provide a more direct and clear view of the Salt Lake Temple from the northwest area of Temple Square, enhancing the prominence of the temple."
Crews have already started the process of decommissioning the North Visitors' Center, which means removing all art, exhibits and materials. Once that is completed, crews will begin an evaluation for abatement for any hazardous materials, Kirby said.
History and purpose of the North Visitors' Center
The North Visitors' Center was designed by architect Edward Anderson and built in 1963 as a way to welcome visitors to Temple Square on the north side of the block.
Since then the North Visitors' Center has been a welcoming place where visitors can view religious artwork and learn about the church through exhibits and films.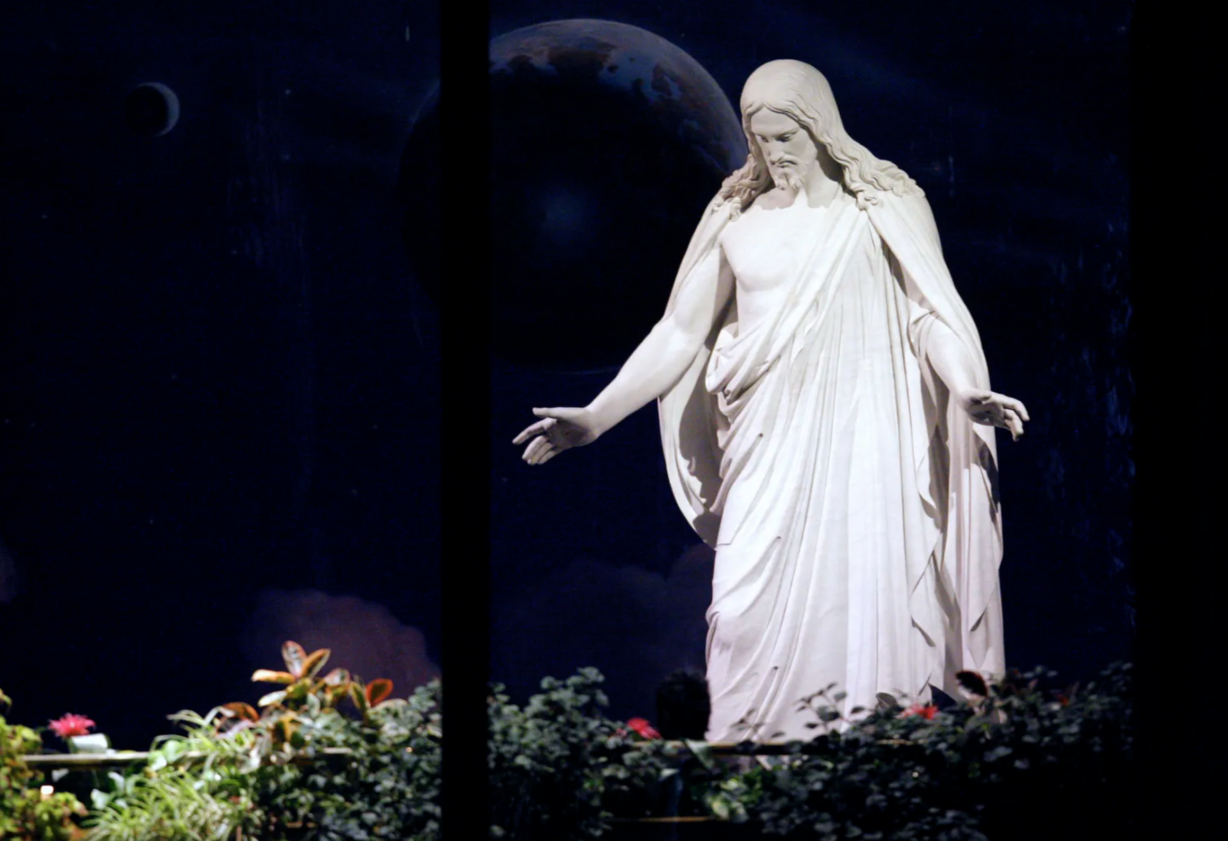 A larger-than-life marble replica of Danish sculptor Bertel Thorvaldsen's "The Christus," surrounded by a massive 166-foot mural depicting heaven and earth, has served as the main centerpiece in the North Visitors' Center for more than 50 years.
The church has placed similar representations of Jesus Christ in visitors' centers and other global locations "to let the world know visually that we believe in Jesus Christ," said Stephen B. Allen, a former managing director of the church's Missionary Department.
President Russell M. Nelson introduced the image of the Christus as part of the church's new official symbol during the April 2020 general conference.
The Christus statue was removed earlier this year and placed in storage for conservation.
People can see a replica of "The Christus" in the Conference Center as parts of Temple Square reopen to the public this summer. Guests are invited to take tours (either self-guided or with missionaries) in the Conference Center. Visit TempleSquare.org for more information.
×
Related stories
Most recent Utah stories