OREM — For just the fifth time in program history — and third since jumping to the NCAA Division I level — Utah Valley baseball will have a new skipper in charge next year.
And he's coming from a familiar place — the site of the Wolverines' first-ever NCAA Regional appearance five years ago.
Louisiana State hitting coach Eddie Smith will take over the Wolverines' clubhouse ahead of the 2021-22 season. The veteran assistant has been described as "the Joe Brady of college baseball," a reference to the 31-year-old Carolina Panthers offensive coordinator who helped revitalize the Tigers' football program as passing game coordinator en route to last year's national championship.
"Eddie Smith is a proven winner with a magnitude of experience at the highest levels of college baseball," UVU athletic director Jared Sumsion said. "He has a history of success everywhere he has been and has learned from some of the most successful head coaches in the country."
Smith, 37, replaces Eric Madsen, who stepped down in April after serving as the Wolverines' longest tenured baseball coach in school history, including watching the program move from junior college to Division I in 2009 following a seven-year provisional process.
A native of Olympia, Washington, Smith has been the Tigers' hitting coach since 2019, following two years in the same role and recruiting coordinator at Tulane. In his first season in Baton Rouge, LSU went 12-5 in the COVID-19-shortened campaign of 2020 with a .273 team batting average before following up with the program's ninth consecutive NCAA Regional appearance.
Prior to his time in Baton Rouge, Smith helped the Green Waves rewrite the American Athletic Conference record books, setting all-time records in home runs, batting average, runs per game, slugging percentage, extra-base hits and walks per game.
Tulane also brought in the No. 1 recruiting class in the nation by Perfect Game in 2019 under Smith's guidance.
Smith also has stops at USA Baseball, Virginia, Santa Clara and Notre Dame, his alma mater where he earned a bachelor's degree in Spanish in 2006. In the past 11 years as an assistant, he's made two College World Series and won six conference titles en route to a 312-174-1 record while coaching under two national championship-winning coaches in Paul Mainieri and Brian O'Connor.
When it came to returning to the west, which Smith will do after LSU concludes the postseason beginning this weekend in the NCAA's Eugene regional, the 37-year-old coach beat out around 75 candidates for the position, including several prominent local baseball figures, Sumsion said. Utah Valley will be Smith's first head coaching job at the NCAA Division I level.
"Being a head coach has been something I've been wanting professionally for as long as I can remember," Smith said. "I saw a school and a university that is about building a person as a whole. That aligns a lot with me personally."
"It starts with just a proving desire to want to be a head coach. That's something I've spent a lot of nights thinking about running a program; I had the opportunity to do that at the junior college level, and I felt like we had a system in place that would be successful. I've always wanted to have the opportunity to put that system in place."
Smith also recruited a lot of players from Washington, Oregon, Idaho and even up to Alaska. He recruited west coast baseball players to Tulane and LSU, especially California.
"Utah Valley is really attractive to me because I think there's a lot of room for building and growing as a program," he added. "We can win at Utah Valley; it's going to be a process, but it's a process that I'm thrilled about. I was so impressed with the facilities, and with the people in the community and the administration. I'm very comfortable in the western region of the United States. I cut my teeth recruiting California … and my feeling is that if you can recruit to Santa Clara, with tuition rates around $75,000 a year, you can recruit to just about anywhere."
Even his wife Jennifer is a proven winner; a three-time All-American rower who graduated from Virginia in 2010, the former Jennifer Cromwell led the Cavaliers' rowing team to a national title as a senior.
"Coach Smith has helped build national championship caliber teams and will have an immediate impact on our program," Sumsion said. "He has an energetic desire to help our student-athletes succeed both on and off the field, with strong regional roots in the West and expansive ties all around the country. His ability to recruit elite players is obvious by the success of the programs he has worked with. I am happy to welcome Eddie and his wife, Jennifer, to the Wolverine family."
As a player, Smith spent two seasons at Centralia (Wash.) Community College, where he helped the Trailblazers to a school-record win total in 2004 and was inducted into the college's Hall of Fame in 2012.
Smith will take over full time at Utah Valley following the completion of LSU's current season. The Tigers, who finished the most recent regular season at 34-22, will open the NCAA's Eugene Regional against Gonzaga. First pitch is scheduled for 8 p.m. MT on ESPN3.
"This program has the foundation to compete at a very high level and we can't wait to get to work," Smith said of the Wolverines. "We will build the program around high-character individuals who are committed to playing a tough brand of baseball. We look forward to having a baseball team that will make the community proud."
Smith takes over a program rich with history and coming off a major renovation of UCCU Ballpark, and replaces Eric Madsen, the longest tenured baseball coach in the school's NCAA history. Madsen stepped down midseason after amassing more than 300 career victories, including leading the Wolverines to the program's first-ever NCAA Regional appearance in a banner year of 2016.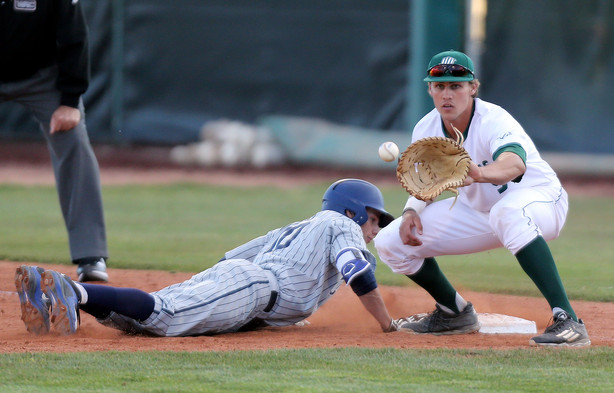 The Idaho Falls native, who played college baseball at Eastern Utah and Southern Utah, spent 18 years at UVU, including the last 13 as head coach.
"I have so many great memories of my time here at UVU," Madsen said at the time of his resignation. "I will forever cherish my time at Utah Valley and for having the opportunity to coach so many wonderful young men over the years. I feel so fortunate to have coached so many talented student-athletes and for working with Joldy Watts and many other great assistant coaches over the years. I wish them all the best in the future."
A three-time conference coach of the year, Madsen resigned with a 309-363 career record, including a .599 winning percentage in conference games. Under Madsen, the Wolverines won seven conference championships, including three from their previous stay in the Great West Conference and the 2016 WAC Tournament title that led to the program's inaugural NCAA Division I regional bid.
Madsen led the 2012 squad to a 47-12 record, a program record .797 winning percentage that led the nation but was denied an NCAA regional bid because of the Wolverines' conference affiliation that did not include an automatic berth in the tournament.
That season — arguably the pinnacle of UVU production on the field — included a 32-game win streak and a group that led the nation with a collective .350 batting average, a .523 slugging percentage, 532 runs scored and an eye-popping 9.02 runs per game.
×
Related Stories