SALT LAKE CITY — If Lizzie Post says her social muscles have atrophied during the pandemic, there must be something to the headlines in the popular press: "We're all socially awkward now" (The Washington Post), "COVID and social skills" (Parade), "How to be social again" (N.Y. Times).
She's a great-great-granddaughter of famed etiquette author Emily Post and is currently rewriting her great, great grandmother's 700-plus page tome, "Emily Post's Etiquette."
"I've noticed moments where my brain is catching in conversation. And it's like, 'Whoa, do you, like, normally say things like this to people?'" she says. "I think it's definitely a common experience. I'm feeling it."
Her advice for making small talk: "(Talk about) sports entertainment … podcasts, books, movies, TV shows, all great things. What you've been up to. Asking people questions about themselves is always a great conversation starter."
Alix Court, who works in real estate and poetry, says it's difficult returning to face-to-face communication because for more than a year, our faces have been masked.
"When a human being is communicating with you face to face, there's a lot of data, information that's being shared," he said.
"I've spent so much time alone… that I don't even know if my face works, right, you know, and the only way I can really tell is by referencing against other people's faces. We're social-referencing organisms."
"I think everybody's had too much time looking in each other's eyes. They kind of want to see the words coming out of their mouths."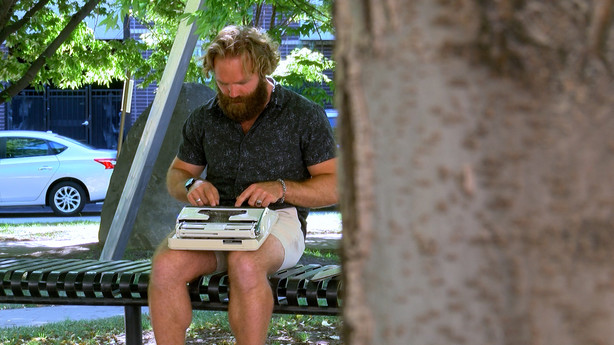 "Learning to be a person again," by Alix Court
One year of masks and hidden smiles
muted laughter
time with mother
But now they say, we can come out again and play
Boy, how I have forgotten
Well come what may
Utah business etiquette consultant Ellen Reddick says she has seen interpersonal skills slipping during the pandemic.
"We need to start thanking people. We need to look people in the eye," she says. "We've got to smile. We've got to be pleasant, the tone of our voice."
"We're so used to bouncing back from someone if we run into someone in the aisle in a grocery store, we recoil, and it's not a good look."
Lizzie Post says, "You've got to build up that muscle, I guess. I think we do have to build up our social muscles again. And that's where I think leaning into really classic forms of etiquette can help."
One unanswered etiquette question, post-pandemic: What is the fate of the handshake?
Miryam S. Roddy, a communications and PR consultant in the Philadelphia area and "founder" of National Handshake Day, does now shake hands but understands many do not. She says the handshake's comeback is inevitable.
"The handshake is not going to go away. It helps build relationships," she says.
She recommends "a firm shake, which is what it should be; not bone-crushing but firm."
"You basically just web to web, thumb joint, you know, 1, 2, 3 pumps, let go. And you're supposed to be about two to three feet away."
If you're unsure if someone is ready to shake hands again, Lizzie Post says, 'I'd probably say 'Handshake, OK?' or 'Is the handshake welcome?'"
A medical opinion: Dr. Brandon Webb, infectious disease specialist, says to shake or not is a personal decision, but he recommends those who shake use hand sanitizer.
New Yorker Magazine recently offered readers "Emily Post's Post-Pandemic Etiquette," tongue-in-cheek advice that gave Lizzie Post a laugh — women who wear makeup must apply it to the top and bottom of their faces, during performances theater-goers shouldn't watch TikTok videos at full volume and, in public, men must wear pants.
"Pants are important," the real Post agreed, "they really are."
×
Photos