Estimated read time: 5-6 minutes
This archived news story is available only for your personal, non-commercial use. Information in the story may be outdated or superseded by additional information. Reading or replaying the story in its archived form does not constitute a republication of the story.
LOGAN — Beginning in 1933 with a camp in American Fork Canyon, the Civilian Conservation Corps spent close to a decade molding and rehabilitating Utah's public lands in ways that left a meaningful impact in Utah's outdoors.
It left a legacy that helped inspire Sean Damitz, now the director of Utah State University Center for Community Engagement, to co-found the Utah Conservation Corps in 2001.
The program has, in many ways, picked up where the CCC left off and now finds itself growing in popularity after 20 years of service.
How the CCC inspired a new conservation program
There are plenty of fascinating tales of what the Civilian Conservation Corps did in Utah and across the U.S. during the Great Depression. It was an organization created under the New Deal period to keep Americans employed and also have them work on important land conservation and infrastructure projects.
There were 116 CCC camps in 27 of 29 counties that existed in Utah at some point mostly during the 1930s, according to Utah History Encyclopedia. Most of the camps were supervised by the U.S. Forest Service, but other agencies like the National Park Service, the Bureau of Land Management and the Bureau of Reclamation were also involved.
They worked on land erosion projects, built reservoirs, trails, bridges, cabins and a slew of many other projects very much still visible and used today. The Deer Creek Dam, Cedar Breaks Visitors Center or the "waves" on northern Utah slopes that help prevent flooding? All examples of the program's work in the state.
The CCC officially disbanded in 1942, having completed hundreds of projects across the country.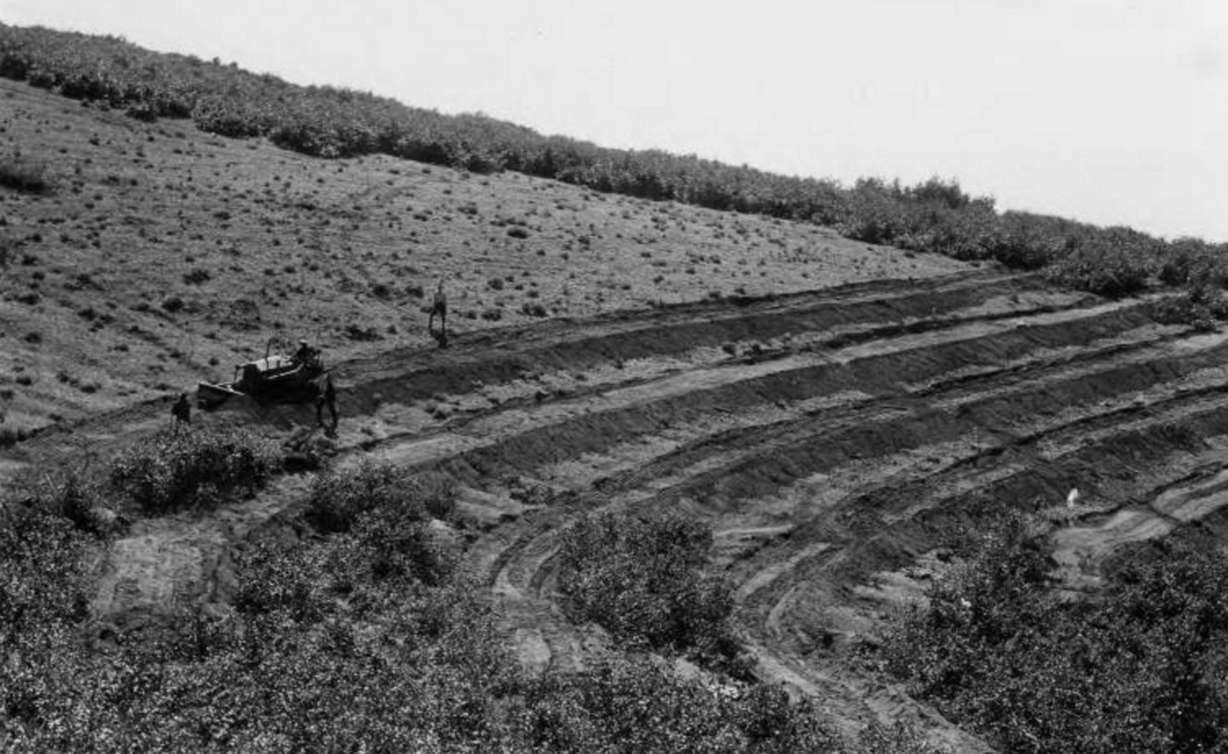 Fast forward to the late 1990s as the use of public lands began to increase in popularity. Damitz, then a member of the AmeriCorps VISTA, and few other like-minded friends talked about how they believed some sort of program like the CCC would be great to get younger individuals involved in conserving the land around them.
After successful grant proposals and figuring out logistics, the Utah Conservation Corps launched as a AmeriCorps program sponsored by Utah State University in 2001 with a group of nearly two dozen AmeriCorps members. It was modeled after its forebear, although Damitz explained it also took into account the long legacy of conservation championed by many reformers and communities across many diverse spectrums.
In its first year, people came from across the country to help repair trails and support the preservation of some historic structures. Over the past two decades, they've conducted similar work across the state and even across the country.
"We've done a lot. It's kind of hard to speak to one specific project, but we've done a lot of trail work and trail maintenance with national forests (and) national parks," Damitz said. "We've done a lot of habitat restoration, especially in the southern part of the state."
---
We definitely see ourselves following in (the CCC's) legacy. ... It's the same concept of trying to get young folks in the most critical conservation work that our public land management agencies have.
–Sean Damitz, Utah Conservation Corps co-founder
---
They've helped in wildfire mitigation programs and to reduce invasive species in Utah and wherever they're needed. Just last year, the UCC sent disaster response teams to Florida and Louisiana to help with projects following hurricanes in those states.
The Utah Conservation Corps, which is overseen by USU's Center for Civic Engagement and Learning, gives members an option to work from three months up to a year to help with conservation needs. It doesn't necessarily advertise itself as an easy, high-paying recreation program; rather, it points out that it's challenging and difficult. But it comes with rewards, whether that's helping young adults find a career path in land management or spending time conserving America's pristine landscapes, much like the CCC ultimately did in its relatively short existence.
"We definitely see ourselves following in that legacy," Damitz said. "In the last 20 years, we've participated in a bunch of CCC legacy events. … It's the same concept of trying to get young folks in the most critical conservation work that our public land management agencies have.
"The case of what it was in the 1930s is still the case that it is today," he added. "There's still that need, and that's still something that a lot of Americans really hold dear, is that tradition."
The sudden popularity of the Utah Conservation Corps
The Utah Conservation Corps began with about two dozen people but expects to have its 2,500th member in its history sometime in the near future.
As it celebrates 20 years in 2021, UCC's leaders also have found themselves in new territory.
Nicole Kreiser, who is in charge of recruiting and service programming for the organization, explained that the UCC has never really turned away anyone who applied since its inception. Every year, they'd begin recruiting in the fall for the upcoming summer and still accept applications all the way up until that summer begins.
Though, that wasn't the case this year because they became inundated with applications. "This was our first year to start a waiting list, and that was in January," Kreiser said in a statement.
It's not exactly clear why things changed, but UCC officials believe some of it has to do with COVID-19 shakeups. UCC officials believe young adults began to place a higher value on service experiences like the program offers. There was also an explosion of outdoor popularity throughout the pandemic, which Damitz said could have also factored in the increase of applications.
"(The pandemic made) all of us appreciate what we have in our backyard that much more," he said. "It kind of boils down to we're trying to build that leadership ethic for the next generation of conservation leaders, to give them the skills and the stuff they need that we can tackle whatever is coming down the road a generation or two from now."
Whatever the reason for the popularity may be, the UCC plans to continue to help maintain Utah's public lands for many years to come.
×
Related stories
Most recent Outdoors & Rec stories