PROVO — Elijah Bryant was living it up in Europe, a star for one of the Israeli league's top teams in Maccabi Tel Aviv and putting up big numbers in the EuroLeague.
But when the former BYU guard left Provo, he made a promise — to himself, to fans and to his family — that he was going to find a way to the NBA. He was going to play in the Association.
After two years with Maccabi, that chance finally came last week.
Bryant signed a two-year, $1.5 million contract, with just under $25,000 guaranteed, according to Spotrac. It's no guarantee Milwaukee will keep him under contract for the full length of the deal — few things are guaranteed in the Association — but it does guarantee Bryant a chance to fulfill a lifelong dream.
It took Bryant (or more accurately, his agent) the better part of 2-3 weeks to arrange the signing with Milwaukee. It took him just 20 seconds into his NBA debut to show the Bucks what he can do when he drained a 3-pointer on his first career touch.
"I think everyone's path is different," Bryant recently told BYUtv. "Too many people get caught up in rankings and draft stock, and forget that the hardest part is overcoming adversity. I think I've done really well at that, and understand that I'm in it for the long run.
"My time is coming, and the Lord knows the desires of your heart. I knew if I lived my life right and worked hard, then everything would come to fruition. I'm grateful to the Milwaukee Bucks, and I know that I've put in the work to have this opportunity."
The 6-foot-5, 210-pound guard had built up a relationship with Milwaukee over the years, even playing for the Bucks' summer league team in 2019, when he averaged 14.3 points in 23.3 minutes per game — including a Summer League-high 31 in a loss to Minnesota.
If he was going to come to the NBA, especially now, it only felt right to be with the Bucks, then.
"I like the way they run the organization here, and the people they have running the organization are high-level people," Bryant said. "If it wasn't basketball, they'd be running some high-level company, because of the way they treat people and make you feel."
Bryant was a scoring combo guard during two seasons with Maccabi, where he was first-team All-Israeli League while averaging 10.9 points, 3.3 rebounds and 2.2 assists per game. Scoring isn't something Milwaukee needs desperately — the Bucks finished the regular season with a league-high 120 points per game, the most since the Nuggets in 1984-85.
But his prolific tendencies should allow Bryant to fit in pretty quickly despite his late arrival.
"In the offseason, we wanted to get better offensively. And the players have been phenomenal," Bucks coach Mike Budenholzer said. "The points per game is important, but the efficiency is more. We're playing fast; there are a lot of positives, but we can still be better offensively.
"It's a tough league. Guys crank it up offensively, and we've got to keep pace. We want to be good on defense, but you have to be good on both ends to win at a high level."
The Bucks, who had previously clinched the No. 3 seed in the East, had a long list of injuries for their season finale against Chicago. Giannis Antetokounmpo was out with knee soreness, Jrue Holiday missed time with hip soreness, and Khris Middleton was out with a sore ankle. Donte DiVincenzo (toe), Brook Lopez (back), Bryn Forbes (patella tendinitis) and Bobby Portis (patella tendinitis) were also on the exhaustive injury list.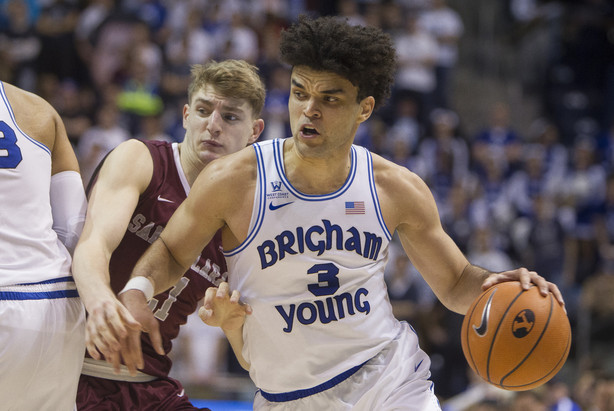 "Once we were locked into three, we just wanted to keep guys healthy and give them an extra day of recovery," Budenholzer said, calling the mass injury list "pretty obvious." "But we had to play it out, and see what happens between Cleveland and Brooklyn."
As soon as Brooklyn locked the Bucks into the No. 3 seed in the East with a 123-109 win over Cleveland, Milwaukee's final game became meaningless — at least, as far as the playoffs were concerned. That opened up plenty of minutes for guys like former Utah State star Sam Merrill, who had 2 points, three rebounds and two steals, as well as the recently signed Bryant.
Perhaps there is some irony in Bryant's first NBA stop coming in the same city as Merrill, the former Bountiful High standout who was drafted with the final pick of the 2020 NBA Draft last summer. The two played against each other in college, when BYU and Utah State that Bryant stepped away from after foregoing his final season of eligibility in 2018.
For Merrill, that rivalry is still fresh — he was watching the Cougars' most recent win in the Spectrum, after all.
But that rivalry has gone out the window in recent weeks. In the NBA, the two are on the same team — and Merrill and Bryant have been each other's biggest allies, as the sleepy Bryant shrugs off jetlag from his European adventure to help the Bucks (46-26) open the playoffs Saturday against the Miami Heat (12 p.m. MT, ESPN).
"He's been super helpful for me," Bryant said of Merrill, who is also a member of The Church of Jesus Christ of Latter-day Saints. "I'm still learning the plays on the fly, and he's been super helpful. It's nice knowing someone (while) coming in to help me in the transition."
Elijah went to work in his NBA debut!!

16 PTS | 6 REB | 3 AST | 1 BLK pic.twitter.com/UlJslGR6b2

— Milwaukee Bucks (@Bucks) May 17, 2021
Bryant debuted with the Bucks during that regular-season finale, thanks to that lengthy injury report and a lengthier list of substitutions. That gave Bryant a chance to shine just three days after formally signing with the Bucks.
The 26-year-old guard made good use of his 24 minutes, too, finishing with 16 points on 6-of-13 shooting, six rebounds, three assists and a blocked shot for a plus-minus of plus-11. He knocked down a 3-pointer on the first shot attempt of his NBA career, just 20 seconds after checking in as a sub, and never let up.
Bryant knows what his game is, and he's not going to change much. The Bucks know that, too; they signed him for who he is, and what he demonstrated in Israel over the past three years, as well as what they saw in Summer League.
He also knows he's no longer starting or starring like he did at Maccabi. But Bryant's biggest concern is fitting in whatever way he needs alongside the usual stars like Antetokounmpo, Holiday and Middleton, among others.
"I'm at the end of the totem pole," Bryant said. "I don't have time for it to be summer league.
"They're on a playoff run, and I need to figure out how I can help the team the most. I need to be the best teammate … but being the competitor I am, I have to flip the switch from being a big-time player at Maccabi to a role player to helping Milwaukee."
×
Related Stories