SYRACUSE — When 4-month-old Allison Ballard was born in January, she secured an eight-generation tradition of being the oldest daughter of the oldest daughter in the family.
After months of waiting for a safe meeting amidst the COVID-19 pandemic, the preterm baby girl met her 93-year-old great-great-grandmother, and five of those eight generations united for one special photo.
Kristine Gill, Allison's great-grandmother, said it was very touching and emotional to be together with each of those female family members. Due to her mom's age, she wondered if they would have that chance to be together as five generations.
"I think when my mother held that baby, to think that another generation like that had come, that we had these daughters holding these little daughters, I think that meant a lot to my mother," Gill said.
---
I think all of the women in my family are just very strong and very hardworking and kind, and those are traits I would very much love for her (Allison) to have.
–Makayla Ballard, baby Allison's mother
---
Gill's daughter Jenifer Bottoms and her granddaughter Makayla Ballard also have multi-generational photos of themselves as babies with some of their predecessors. But for baby Allison, the coronavirus pandemic, paired with some high-risk individuals, made it more challenging to get her photo.
Bottoms said she hadn't been able to see her grandparents very often during the pandemic; and when she did, they were separated by masks, shields, gowns and a plexiglass barrier. They waited until all of the adults were fully vaccinated before scheduling the meeting of great-great-grandma Elaine Holbrook and baby Allison.
"It was a really rewarding day to finally get to visit outside … it was our first time to see each other's faces again after all this time, and then their first time to meet the baby," Bottoms said. "So it was just the most emotional and rewarding, and just all the things you can imagine. It was just a great day."
Along with the five-generation photo of all of the oldest daughters in the family, they took a photo of the four generations of married couples, who are all still living and still married.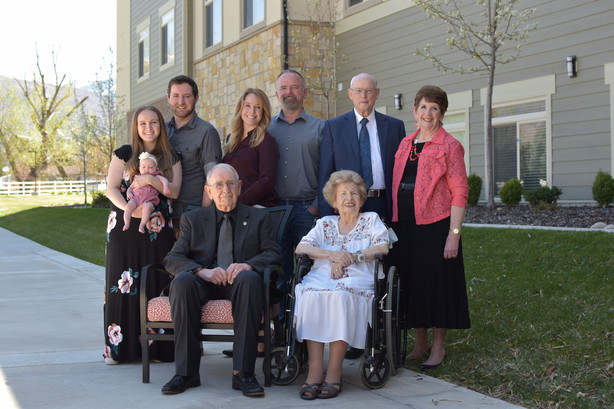 Aside from the oldest woman of the eight generations, each of the women is the oldest child as well as the oldest daughter. In our research, KSL.com found the odds of seven generations of these women being the oldest child and the oldest daughter in their family line is 1 in 2016.
"I think all of the women in my family are just very strong and very hardworking and kind, and those are traits I would very much love for her (Allison) to have," Makayla Ballard said. "I've had such great role models in how to advocate for myself, how to advocate for others, and being responsible."
Gill said she believes the secret to raising good women is to be a good example, spend time together, and to teach and learn from each other in daily conversations.
"I think of my mother, and I think one of her greatest attributes has always been that she is a very giving person and very compassionate in reaching out to people in need," Gill said. "(She's) a great advocate for people who need somebody to have their back, and I would hope that Allison would be the same way — that she would have that same compassion and that same sensitivity to be able to really reach out to those people who need somebody."
×
Photos