SALT LAKE CITY — We asked KSL.com readers to tell us in a survey why they haven't been vaccinated yet and if they plan to be.
We asked only people not yet been vaccinated against COVID-19 to reply and received 3,807 responses. Here's what they said:
Asked if they planned to get the COVID-19 vaccine, 2,287 people, or 60.1%, said no. More than 1 in 4 respondents (1,023 people) said that they might receive the vaccine. In the lowest response, 13.1% (497 people) said that they planned to be vaccinated.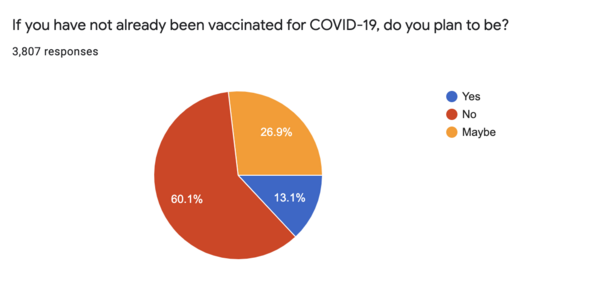 When asked to mark all their reasons for not yet being vaccinated on a drop-down menu, four reasons outpaced the rest.
Not necessary?
The top response, marked by 45.8% of people who responded to the survey, was: "I don't think the vaccine is necessary based on the severity of the virus."
A Yale Medicine comparison of all vaccines currently approved in the U.S. shows the vaccines are between 95% and 86% effective at stopping symptomatic or severe COVID-19 infection, meaning someone is more likely to have mild symptoms, or no symptoms at all if they do become infected with COVID-19 after receiving the vaccine.
Regardless of the severity of someone's infection with COVID-19, almost one-third of people with mild infections suffer from long-haulers COVID-19 symptoms, such as fatigue or a loss of taste or smell, which can last for months after infection and recovery.
Even if a person's case of COVID-19 is asymptomatic, vaccination prevents the infection of high-risk people. For example, the New York Times reported in April an unvaccinated nursing home worker set off an outbreak among mostly vaccinated residents that resulted in 22 infections and one death. While vaccinations have been shown to decrease the likelihood and severity of contracting COVID-19, at-risk groups like the elderly or the immunocompromised have blunted antibody responses to the vaccine.
Basically, that means a vaccine given to a young and healthy person is more likely to be effective than a vaccine for an older and at-risk person; and if someone isn't vaccinated, they still present a risk of infection or death to those around them.
Waiting for more research
In second place, 41.3% of those who responded to the KSL.com survey said that they were waiting for more information or research on the vaccines.
The Pfizer-BioNTech, Moderna and Johnson & Johnson vaccines have all received emergency FDA authorization, which means that they have been rigorously tested in tens of thousands of people. While the vaccines were developed more quickly than usual, none of the trials were sped up or had lowered standards; all were simply conducted at the same time among different groups of people so that results would take months instead of years. Pfizer and Moderna are currently under review for full FDA approval.
So far, data suggests that strong protection against COVID-19 lasts for six months or longer. Though, like the flu shot, vaccines will likely not be effective for life. Booster vaccines are under development and initial findings show that they boost immunity to worrying COVID-19 variants.
Side effects
The third most common response, marked by 30% of respondents, was that they did not want any side effects from the vaccine.
Common side effects of the COVID-19 vaccine include soreness and swelling of the arm, fever, fatigue, chills, nausea and headaches. Some people have no side effects and those who do say they only last for a few days at most. Doctors say side effects are a sign that the body's immune system is responding to the vaccine and building immunity.
While it might be difficult to take a day off work if someone gets side effects, avoiding a severe infection from COVID-19 can save more work time than it spends. The American Rescue Plan also includes tax credits for small businesses that offer paid time off to employees for vaccination.
After being vaccinated from COVID-19, individuals are allowed to travel to more countries and avoid quarantine requirements, take off masks indoors and outdoors, and resume activities that are risky for unvaccinated people.
Already recovered from COVID-19
In fourth place, 27% of people in the survey stated that they have already had COVID-19.
Even if someone tested positive for COVID-19 and recovered, infection is only one way to build immunity to the virus and they should be vaccinated anyway, the Centers for Disease Control and Prevention says. While reinfections are rare and affect between 0.4% and 10% of people, some people never test positive for antibodies. It is also unknown what level of protection the previous infection provides or how long it lasts.
Other
Less frequently, 4.4% of survey respondents stated that they either do not like needles or do not believe in vaccines. And another 132 respondents (3.5%) said that they could not find a vaccine appointment.
Vaccinations are free and can be found at stores like Walmart and Costco, local pharmacies, or at doctor's office or county health departments. Vaccine sites can be found at https://coronavirus.utah.gov/vaccine-distribution/. Utah has also recently made many sites eligible for vaccine walk-ins — no appointment necessary. For example, the Mountain America Expo Center and Maverik Center offer walk-in and drive-thru vaccinations from 10 a.m. to 2 p.m., Monday through Saturday.
Survey respondents were also given the opportunity to mark "other" and provide more specific reasons. In total, 27.1% of respondents did so. Common responses in the other category included pregnancy, health concerns and waiting for full approval from the Food and Drug Administration or more research on the long-term effects of the vaccine.
KSL.com will be responding to concerns and questions in a more in-depth way in a series of forthcoming articles.
Incentives and returning to normal
Some states offer incentives to get vaccinated, such as money, food, or sports tickets. We also asked the question: Would you be vaccinated against COVID-19 if you received incentives?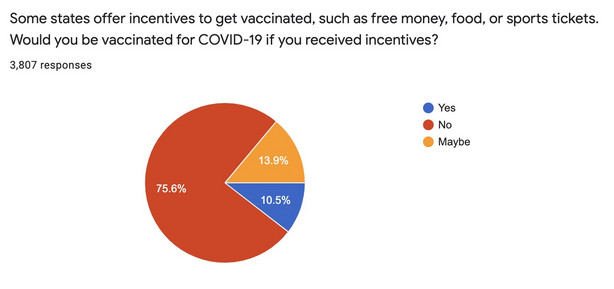 Three out of four respondents to this question (75.6%, or 2,878 people) said that they would not be vaccinated if offered incentives; 1 in 10 (10.5%, or 399 people) said that they would be vaccinated if offered incentives. A total of 530 people (13.9%) said that they might be vaccinated if incentives were offered.
Utah Gov. Spencer Cox has said that he supports the idea of a lottery-style cash giveaway to further incentivize people to get vaccinated. The idea would have to be approved by the Utah Legislature, which will meet for a special session on Wednesday.
Related
A survey of over 75,000 people conducted by UCLA found that cash rewards and the relaxation of safety guidelines were the most effective measures of increasing people's likelihood to get vaccinated. Roughly one-third of unvaccinated people said that a cash reward would make them more likely to get the vaccine, and 13% of people said that relaxing social distancing and mask guidelines would make them more likely to get the vaccine.
In a split along partisan lines, monetary incentives for vaccines were the best motivator for Democrats, with 48% reporting that they were more likely to be vaccinated. Among Republicans, relaxing of safety guidelines for vaccinated people made 18% of them more likely to be vaccinated.
Similar polls have found that 47% of people who wanted to wait and see if the vaccine was effective were more likely to take it if they received paid time off from work, and 39% of people would be vaccinated for $200.
These findings, along with mounting data that contracting and transmitting COVID-19 is unlikely for the fully vaccinated, may have contributed to the CDC updating its guidance to say that fully vaccinated people do not have to wear a mask or socially distance indoors or outdoors in most circumstances.
×
Related Links