Estimated read time: 6-7 minutes
This archived news story is available only for your personal, non-commercial use. Information in the story may be outdated or superseded by additional information. Reading or replaying the story in its archived form does not constitute a republication of the story.
SALT LAKE CITY — Gov. Spencer Cox had a request for President Joe Biden to help motivate more people to get their COVID-19 vaccines — one that the president welcomed with enthusiasm.
"(There's) one area we can use some help from the White House and others, and that is modeling what a fully vaccinated person can do," Utah's Republican governor told the Democratic leader of the nation on Tuesday. "We have fully vaccinated people. We should start acting like it."
"That's a good point," Biden said.
The conversation took place on a call Biden hosted with Cox and five other governors — both Democrats and Republicans — to discuss each states' successes in their rollout of the COVID-19 vaccines.
Biden told Cox "you're doing a heck of a job," while also foreshadowing there should be more to come, soon, from federal officials about how fully vaccinated Americans can and should behave.
"I think you're going to see a more aggressive effort on our part to lay out that, once vaccinated, it's not only you can hug your grandchildren, you can do a lot more," the president said, adding that might entail more details about people gathering in masses "inside versus outside."
Addressing some criticism that the federal guidelines for vaccinated people have been too cautious, Biden also acknowledged "we've gone a little slower to make sure we're exactly right."
Turning to Jeff Zients, his COVID-19 czar, Biden asked: "I think, Jeff, we're going to be moving on that in the next little bit, huh?"
"Yeah," Zients said. "I think we expect more and more guidance from the CDC for vaccinated people."
Cox joined governors from Maine, Minnesota, Massachusetts, Ohio and New Mexico to discuss their success stories in each state's COVID-19 vaccine efforts on the virtual and livestreamed call with the president. Biden gave each governor time to highlight their efforts.
Biden has set a goal to get 70% of American adults at least one shot of the vaccine by July 4. So far, more than 58% of U.S. citizens over the age of 18, or over 150 million, have received at least one dose, according to the Centers for Disease Control and Prevention. In total, over 116 million Americans have been fully vaccinated.
In Utah, where officials are measuring vaccination efforts among residents ages 16 and older because of the state's relatively young population, about 57.3% of the population has received at least one dose, while 44.7% are fully vaccinated, according to state officials.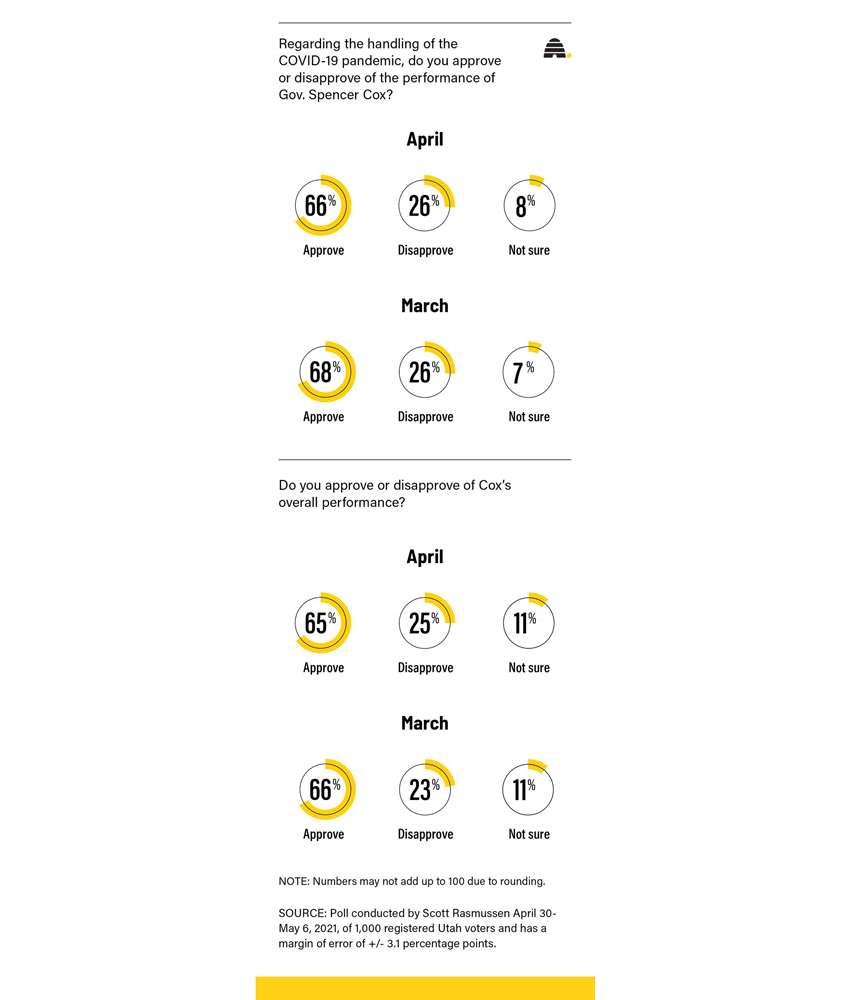 Utahns like how Cox handling job, new poll shows
Cox — whose biggest test since he was elected last year to be Utah's newest governor has been the COVID-19 pandemic and how fast he can help lead the state in vaccinations — has continued to see high job approval ratings, likely due to his COVID-19 response.
In a new Deseret News/Hinckley Institute of Politics poll, Cox continues to see high approval ratings, with 65% saying they approve of his job performance while only 25% said they disapprove. Specifically regarding the handling of the pandemic, 66% of Utahns said they approve of Cox's performance, while 26% said they disapprove.
The poll conducted of 1,000 registered Utah voters April 30 to May 4 has a margin of error of plus or minus 3.1 percentage points.
To Cox, the key to overcoming vaccine hesitancy is to partner "trusted voices" — whether that's church leaders, local community leaders, or family doctors — to encourage Utahns to get the vaccine, while also sending the message that the vaccine is the key to getting back to normal life.
Additionally, Cox said, state officials are "in the field every day of every week constantly getting new data" to understand segments of the population who still haven't gotten the vaccine.
"We've moved from what I call the 'vaccine-ecstatic' and the 'vaccine-excited' phase and we're now in the 'vaccine-busy' or the 'vaccine-curious phase,'" Cox said. "These aren't people that refuse to get it, they just haven't gotten around to it yet."
To overcome vaccine hesitancy, Cox said Utah designed a public information campaign "that not only answers questions and resolves concerns, but it helps people to understand that getting the vaccine is the way to get back to the things that we all love that we all want to do. You know, weddings and family reunions, Utah Jazz games ... churches, hugging grandparents, quinceañeras, all of those things that we care about."
Perhaps most importantly, Cox said, "through our research, it's become clear that people trust their family doctors, their local community leaders and church leaders, their family, friends and neighbors a lot more than they trust government on this issue."
"So we've been working directly with those different voices to empower them, and give them a platform to encourage vaccinations," Cox said.
And the "where," Cox said, is also important, especially for hard-to-reach populations. He highlighted mobile pop-up vaccine clinics that have been stood up in partnerships with churches, businesses and nonprofits, "anyone that wants a vaccination clinic can request one. We go directly to them, they have a party, people can come and get vaccinated."
Some states looking at more tangible incentives
Other governors also noted some efforts to incentivize vaccinations. Maine Gov. Janet Mills, a Democrat, talked about her state's mobile vaccination units, drive-thru clinics, pop-up clinics and walk-in hours, as well as encouraging getting shots between now and Memorial Day by offering vouchers for free fishing or hunting licenses, or gift cards to retailers for outdoor gear.
"We're calling this, 'Your shot to get outdoors,'" she said, smiling. "Oh, it's corny I know. But we know people may have found refuge and relief in Mother Nature throughout the pandemic."
The other governors on the call were Republican Govs. Mike DeWine of Ohio and Charlie Baker of Massachusetts and Democratic Govs. Tim Walz of Minnesota and Michelle Lynn Lujan Grisham of New Mexico.
Related:
At one point, Walz joked state residents should "go get vaccinated so you're alive to vote against me in the next election. I don't care. I just want to get it done."
In New Mexico, over 60% have received at least one dose, and 48.2% are fully vaccinated, according to the New Mexico Department of Health. In Minnesota, about 60% of those 16 and older have received at least one dose, according to the state's COVID-19 website. In Maine, about 58.4% have received their first dose, while 52.8% have received their final dose, according to Maine's COVID-19 dashboard. In Massachusetts, at least 56% of the state has received at least one dose, according to Mass.gov. In Ohio, at least 41.75% of the total population has been partially vaccinated, according to Ohio's COVID-19 vaccination dashboard.
In a statement after Tuesday's call, Cox said he appreciated "the opportunity to share Utah's successes with President Biden and the rest of the nation."
"Taking vaccines to churches, schools and worksites, providing vaccine supplies to doctors, enlisting trusted voices in the community to support vaccinations — all of these efforts are making a tremendous difference in Utah and saving lives," Cox said. "We're grateful for all of our local and national partners in the fight to end this pandemic."
×
Photos
Related links
Related stories
Most recent Utah stories