WEST VALLEY — In reality, it took about 15 minutes.
For Davis' Victoria Castro, it felt like 15 hours.
For the Darts, the wait was closer to six years.
Castro and teammate Cheyenne Hansen each finished in the top-five, and Davis held on to clinch its first Class 6A girls golf state title since 2015 by one stroke Tuesday afternoon at The Ridge in West Valley.
"It was kind of crazy because we thought Corner Canyon was winning," Castro said. "We just went to the scorer's table and knew it was going to be closer.
"This is my fourth year playing in the state championship. I didn't want to (graduate) without winning one. … I've never been this close to any other team. I hung out with them every day. It was like a family, like sisters, this year."
Corner Canyon and Lone Peak finished tied for second at +73, followed by Herriman (+111) and Pleasant Grove (+128).
But the Darts had an extra weapon — their Lemonhead-filled pill boxes called "spin pills," courtesy of a pep talk from boys golf coach Daniel Summerhays and girls coach Lori Salvo.
"Any time you need it or just have a bad hole, take one of these pills — and just spin it for the next hole," Salvo told her golfers before Monday's opening round. "Stuff like that just tried to make it better."
Whatever was in those pills — placebo or otherwise — they worked. Hannah Karns added a 15th-place finish at 167, and the Darts' final scoring golfer was Quinn Shupe, who shot 170 to finish tied for 20th.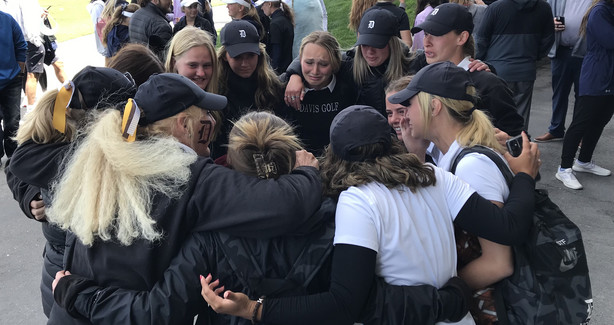 "Have you met Lori Salvo? She's incredible," Castro said of the four-decade high school coach who recently retired from volleyball — but whose golfers won't let her step away fully. "They do so much, giving us gift bags and making sure we're happy. They didn't care about the scores today. They just cared about our well-being.
"That's what made this state championship special. We really were a family."
Hansen carded a two-day total of 10-over-par 154 to finish fourth, and Castro was three shots behind her junior teammate for fifth to lead the Darts, who never lost a tournament during the spring 2021 season.
That depth proved critical in a title chase where each of the Darts, Chargers and Knights held claim to the trophy at some point over the course of the final nine holes. After placing in the top-three and winning the Region I title each of the past six years, Davis finally finished the job for their third state title in nine years.
"That's pretty cool, just to get back and to have our kids dig so deep. We were down five strokes today, and Lone Peak and Corner Canyon are just so good.
"Back and forth, all day, I could hardly stand it. But we played the last four holes and just dug deep."
Herriman junior Millie Terrion was 1-under on the day for even-par 144 to take medalist honors, with Lone Peak's Berlin Long just one shot back.
The Utah junior golf star had the lead until the par-4 14th hole, when the senior hit into a hazard and emerged with a seven. Long pulled one back with her meet-high sixth birdie on the par-5 17th hole, but a par at No. 18 ended her title chase.
"I'm really proud of the girls. All their hard work paid off," Salvo said. "They all have swing coaches, but they just needed to believe in themselves.
"I've been really emotional, and to end with a state championship is pretty cool."
That 17th hole proved vital for Davis, as well.
When the final golfers had come off the course, Corner Canyon looked at the live scoring on their mobile devices and let out a loud cheer — because the Chargers had a one stroke lead.
But live scoring is unofficial, and Davis was still adding up its final tally.
Competition breeds talent, and the Darts used the strong competition well. Castro played alongside Victoria Romney, who shot 160 to finish seventh — one shot behind Chargers leader Savannah Romney — and Hansen played in the final group alongside Long.
Both Hansen and Castro had birdied No. 17 earlier, and that proved to be just enough for the Darts' first title in a half-dozen years a year after the spring season was canceled early due to the COVID-19 pandemic.
"This year, I felt like we had a better chance to make the most and win it all," Hansen said. "I tried my best, and things turned out."
Class 6A state meet
Team scores
Davis 648, Corner Canyon 649, Lone Peak 649, Herriman 687, Pleasant Grove 704, Weber 706, American Fork 724, Riverton 731, West 734, Jordan 738.
Top 10 individuals
Millie Terrion, Herrman — 144
Berlin Long, Lone Peak — 145
Cassidy Denning, Westlake — 152
Cheyenne Hansen, Davis — 154
Victoria Castro, Davis — 157
Savannah Romney, Corner Canyon — 159
Victoria Romney, Corner Canyon — 160
Rachel Stewart, Lone Peak — 163
Kaylie Mumford, Jordan; Jane Olson, Riverton; Carly Belliston, Lone Peak — 164
For full results, click here.
Class 5A
One year ago, in the midst of the COVID-19 pandemic and with spring sports canceled across the state, Timpview's Sunbin Seo led her team to an unofficial team title at the Utah Section PGA state meet but just missed out on medalist honors to Lehi grad Lila Galeai's blistering 68.
"I was really bummed about what happened last year," Seo said after Monday's first round. "So winning this year would kind of make up for what happened last year."
All good now.
Seo carded her own scorching 68 to finish with a two-day total of 7-under-par 139 to lead the Thunderbirds to a third straight team title (or second in the UHSAA record book) at the Class 5A state meet at The Oaks at Spanish Fork.
Teammate Rachel Lillywhite shot 4-under 142 to finish second for Timpview, the only golfers to place both rounds under par in the tournament.
Timpview cruised to the team championship with a 35-over 619, 111 shots better than second-place Olympus. Bonneville finished third with 732, followed by Alta and Skyline (748).
Skyline freshman Ashley Lam finished third at 2-over 148, followed by Timpview's Emma Lillywhite (153) and Bountiful's Vanna Einerson (154) to round out the top-five. Timpview's No. 4 golfer, Keilani Hanamaikai, carded 192 to finish tied for 22nd.
All four of the Thunderbirds' scorers are underclassmen, led by three juniors and a freshman, and their fifth — junior Kami Howard, who finished tied for 35th at 201 — will also be back for a run at a third consecutive state title (or fourth, depending on how one looks at it) next year.
Class 5A state meet
Team scores
Timpview 619, Olympus 730, Bonneville 732, Alta 748, Skyline 748, Park City 751, Bountiful 763, Lehi 767, Farmington 792, Springville 800.
Top-10 individuals
Sunbin Seo, Timpview — 139
Rachel Lillywhite, Timpview — 142
Ashley Lam, Skyline — 148
Emma Lillywhite, Timpview — 153
Vanna Einerson, Bountiful — 154
Aubree Johnson, Bonneville — 166
Rachel Moore, Olympus — 170
Patiola Uluave, Lehi — 175
Josie Marshall, Park City — 179
Brooke Anderson, Lehi — 179
For full results, click here.
×
Photos