SPANISH FORK — Coming off two straight state titles — even if only one of them will be counted in the Utah High School Activities Association — Timpview's girls golf team knew a fast start would go a long way toward a third championship Monday at Spanish Oaks.
Rachel Lillywhite was more than happy to oblige.
Lillywhite shot a blistering 5-under-par 31 en route to 3-under 70 to lead the opening round of the Class 5A state meet, setting up the Thunderbirds' 41-stroke lead.
Timpview, the reigning UHSAA champion from 2019 after the 2020 season was cut short by the COVID-19 pandemic, was coming off a win in the Utah Section PGA unofficial state meet last May. But teammates were divided over whether it "counted," personally.
For Lillywhite, the meet helped validate the team's season, proving they were still the ones to beat in 5A.
"I consider it a state title," Lillywhite said. "I definitely think our team was the best last year. We were ahead by 44 strokes … so if we win tomorrow, that's three in a row, and it would be great to set up for four in a row."
Only one other player shot below par Monday — Lillywhite's teammate Sunbin Seo, who finished at 2-under 71. The duo will tee off in the final two groups tomorrow as the Thunderbirds chase their third team title, second under UHSAA regulations.
Seo climbed within a stroke with a near-perfect 18th hole, including an approach shot within six feet of the hole. Not a bad finish — even if the hole didn't start well.
"In the beginning, I hit a fence post and the ball went backward at me. So I just knew I needed to hit two clean shots toward the green," Seo said. "Just keep calm and do it — and I somehow managed to execute my plan. It felt good to be able to execute something well."
Timpview leads the 5A Girls State Championship after rnd 1 at 311. Olympus is second at 352.
Timpview's Rachel Lillywhite (-3) 70 and Sunbin Seo (-2) 71 lead the individual race.
Leaderboard:https://t.co/9eb3PkJhqo
Photo gallery: https://t.co/PGScv7ymt7#UtahPGA#uhsaa#utahgolfpic.twitter.com/qHAVWv08e0

— Utah Section PGA (@UtahSectionPGA) May 11, 2021
Rachel Lillywhite shot a blistering 5-under 31 on the front nine, with birdies on Nos. 2, 3, 6, 7 and 9 in a bogey-free start to the two-day state meet. She added a birdie on No. 10 that helped stave off trouble down the stretch, including a double-bogey on the par-5 No. 18.
"Just off every tee, I was super consistent. That made it so much easier to get good looks at the greens, and then I had a lot of yardages that fit my bag," she said. "It just worked out really well.
"My goal today was a 68, and I felt like I could do that. By the time I got to 3-under, I was feeling pretty good. I just kept sticking them close from the fairway, and putting well. It snowballed."
Playing in the final groups, Timpview's top three golfers of the Lillywhite sisters and Seo were the only three golfers to shoot under par through 11 holes.
Even though Emma Lillywhite dropped back, the Timpview trio is still three-fifths of the top of the leaderboard in a dominating team showing. Imagine what that means for the Thunderbirds' practice rounds.
"It's so much fun," Rachel Lillywhite said. "We go out and just try to beat each other. But once we get to a tournament, it's about the team and extending the score."
Added Seo: "We're definitely competitive, but we're also really good friends.
"We sometimes scramble and split into different teams, so we get to trash-talk and get on each other's nerves."
Skyline's Ashley Lam was third at 1-over 74, followed by Bonneville's Aubree Johnson (75) and Timpview's Emma Lillywhite.
Olympus finished second as a team, 41 strokes behind Timpview at plus-60, followed by Bonneville (+69), Skyline (+79) and Park City (+80).
The Thunderbirds can't win a state title on the first day. But they could lose it — and they certainly didn't lose it after Monday's round.
"Today's one day, and tomorrow is another," Seo said. "But I definitely think we did enough to do well."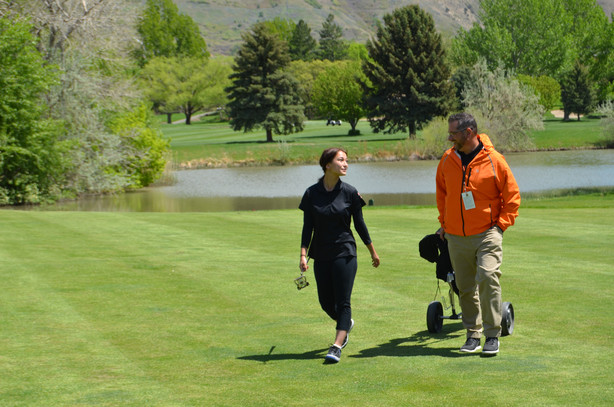 Team results
Team 10 teams advanced to Day 2
Timpview +19, Olympus +60, Bonneville +69, Skyline +79, Park City +80, Alta +83, Lehi +86, Bountiful +93, Farmington +104, Springville +108.
Top 10 individuals
Rachel Lillywhite, Timpview — 70
Sunbin Seo, Timpview — 71
Ashley Lam, Skyline — 74
Aubree Johnson, Bonneville — 75
Emma Lillywhite, Timpview — 76
Vanna Einerson, Bountiful — 80
Rachel Moore, Olympus — 82
Kala Long, Olympus — 87
Emily Hawksworth, Park City — 87
Thea Maxwell, Olympus — 88
Full results available here.
Class 6A
Berlin Long finished second with 3-over 75 and teammate Carly Belliston was tied for fourth with 7-over 79 to help Lone Peak fend off a bevy of challengers for first place after the opening round of the 6A state meet at The Ridge in West Valley City.
Herriman's Millie Terrion leads the field with 1-over 73, and Westlake's Cassidy Denning is third at 78.
The Knights cling to a five-shot lead over Corner Canyon and Davis, who are tied for second with a team score of 42-over 330. Herriman (+58) and Weber (+61) round out the top five.
Team results
Top 10 teams advance to Day 2
Lone Peak +37, Corner Canyon +42, Davis +42, Herriman +58, Weber +61, Pleasant Grove +64, West +77, American Fork +82, Riverton +84, Jordan +87
Top 10 individuals
Millie Terrion, Herriman — 73
Berling Long, Lone Peak — 75
Cassidy Denning, Westlake — 78
Carly Belliston, Lone Peak; Cheyenne Hansen, Davis — 79
Victoria Castro, Davis — 80
Navy Wood, Weber; Jane Olson, Riverton, CC Banz, West; Bella Boman, Corner Canyon — 81
Full results available here.
×
Photos
Related Links
Related Stories