Estimated read time: 7-8 minutes
This archived news story is available only for your personal, non-commercial use. Information in the story may be outdated or superseded by additional information. Reading or replaying the story in its archived form does not constitute a republication of the story.
SANDY — After only three weeks of the 2021 MLS regular season, Real Salt Lake sits in an unexpected spot in the Western Conference standings: on top.
And while three weeks — and two matches, based on an opening week bye — is hardly enough time to draw sweeping conclusions for any team, for good or bad, it's hard not to notice that something is different about RSL than the past few seasons.
There's the offense that has opened with back-to-back multi-goal games, behind new forward Rubio Rubin, who has accounted for four goals — more than nine teams in MLS — to sit in third place in the conference and first in points-per-game.
But there's something else about this Salt Lake side, the club that has moved on from mainstay legends Kyle Beckerman and Nick Rimando over the past two seasons and replaced them with David Ochoa, Everton Luiz, Anderson Julio and the aforementioned Rubin.
There's something else that is different and will be presented Friday at Rio Tinto Stadium when RSL hosts San Jose (2-1) in a top-of-the-west tilt Friday night (7:30 p.m. MDT, KMYU).
"Yes, of course, players have had an impact and are doing well," RSL head coach Freddy Juarez said this week. "But the mentality has been the main change, from myself to the players. None of us were happy with what happened last year, and you've seen everyone put their head down and just work — from Jan. 1, on.
"There's no secret to why we've had some wins, and there will be some games that we lose. But being committed to what we have been, it gives you a chance."
In just three weeks, Real Salt Lake (2-0) has regained some of its swagger. A team that finished the truncated 2020 season with arguably its worst finish in the modern era — since moving to Rio Tinto Stadium in 2008 — isn't just winning a couple of games; they're looking good doing it, too.
It's early. But it's a promising start.
"When you get the results like that, it's kind of a snowball effect," now-veteran defender Justen Glad told RSL media. "The vibe keeps getting better, there's more belief in the team, belief in individual play. It definitely feels good."
RSL is also fun to watch. The club is "top of the standings for points per game and pettiness per 90," as MLS analyst Matt Doyle writes for the league's website, and has quickly become must-see-TV — right up to its new post-match tradition where Ochoa punts a team-signed ball into the supporters' section for one lucky fan to catch and take home.
By over-extrapolating data based on the small sample size of two weeks, RSL's 2.5 goals per match has the club on track to score 85 goals during the 34-game regular season, where the club placed an emphasis on regional contests to reduce travel times and the impact of the COVID-19 pandemic on all clubs. That means RSL will likely face its West Coast rivals like San Jose and Los Angeles along with Rocky Mountain rival Colorado more than most teams from the East.
Fun with stats? Sure. But have a little fun, for now. The change is not just in the attack.
"I think our defending, as a team, has improved a lot since last year," said midfielder Albert Rusnak, the Slovakian international in his first year as full-time captain. "We have a certain way when the opposition has the ball, and it doesn't matter if they play three or four at the back, or try to overload: We stick to our tactics without the ball, no matter what the opposition does. So far, it has been working.
"It's really starting to show, and to pay. On the attacking side as well, we're scoring goals. The momentum is there, and it's really important for us to not get satisfied. As long as we keep doing those things every day in practice, we're in good shape."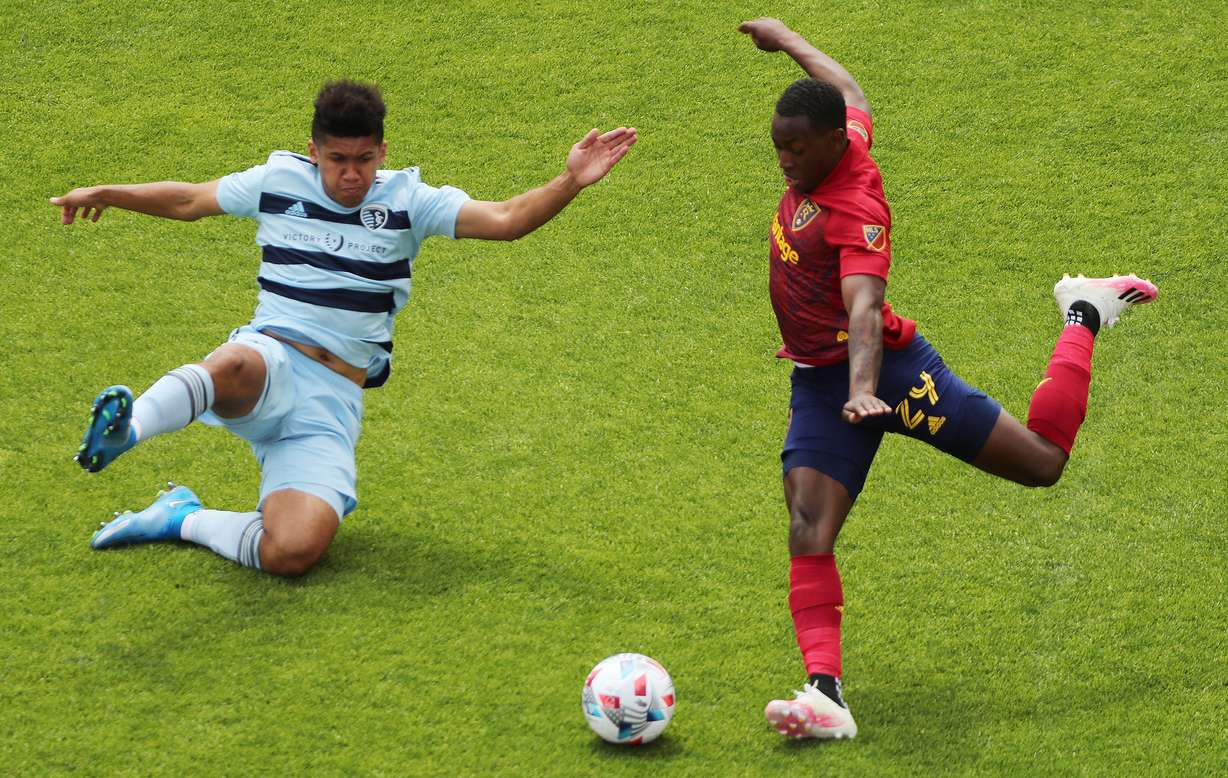 Rubin is a big reason for this year's change. The 25-year-old former U.S. international from Beaverton, Oregon, is playing his first season in MLS after turning pro seven years ago. After one season with San Diego Loyal SC in the second-division USL Championship, Rubin made the move to Salt Lake, where he garnered the immediate love of a fanbase both for his ankle-breaking goals scored at home and unselfish play with two assists in Minnesota.
Rubin, along with Julio and forthcoming striker Bobby Wood — who recently told Transfermarket he planned to join RSL in three weeks' time — give something the club hasn't had in quite a while. The club has also been linked with Argentine winger Jonathan Menendez, a $1.3 million player who could join the club as soon as early June from Atlético Independiente, according to reports.
For the first time in several arguable years — dating back to at least Yura Movsisyan or as far back as Alvaro Saborio, depending on who you ask — the club has a true No. 9, a pure goal-scoring option capable of taking over a game. That leaves players like Rusnak and Damir Kreilach to assume more natural positions in the midfield, and boost the team's creative build-up, as well.
Rubin and Julio showed what they could do, from even before the whistle blew in St. Paul or at last week's home opener in Sandy. They showed it from the preseason.
"We now have a true No. 9 who can hold up with his back to the ball," Rusnak said of Rubin. "All the work he's put in since he's been here and the preseason has paid off in the first two games. It's important for the new guys to get that goal as soon as they can, and then a little pressure drops from their shoulders. I'm really happy for him."
Add in a young group that is coming into its own — young players like Andrew Brody and other RSL Academy products, to say nothing of the continued maturation of fellow alums Justen Glad, Aaron Herrera and Donny Toia — and things are starting to look up for RSL in what many once considered to be a struggling season.
Prior to the club's scorching first week, RSL was best known for what many considered a likely transitional year, met with as many questions in the front office as on the pitch, in the form of an ownership change. The club is currently under league ownership, with commissioner Don Garber assuming the search for a local buyer from former owner Dell Loy Hansen, and longtime sports executive John Kimball assuming the role of interim president.
Maybe Real Salt Lake is breaking out again. Maybe it's too early to tell, and Minnesota United and Sporting Kansas City weren't as good as original prognostications showed them to be. Or maybe the answer lies somewhere in the middle.
Amid all the chaos, RSL is off to a scorching hot start — and face an early test with equally fiery San Jose on Friday, just days after the Earthquakes entered the top-10 in the league's official power rankings (RSL is one spot behind, at No. 11).
But they also know they haven't done anything yet. In Major League Soccer, where the season runs from the post-winter months to Thanksgiving, teams can be forgotten in a hurry. But there's reason for optimism.
"I don't think the first two games we have won we played against a weak team, to be honest," Rusnak said. "I think Minnesota away is a tough place, even if they haven't started great. If anything, they added good new players. And the last game, Kansas City has always been at least a playoff team, as long as I've been here.
"We've got to take one game at a time. That's what we've been doing so far and in preseason. One game at a time, and we've accomplished what we wanted to do in the first two games and can keep this winning streak going on Friday. We want this place and this stadium to be a place where people (opposing players and teams) don't want to come and play."
---
Major League Soccer
Real Salt Lake (2-0) vs. San Jose Earthquakes (2-1)
Friday, May 7
Kickoff: 7:30 p.m. MDT
TV: KMYU
Streaming: ESPN+
Radio: ESPN 700
×
Related stories
Most recent Real Salt Lake stories