Estimated read time: 3-4 minutes
This archived news story is available only for your personal, non-commercial use. Information in the story may be outdated or superseded by additional information. Reading or replaying the story in its archived form does not constitute a republication of the story.
SALT LAKE CITY — More than 70 animal advocacy and conservation groups are calling on the Biden administration to eliminate livestock grazing on any public lands where wild horse populations exist, ramping up the debate on how rangelands should be used across the West, including in Utah.
Animal Wellness Action, the Animal Wellness Foundation, the Center for a Humane Economy, Western Watersheds and The Cloud Foundation joined a coalition of organizations demanding Interior Secretary Deb Haaland put a freeze on grazing permits, much like what was done for oil and gas drilling.
The groups assert that the Bureau of Land Management's oversight of grazing permits is biased against wild horse populations and mass "roundups" are being driven by pressure from ranchers.
"Specifically, we advocate an immediate elimination of all cattle/sheep grazing on all horse-occupied BLM Herd Management Area (HMA) lands," the letter reads, as well as an assessment and action to address livestock-induced ecological problems inside those herd management areas to help climate stabilization efforts and address biodiversity issues.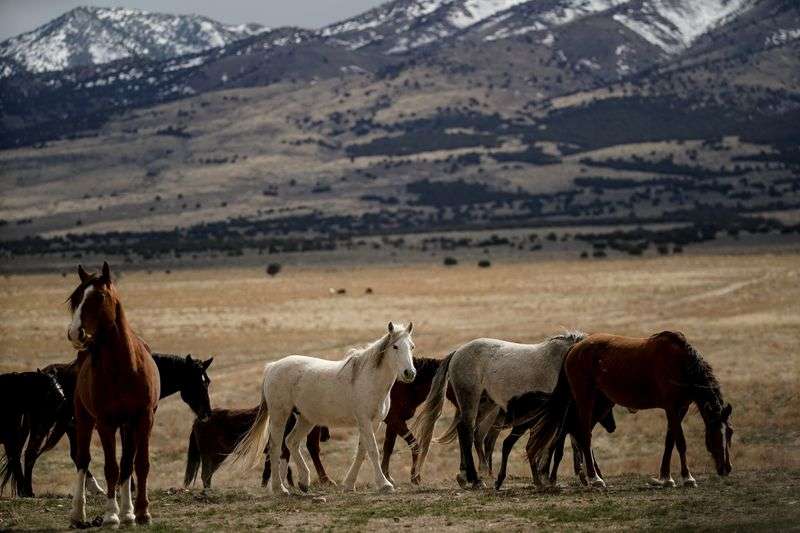 The BLM insists there is an "overpopulation" of wild horses and burros. But the groups contend that is not true and public lands management is tipped in a grossly unfair away in favor of the ranching industry, with an estimated 4.3 million cattle and sheep on Western lands — or 30 of these domesticated animals for every wild horse.
In October 2019, the Deseret News reported then that nearly 90,000 wild horses and burros roamed in 10 Western states where government range watchers say there should be just under 27,000, and the horses are multiplying quickly.
On average, horse populations grow 15% to 20% every year in the wild, and left unchecked, the population across rangelands will double every four to five years.
"The American people cherish our wild horses and burros as living treasures, and iconic reminders of the essential role horses have played in American history and culture," said Scott Beckstead, director of campaigns for the Center for a Humane Economy.
Beckstead added that Utah's unique Onaqui herd is slated for roundup this summer, with the BLM aiming to remove 75% of the population.
Beckstead and other advocates are highly critical of a plan called The Path Forward endorsed by the Interior Department that seeks to remove as many as 20,000 wild horses and burros each year from public rangeland.
They're hopeful that under Haaland's direction that management approach will change and the agency will instead focus on fertility control over removal.
Haaland co-sponsored legislation last year that would have directed the BLM to spend $11 million of its budget on fertility control rather than roundups.
"We hope that the secretary will take a hard look at what we are asking for," Beckstead said.
The letter highlights the growing pressure on public lands livestock grazing, the link between cattle and climate change and consumption of beef falling out of favor in some circles.
The New York Times reported in April that the popular recipe website, Epicurious, would no longer post recipes with beef as a main ingredient, describing the move not as anti-beef but "pro planet."
Microsoft co-founder Bill Gates, an investor in a plant-based protein company, also called on "rich" nations to forgo real meat in favor of the more climate-friendly alternatives.
But the ranching industry, meat lovers and some Western states are fighting back.
Colorado's governor took heat from Wyoming and Nebraska's governors when he proclaimed one day in March as an opportunity to go meatless.
Utah's Gov. Spencer Cox, when prompted, said every day is meat day in Utah, and Nebraska. Gov. Pete Ricketts this week endorsed a beef passport program in which consumers eat beef at select restaurants and vie for a chance to win a cooler of beef.
The tension over public lands grazing comes as the ranching industry battled against supply chain issues brought on by the coronavirus pandemic, but is beginning to rebound.
U.S. exports of beef and pork hit record highs in March and wholesale prices for "Choice" beef are spiking.
×
Related stories
Most recent Outdoors stories