SALT LAKE CITY — It's been a year since about 100 Intermountain Healthcare workers traveled from Utah to New York to help as that state was being overwhelmed by the COVID-19 pandemic, and health care workers held an emotional remembrance of the anniversary on Friday.
"Today is a day where I guess we can't say enough thank yous," Magdalena Litwinczuk, a surgical intensive care unit nurse with Northwell Health, said during a Friday morning news conference with Northwell and Intermountain.
Medical professionals from Utah traveled to New York last spring to help with the pandemic response at Northwell Health facilities.
Many of the Intermountain doctors and nurses who were called upon to help said when they traveled to New York, they were asked to help with things that weren't in their traditional set of skills.
But they pitched in to help anyway, and the experience in New York helped them learn more about COVID-19 and the symptoms of the disease, as well as how to better treat it, they said. Being on the ground in New York would help them better respond to the pandemic in Utah later in the summer of 2020, when cases spiked in the Beehive State.
"While you were hosting us, we were able to help save our own community and to prevent things that were coming for us that we would not have been able to see or to even understand," said Libbey Steed, an emergency room nurse with Intermountain.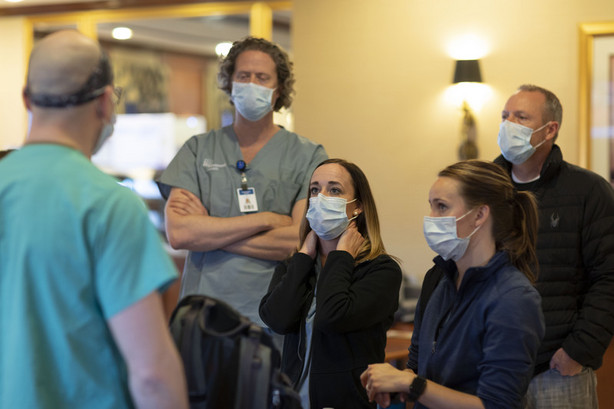 The doctors and nurses who went to New York learned more about the early signs of COVID-19, which helped Utah avoid a worse outcome when cases became more prevalent later on, Steed added.
Intermountain doctors and nurses in Utah were notified that Northwell needed help, and within a few days, they were on a plane to New York, said Dixie Harris, a critical care physician with Intermountain. It all happened very rapidly, she said.
In New York, Harris worked overnight shifts in ICUs to give Northwell doctors a break, she said. Their ICUs were at six times the capacity that the hospitals were used to, she added.
Intermountain and Northwell staff were able to work seamlessly side by side, Harris added.
"We just wanted to help them, because they were tired but they were still very strong," she said.
Northwell Health workers returned the favor in August 2020, coming to Utah to help with a health care system that was nearly overwhelmed as the state endured a COVID-19 surge in fall and winter last year.
The early pandemic was one of the most difficult times in the professional and personal lives of many doctors and nurses in New York, and the help from Utah made it possible to continue, said Madison Montague, an ICU nurse with Northwell.
So when the email came later in the summer that Intermountain needed help, the response was almost universal, she said. Northwell staffers were ready to step up.
"Every person on that trip showed up so excited and willing to help," Montague said. "We couldn't have even imagined the kindness that we were shown when we got there and the teamwork that we had the opportunity to be a part of."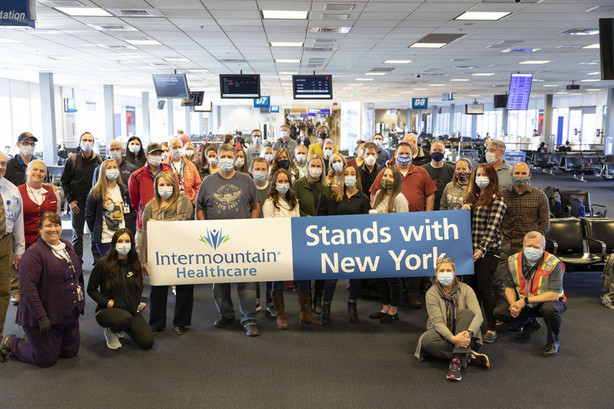 Harris said when Utah's pandemic became more severe in the fall, Intermountain doctors felt more prepared after spending time in New York. They knew they could get through it in Utah because New York's darkest period was even worse, she said.
Whitney Hilton, an Intermountain ICU nurse, also said she admired the resilience of the medical professionals in New York and said their work early in the pandemic helped Utah and other states be better prepared later on.
"You guys paved the way for everyone else," Hilton said.
She recalled a doctor at a Northwell hospital in Long Island who had the motto "We'll find a way as New Yorkers, or we'll make one" taped to the face shield he wore every day during his shift.
Now, Hilton and Montague said they're seeing hope and a light at the end of the tunnel as more and more people are being vaccinated against COVID-19 in New York and Utah.
"We were all looking for a miracle," Hilton said. "That vaccine is a miracle."
Montague added that for the first time in a long time, she's feeling hopeful due to the vaccine.
Litwinczuk said that even though the pandemic has been very difficult, there are some positives to take away, and it's been a learning experience for everyone.
"In all of this tragedy, there's so much encouragement today because we have learned so much," she said.
×
Photos
Related Links
Related Stories