PROVO — "Big Idaho" is headed south.
Former BYU basketball center Kolby Lee has committed to Dixie State, the junior from Meridian, Idaho, announced Monday on social media.
The 6-foot-9, 240-pound center played four years at BYU, including a redshirt season in 2017-18 shortly after he returned from a mission for The Church of Jesus Christ of Latter-day Saints.
Lee's best season came in 2019-20, when he averaged 7.0 points, 3.2 rebounds and 0.7 assists per game in 30 games, including 28 starts, playing alongside Yoeli Childs — and even starting in his stead while Childs served a nine-game suspension due to improper benefits after returning to school out of the 2019 NBA draft.
But Lee's playing time and production declined significantly after that season. The junior big man started just 15 of 25 games in 2020-21, averaging 3.7 points and 2.0 rebounds in 10 minutes per contest.
With the emergence of newcomers Gideon George and Caleb Lohner, plus Richard Harward's eligibility after transferring from Utah Valley and the arrival of graduate transfer Matt Haarms from Purdue, the rotation simply got too tight to accommodate "Big Idaho."
Get ready 😎 #Committed#dixiestatemensbasketballpic.twitter.com/BOcuyjZR3l

— Big Kolb (@Krlee32) April 26, 2021
"I just felt like I kind of got burned a little bit," Lee told the Deseret News, adding that he planned to finish out his career at an in-state school where he could be close to his wife Kayla Belles-Lee, who plays for the BYU women's basketball team. "Last year, I stepped in for Yoeli, who's a big-time player, and we didn't really miss a beat. We still played well against top-25 teams.
"This year, it was more trying not to make a mistake so I could be out there, which you can't really do if you're trying to play Division I basketball," he added. "You just have to play ball. It felt like if I made a mistake, I was going to get pulled."
That took Lee to the transfer portal, where he looked at several local schools where he could finish his career — from nearby Utah Valley to Utah State and Weber State in the northern part of the state.
"Kolby is an experienced, skilled, tough and talented big man," Dixie State coach Jon Judkins said. "His feel for the game, ability to score inside and outside and rebound at a high level will be a welcomed addition to our program. His work ethic, leadership and chip on his shoulder will fit perfectly with our culture and we expect great things from Kolby as he does of himself.
"Trailblazer nation is going to love seeing this talented big man do work in the paint and on the perimeter. We are so excited to have Kolby in our program."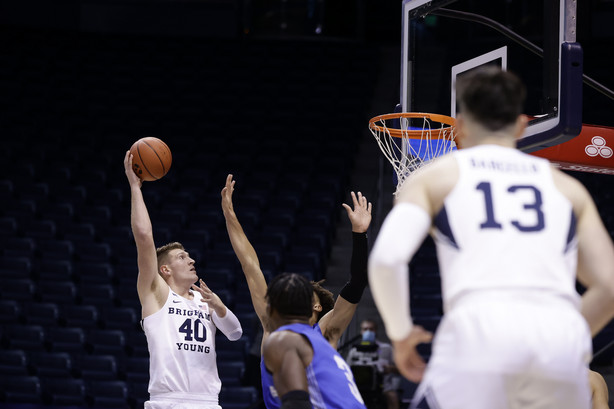 In Dixie State, Lee joins a group coming off its first season of transition to Division I basketball that finished with an 8-13 record, including a 4-10 mark in Western Athletic Conference play.
The Trailblazers had wins over the likes of North Dakota, Denver and Utah Valley, but struggle with consistency down the stretch and lost four of their final six contests, including a sweep in the season finale against New Mexico State in St. George.
Lee joins a rising crop of returning talent at Dixie State that includes rising senior Cameron Gooden, the Trailblazers' leading scorer last year who averaged 13.1 points and 3.2 rebounds per game, and former East High standout Andre Mulibea, who had 5.9 points and 2.2 rebounds per game in his freshman season.
The group will also be joined by incoming freshman Noa Gonsalves, the 6-foot-1 Lehi product who poured in 18.3 points, 4.8 assists and 4.0 rebounds per game while leading the Pioneers to a 17-8 record and the Class 5A state champion under head coach Quincy Lewis.
One of Lee's former BYU teammates who was also in the transfer portal made his final decision over the weekend, but it won't include a destination.
Jesse Wade, the former Davis High star who signed with Gonzaga out of high school before transferring to BYU, announced his retirement from the sport in a lengthy social media post Sunday afternoon.
Thank you all. I have been so blessed with such amazing support. pic.twitter.com/M2YdOFcHWb

— Jesse Wade (@jessewade10) April 25, 2021
The No. 1 recruit in the state of Utah by ESPN and 247 Sports in 2015, Wade averaged 26.8 points, 4.2 rebounds, 3.5 assists and 2.7 steals per game en route to Deseret News Mr. Basketball and first-team all-state honors before serving a two-year church mission in France.
But following is return to BYU, injuries hampered the 6-foot-1, 175-pound guard's development at the next level. He sat out the 2018-19 season with a knee injury, and played in just nine games as a redshirt junior last year, where he scored a career-high 4 points against USC.
Wade played a total of seven minutes in the Cougars' final 11 contests of the year, leading to his departure and later retirement after he received his bachelor's degree in strategic management from BYU's Marriott School of Business.
"When I first started playing basketball as a kid, I had big dreams, but I could have never imagined where this game would take me and what I would be able to accomplish along the way," Wade said. "There are countless people to thank in my life. I am forever indebted to so many people.
"Basketball has introduced me to the most loyal best friends and people in the world. What more can someone ask for?"
×
Related Stories