PROVO — Wyatt Lowell's layover with the BYU basketball program has been more brief than anyone would have imagined. So, too, is Kolby Lee's.
Lowell, the sophomore from Gilbert, Arizona, and former Western Athletic Conference freshman of the year announced Tuesday he'll be moving on to his third Division I school in three years, he said on his Instagram page.
"Grateful for the past and excited for the future," Lowell wrote. "I have decided to put my name into the transfer portal and see what opportunities lie ahead! And thank you to cougar nation for the love and support!"
Lowell, a 6-foot-10, 205-pound forward, played in just seven games with the Cougars as a sophomore in 2020-21, when an ankle injury kept him sidelined for most of the game. The ailment followed a torn labrum from a year ago that kept Lowell, who averaged 4.6 points and 2.6 rebounds as a freshman at nearby Utah Valley, from making highly productive use of his time in Provo.
He showed flashes of his potential as a freshman with the Wolverines, including a time when he poured in a career-high 14 points, six rebounds, two blocks and three steals against WAC power New Mexico State that showed why the former four-star recruit was the highest-rated high school player to ever sign with UVU.
Again, injuries played a critical role as Lowell's promising start never moved forward, though.
"I've asked a lot of 'why is this happening?' or 'what is really going on?' It's put me in some dark places, and really questioned things," said Lowell during an episode of BYUtv's "Deep Blue," where he appeared with his parents and fiance Alyssa Jefferson, a former BYU soccer standout. "But if there's one thing I have learned in this recent trial, it's that I can do hard things. … Hard is good, and I think with the upcoming season, it's going to get hard. I just need to push through."
Lowell was the No. 1-rated power forward in Arizona when he signed with Utah Valley prior to serving a two-year mission for The Church of Jesus Christ of Latter-day Saints in Minnesota. He held offers from Colorado, Oklahoma State, Lehigh and UC Davis, among others, at the time.
Lee announced his entry into the portal late Tuesday night, following a season when his minutes dramatically decreased.
"Cougar nation, thank you for all the memories and support that I've received over the last few years," said Lee, whose newlywed wife Kayla plays for the women's basketball team. "You are truly the best fans in the nation! From starting and playing in the awesome game last year as we took down Gonzaga, to making it to the NCAA tournament this year, it's been a fun ride.
"Although this year didn't play out how I wanted it to, I enjoyed the brotherhood I made with my teammates. With that being said, I've decided to enter the transfer portal. I am extremely blessed to have played for my dream school. But my career will now head elsewhere. I appreciate you all, and will always be proud to say I was a Cougar."
Lee signed his letter "Big Idaho," the nickname given to him by fellow Idaho native and teammate Connor Harding. The 6-foot-9, 240-pound product of Rocky Mountain High School near Boise departs BYU after a three-year career that included a career-high 21 points Jan. 16, 2020 against San Diego.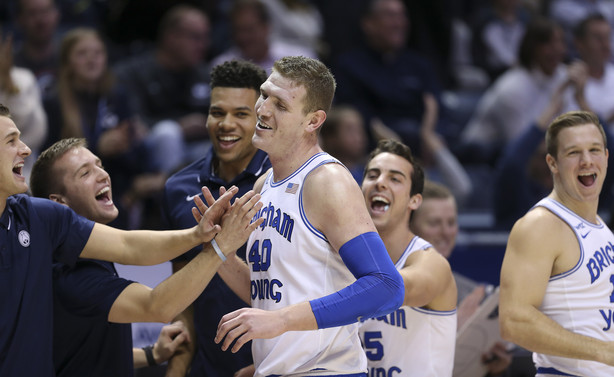 That season, Lee started 28 of 30 games for the Cougars in Mark Pope's first year. He started and put in 9 points and five rebounds in a memorable 91-78 win over Gonzaga on a senior night to remember for fellow big man Yoeli Childs, but came off the bench as a junior in 2020-21. His playing time diminished over the next year, but it wasn't necessarily a sign of an apparent disregard from the coaching staff; Pope officiated at the wedding of Lee and the former Kayla Belles, who transferred to BYU after playing at Michigan State, and the two often spoke highly of each other in public and in private.
But with Purdue transfer Matt Haarms playing center for his lone season at BYU, Lee averaged just 3.2 minutes in 17 games, scoring 1.4 points per game with 0.1 rebounds. He totaled just 24 points on 41.7% shooting, and added 17 rebounds, including six on the offensive glass.
A four-star recruit by ESPN.com in high school, Lee was recruited by Iowa, Oregon State, Washington State, Purdue, Utah State, Boise State, Richmond, Portland, Kent State, Depaul and UC Davis, among others.
Lowell is the third BYU player in the last week to enter the portal, joining former Davis High sharpshooter Jesse Wade and wing guard Connor Harding, and Lee the fourth.
If those departures stick — players in the portal are not bound to leave, but their schools are not bound to maintain their scholarship — the Cougars could lose as many as eight players on next year's roster. BYU had just three seniors in Haarms, Alex Barcello and Brandon Averette, and only Haarms has confirmed he's moving on and not utilizing the NCAA's extra year of eligibility due to the COVID-19 pandemic.
But if Wade, Harding, Lowell and Lee depart, the Cougars will be left with just seven returning scholarship players. That includes former Timpview standout Gavin Baxter, the 6-foot-9 forward who played in just two games before suffering a season-ending knee injury.
Baxter, who also suffered a torn labrum a year ago, has been thought to be considering a pro career after his bout with several injuries.
×
Related Stories