Estimated read time: 5-6 minutes
This archived news story is available only for your personal, non-commercial use. Information in the story may be outdated or superseded by additional information. Reading or replaying the story in its archived form does not constitute a republication of the story.
SALT LAKE CITY — Plant-based eating seems to be growing in popularity. Take a walk through the grocery store and you'll likely find new products touting their plant-based status.
From plant-based milks and granola bars to soups and frozen meals, more brands are showcasing their versatility by adding more plant-based products to their lineup. Even fast-food chains are getting in on the plant-forward eating movement by offering plant-based patties on their menus.
Including more plants in your diet is definitely a good thing. But transitioning to a more whole-food, plant-based diet can be a struggle at first, especially if you're not used to eating that way. You might have to do some grocery shopping and reorganize your pantry. Nevertheless, by taking one step at a time it is definitely doable.
What does plant-based mean?
Ask two different people what "plant-based" means and you will most likely get two different answers. To some, plant-based is following a vegan diet, while to others it simply means incorporating more plant foods into your diet. And there's a whole spectrum of answers in between — vegetarian, flexitarian, the Mediterranean diet and more may also be considered plant-based.
There is no official definition of a plant-based diet, which is why you will get so many varying answers on the subject. Some people prefer to use the term "plant-forward," suggesting that plants are a focal point in the diet but may not be the only types of foods consumed.
Vegan vs. plant-based
A vegan diet excludes all animal-derived foods, such as meat, poultry, fish, eggs, dairy, honey, gelatin, etc. Being vegan is usually not just a diet but a way of life. People choose to become vegan for many reasons, such as for ethics or health. Vegans follow a plant-based diet, but not all plant-based diets are vegan.
Plant-based diets include plant foods as a foundation of the diet but may also include animal products like meat and dairy. Whole-food plants include fruits, vegetables, beans, legumes, whole grains, nuts and seeds. Whichever your definition of a plant-based diet, here are five tips to help you incorporate more plants into your meals.
1. Base your meal around plants
The typical Western diet often centers meals around protein, which is typically meat or poultry. Then some veggies or grains are added to complement the meat. When eating plant-based, think backward from this train of thought.
Start planning your meals by choosing what vegetables, fruits and/or whole grains to eat first, then add in a complementary protein to go with. Examples could be salad as an entree, a grain power bowl, hearty vegetable soup, roasted vegetables with chicken or tofu.
---
You don't have to go meatless every single meal, but by decreasing your meat intake you are more likely to increase your plant intake.
–Brittany Poulson, registered dietitian
---
2. Start your day with plants
If breakfast is the most important meal of the day, why not bulk it up with some plants? And I don't mean refined grains found in many cereals and pastries. Add vegetables to your morning by sautéing some to go in an egg scramble, omelet or breakfast burrito.
Get some whole grains in by cooking up some oatmeal, or top a piece of whole-grain toast with nut butter and fresh fruit. Get extra fiber in by blending up a smoothie made with a base of fruits and veggies. You could even add some vegetable puree to your waffle or pancake batter to increase the nutritional value. The options to increase whole plant-based foods at breakfast really are endless.
Related:
3. Swap out the meat
You don't have to go meatless every single meal, but by decreasing your meat intake you are more likely to increase your plant intake. Just by choosing one day, or even one or two meals per week to go meatless, you are taking steps toward a more plant-based diet.
There are plenty of hearty plant-based protein options to fill your plate and many can be swapped for meat quite easily. Great plant-based sources of protein include beans, lentils and other legumes, tofu, tempeh, nuts and seeds.
If you don't want to cut meat altogether from a meal, start by going half and half. For example, instead of using 1 pound of meat in your meal, use ½ pound and replace the other half with beans, lentils, chopped walnuts or another plant-based protein. You might be surprised at how you don't even notice that small decrease in meat.
4. Eat fruit for dessert
You may have heard this tip before in regards to slimming down or eating less added sugar, but it's also a great way to get in more plants, too. By choosing a fruit-based dessert, you are also getting in more fiber, vitamins, minerals and antioxidants.
Plain fruit on its own is sweet enough, but if you're looking to switch things up you could try a fruit crumble or crisp, fruit "nice" cream, fruit popsicles, grilled fruit, fruit salad, or a fruit chia pudding made with non-dairy milk.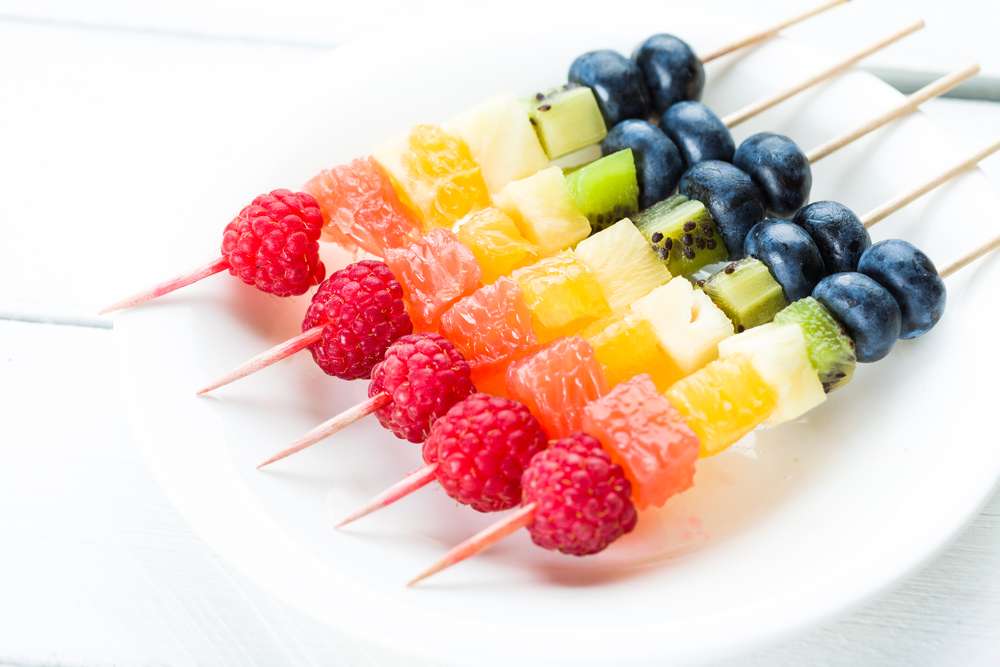 5. Choose healthy fats
Fats are an essential part of our diet, however, the type of fats you consume matters. Saturated fats are the less healthy fats. These types of fats tend to be solid at room temperature and are often found in animal products. Unsaturated fats are the healthier fats and are often liquid at room temperature. These types of fats are commonly found in foods such as nuts, seeds, vegetable oils, fish, avocado and olives.
Swap out butter for plant-based oils like olive, avocado or canola oil. Vegetable oils can usually be substituted straight across in place of butter in cooking, as well as in some baking recipes. Mashed avocado or nut butters can also make a good fat substitute for baked goods, depending on the recipe.
---
---
Editor's Note: Anything in this article is for informational purposes only. The content is not intended, nor should it be interpreted, to be a substitute for professional medical advice, diagnosis, or treatment. Always seek the advice of your physician or other qualified health provider with any questions you may have regarding a medical condition; Any opinions, statements, services, offers, or other information or content expressed or made available are those of the respective author(s) or distributor(s) and not of KSL. KSL does not endorse nor is it responsible for the accuracy or reliability of any opinion, information, or statement made in this article. KSL expressly disclaims all liability in respect to actions taken or not taken based on the content of this article.
×
Related stories
Most recent Lifestyle stories