SALT LAKE CITY — Mikael Jantunen has a destination.
Turns out, the Finnish sophomore's next stop after the University of Utah isn't in the college basketball system.
Jantunen announced Monday that he was opting out of his final 2-3 years of collegiate eligibility and turning pro, he said in a post on social media thanking Ute fans.
"Since day one, this place has felt like a second home to me," Jantunen wrote. "I will always cherish the unforgettable moments that I had as a Ute. Thank you to my coaches, teammates and all the people I had the opportunity to work with, the relationships will last forever."
"It was a great experience and a lot of fun, but now it's time to move on."
Thank you UTAH! Time for the next chapter! pic.twitter.com/CC1GlAQviK

— Mikael Jantunen (@mikaeljantunen) April 19, 2021
The 6-foot-8, 220-pound sophomore from Finland has been long expected to depart Utah since entering the transfer portal around the same time new coach Craig Smith took over on the Hill. Jantunen, who is no longer listed on the current roster, averaged 6.7 points, 4.9 rebounds and 1.1 assists as a freshman in 2019-20 out of the Helsinki Basketball Academy and increased his offense to 8.9 points and 4.5 rebounds per game as a sophomore last year.
But when former coach Larry Krystkowiak was fired and Smith failed to retain any of the previous staff that recruited the Finnish four-man, it seemed like only a matter of time before he elected to move on.
Jantunen joins former Utah forward Timmy Allen in departing the U. off Krystkowiak's squad after the Mesa, Arizona , product committed to Texas last week. Alfonso Plummer has also left the program for Illinois.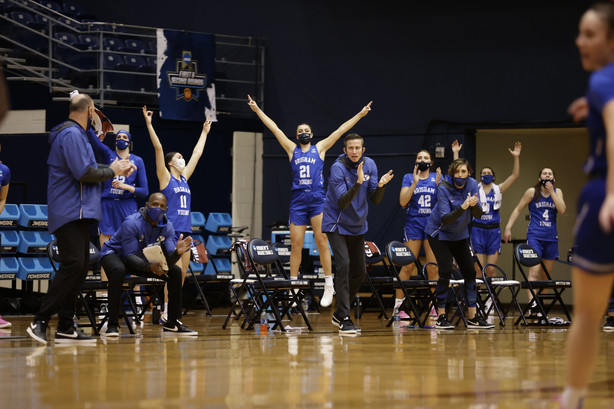 Former Mountain View standout Tahlia White joins UVU
Former Mountain View standout Tahlia White, who spent two seasons at BYU, has signed to continue her career with Utah Valley, the Wolverines announced Monday.
White was a two-time first-team all-state selection at Mountain View, where she averaged 23.6 points, 7.6 rebounds, 3.6 steals and 3.0 steals per game as a senior in 2018 en route to 4A MVP honors. A two-sport standout for the Bruins, White redshirted her first season at BYU before serving an 18-month mission for The Church of Jesus Christ of Latter-day Saints in Spokane, Washington, and returned last year, when she appeared in 18 games and recorded a season-high 8 points against Pacific on Jan. 26.
"Our staff is thrilled to have Tahlia join our program," UVU coach Dan Nielson said. "She adds size and skill on the wing for us and is a great shooter and passer who loves to play defense, so she's a perfect fit for us. We can't wait to get her on campus and working with our team."
White is the first known player to transfer off a BYU women's basketball roster that was loaded next year — but also returning all four graduation-eligible seniors, in addition to a signing class of six players, including Herriman star Leilani Falatea and Fremont forward Emma Calvert.
New Beginnings...🙏💙 pic.twitter.com/5cqgZ0yq2g

— RJ (@OfficialRj_1) April 19, 2021
UMBC guard follows coach to USU
Utah State also added a transfer commit Monday in UMBC junior R.J. Eytle-Rock.
The 6-foot-3, 225-pound guard from Barking Abbey in London was an American East all-rookie honoree as a freshman in 2018-19, when he averaged 5.1 points and 2.7 rebounds in 31 games.
Eytle-Rock tripled his offensive production by last year, pouring in 14.3 points on 47.4 percent shooting as a junior for new Utah State coach Ryan Odom.
He joins former Retrievers teammate Brandon Horvath in following Odom to Logan, where former starting point guard Rollie Worster has departed to follow Smith to Salt Lake City. The 6-foot-10, 200-pound forward from West River, Maryland who averaged 13.1 points and 4.4 rebounds announced his transfer intent to Utah State last Thursday.
×
Related Stories