SALT LAKE CITY — It wasn't all that long ago that police in Salt Lake City would sometimes arrest people facing mental health and addiction crises and recommend charges that could land them in prison for up to 15 years.
"We would book them on that second-degree felony thinking that we had really solved the problem, and yet we were really just introducing them into the criminal justice system," Salt Lake City Police Chief Mike Brown said this week.
He called the approach "the most expensive and least effective."
The city took a new tack in 2016, hiring social workers within its police department and pairing them with officers in a "co-responder" model. The move was a recognition that simply booking people into jail wasn't helping matters, Brown said.
Amid a national reckoning on racial injustice, demonstrations in Utah have brought calls to defund police agencies and force more accountability on officers in the Beehive State.
While officers need more training in helping those struggling with mental health issues, taking away money from the department would "stymie" the progress it's made by sending out the two-person teams, he said at a panel discussion on policing, part of a three-day event for attorneys hosted by the Utah State Bar.
"It's a team in engaging these people," Brown said. "One doesn't work without the other."
Brown and others on the panel Wednesday acknowledged that offers rarely face criminal charges alleging excessive force.
Curtis Cox, a special agent with the FBI, said nationally, the agency is reviewing 556 reports of excessive force. Last year, he said, there were 49 criminal convictions involving officers.
In general, an officer is immune from prosecution unless their conduct is not just unreasonable but also willful — a factor that can be difficult to prove.
"A lot of times we are limited by that single element," Cox said.
Pending federal legislation, deemed the George Floyd Justice in Policing Act, would remove the requirement that an officer's actions must be proven to have been willful.
If the bill becomes law, "that changes the calculus immensely. That takes our most limiting factor and expands it," Cox said. The U.S. House of Representatives passed the measure, but it has yet to get a vote in the Senate.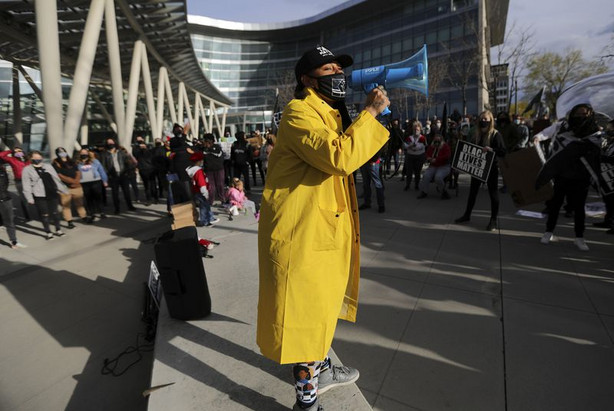 Harry Souvall, general counsel for the Unified Police Department, said the biggest issue law enforcers face today is figuring out how to communicate better with those they patrol, and especially for members of minority and disadvantaged communities.
"It kills me when I hear an African American is pulled over and fears for their life, and from the perspective of an officer, they don't even know who they've pulled over, they've just observed a traffic offense," he said.
Meanwhile, those in uniform are finding the job has become riskier, Souvall said.
Just last week on April 10, he noted, two Salt Lake County sheriff's deputies were shot and sustained severe injuries when they went to check on someone who they believed may have been in trouble.
Many people don't have access to mental health and substance abuse treatment, so police often end up being called when a person is in crisis, and risk being injured or killed themselves, he said.
Souvall said qualified immunity, the legal doctrine offering government employees broad protection from immunity, recognizes that officers sometimes make mistakes.
If police are willingly using excessive force, they're still liable, he said.
"The rest of us get to walk away from a conflict," he said. "Police officers can't deal with it like that. They have to solve the problem."
A network of crisis outreach teams are sending trained health care workers to help people in those situations along the Wasatch Front, but there are fewer avenues for help in the state's rural communities, said Ken Wallentine, president of the Utah Association of Police Chiefs.
Brown said officers are held to a standard of "objective reasonableness" in using force. But he said his department has built on that by ramping up de-escalation training to head off a confrontation.
"We looked at some things we could do better, that perhaps we never have to get to situations where force is used, or ultimately deadly force," he said. "Along with great policies, you have to train, too."
Wallentine, also the West Jordan chief of police, agreed.
"Prepared, well-trained officers use less force," he said.
Both said compassion is a requirement for the job.
In West Jordan, two background investigators and a psychologist help identify the best candidates.
In Salt Lake City, the process of finding the right people for the job includes speaking with applicants' families or others in their communities. Brown's employees also dive into an applicant's social media presence.
The number of applicants is down, Brown acknowledged, but tends to ebb and flow as the economy fluctuates. When the agency puts out a call for new hires, 200 to 300 people start the process of applying, he said.
"There are still plenty of good people who want to jump into the ranks," Brown said.
×
Photos