SALT LAKE CITY — For the first time in three years, Vicky Chavez walked out of the First Unitarian Church Thursday and breathed in the fresh air and felt the rain on her skin. For the first time in three years, she knows the feeling of freedom.
After a years-long battle to stay in the United States, the young mother was granted a stay of removal in her immigration case this week.
"It has not been easy at all," Chavez said at a news conference on Thursday.
Chavez faced deportation back to Honduras in 2018 when she sought sanctuary at a local church in downtown Salt Lake City. Since then, Chavez and her children have been living at the First Unitarian Church in a small room converted to an apartment in the building.
"Vicky's life is no longer on hold," said Rev. Tom Goldsmith.
Chavez fled Honduras in 2014 to escape a domestic violence situation and sought asylum in the United States. Now, for the first time since she decided to leave her flight to Honduras in January 2018, Chavez and her children are able to safely leave the church and live in the community.
Salt Lake City Mayor Erin Mendenhall said she is excited to welcome Chavez and her daughters into the area.
"This is a woman of great power and love and tremendous influence in our broader community," she said. "She's a larger-than-life example of courage."
Several other elected officials, including Salt Lake County Mayor Jenny Wilson and Gov. Spencer Cox, spoke Thursday about the good news as well.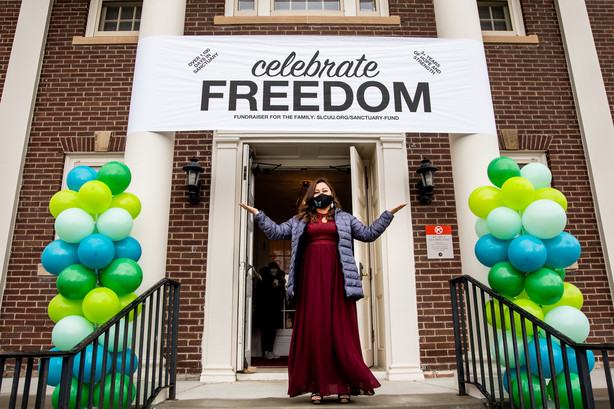 A tearful Wilson said she is grateful for the love shown to Chavez by the church and said more compassion is needed in our communities.
"I'm thrilled that you can have a life outside of this church," Wilson told Chavez. "This journey … is a long one, and it's one that we should simplify."
Cox said officials in the state look forward to helping those in need when they seek aid in Utah.
"We are a state that cares deeply about people who have been subject to horrific acts in their country," the governor said during a Thursday news conference with PBS Utah. "We are a state who has always welcomed refugees to come here."
Throughout the difficult experience, Chavez said she never lost her faith and hope. She added that she felt happy and secure and wasn't fearful of her future in starting her new life.
"We have been waiting for this day for more than 39 months," Chavez said. "I'm here sharing with everybody that I'm free right now and I can't believe it."
However, while Chavez's story has a happy ending, immigration attorney Skylar Anderson said there are millions of others in the country in a similar situation to Chavez.
"It is absolutely clear that our immigration system is broken," he said. "We need a permanent solution. Until we have that, we will continue to have these kinds of atrocities happening in our county."
The congregation has been honored and humbled to serve Chavez and her children as they've gone through this fight over the last several years, said Joan Gregory, director of sanctuary services at the church.
---
This is a woman of great power and love and tremendous influence in our broader community. She's a larger-than-life example of courage.
–Salt Lake City Mayor Erin Mendenhall
---
Gregory said she knows Chavez — as she prepares to reenter the community — will continue to be an important part of the city.
Over the years, Gregory and the more than 200 volunteers with the church have been able to get to know Chavez, who Gregory says is a strong woman, mother, friend and leader.
"Vicky will be an outstanding neighbor to you," Gregory said.
Chavez's struggle isn't over yet — she will have to continue to work hard toward the ultimate goal of permanent residency in Utah.
As Chavez's journey to freedom continues, she will continue to have the support of the church and congregation as the community will continue to rally around her, Gregory said.
"The fight continues," Anderson said. Going forward, Chavez will apply for renewal to stay in Utah prior to the expiration of her one-year stay order, he explained.
As for Chavez's two young daughters, they're excited to live a normal life and travel with their mother.
"They are ready to go to Disneyland," Chavez said.
×
Related Stories