SALT LAKE CITY — Championship season continues this week with the NCAA women's volleyball tournament, and for the first time in the modern era, the state of Utah will be represented by four teams in the same field at one site.
That's not the only unique venture of this year's tournament, which was moved from last fall to the spring due to the COVID-19 pandemic. Even though the tournament will be played in April of 2021, it will still carry the label of "2020" and will crown a champion of the 2020 season.
Confused yet? Welcome to the past 365 days.
In reality, it's a small price to pay for a group of coaches and athletes whose season was thrown through a loop last fall with the indefinite postponement of competition. But through constant testing, controlled environments, and delays, the end is finally in sight.
On that note, here are five things to know about this year's tournament — beginning with the top two teams from the state of Utah.
1. The seeded teams
BYU and Utah won't open the tournament in Wednesday's first round. As two of 16 national seeds, the Cougars and Utes will eagerly await the winner of their respective first-round matchups before Thursday's second round.
The West Coast Conference champion Cougars will await the winner of Wednesday's match between Rider and UCLA (6:30 p.m. MDT, ESPN3). NCAA.com projects the Bruins to advance to face 16th-seeded BYU in this match — but Cougar coach Heather Olmstead isn't taking either one for granted.
"I like whoever we're playing," Pacific South region coach of the year Olmstead told BYUtv. "We're going to be be ourselves, and play BYU volleyball. Nothing's going to change on our end; we are who we are.
"We're looking to just get better this week, hone our craft in the gym, and play our very best against whoever wins that first match."
The Cougars have grown into a powerhouse program, and are no less formidable this year. Led by West Coast Conference player and setter of the year Whitney Bower, BYU rolled to a 16-1 record and their seventh WCC title since joining the league in 2011.
Utah is newer to the scene, but no less formidable. Led by Pac-12 player of the year Dani Drews, the No. 14-seeded Utes will face the winner of LIU Brooklyn and Pittsburgh, who are scheduled to serve Wednesday at 8:30 p.m. MDT (ESPN3). The Utes await the winner at 8:30 p.m. MDT Thursday on ESPN3.
2. The newcomers
BYU and Utah have become mainstays in the NCAA Tournament, and both were ranked in the AVCA top 25 all year, so their inclusion isn't a surprise.
Not so much for Utah's other two teams who are breaking lengthy postseason droughts of their own.
Weber State is back in the tournament for the first time since 1988. The Wildcats (18-1) won the Big Sky Conference regular season and tournament title, and will face Bowling Green in the first round Wednesday (5 p.m. MDT, ESPN3). The winner will advance to face top-seeded Wisconsin in the second round.
In some ways, it's been even longer for Utah Valley.
The Wolverines (14-5) clinched the automatic berth from the Western Athletic Conference Tournament, and play in their first-ever NCAA Tournament on Wednesday.
Led by WAC Player of the Year and All-Pacific South honorable mention Kazna Tanuvasa, Utah Valley will open against Texas State at 1:30 p.m. MDT (ESPN3).
The winner will face fifth-seeded Nebraska in Thursday's second round (1:30 p.m. MDT, ESPN3).
3. The bubble
This year's tournament will look a little different, and not just because it has been reduced from 64 teams down to 48.
Every match of the tourney will be played inside the Chi Health Center Arena in Omaha, Nebraska, with multiple courts set up in the first and second round, and whittled down round by round through the regional semifinals April 18, regional finals April 19, and national semifinals Thursday, April 22 on ESPN2.
Teams playing in the first round, like Weber State and Utah Valley, arrived in Omaha on Sunday and began quarantining while testing to prevent the spread of COVID-19. The seeded teams, like BYU and Utah, all arrived Monday.
It's not a perfect setup, and there's plenty of isolation — each player and coach will stay in a separate room, for instance, instead of staying with a roommate like they do when traveling on the road. But all other accommodations, meals and exercise equipment has been planned, and photos and video from the scene show that the NCAA has learned from the admitted mistakes made in hosting the women's basketball tournament in San Antonio earlier this spring.
"They're calling it a 'controlled environment,' not a bubble," Olmstead said. "But for us, it's no different than the way we've been going about this whole season. We've been controlling the environment the best we can, and trying to stay safe and stay healthy going into the tournament."
A national champion will be crowned Saturday, April 24 at 6 p.m. MDT on ESPN2.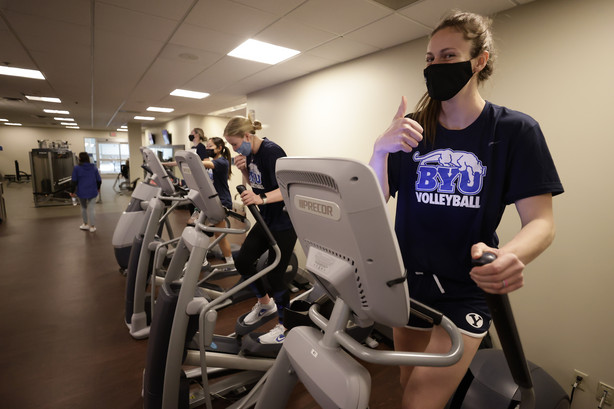 4. Upsets, upsets, upsets
Of the four teams from Utah in the tournament, only one is expected to win a match, according to the official prediction by NCAA.com.
Utah is projected to dispatch its second-round opponent — likely Pitt — before falling to No. 3 Minnesota in the regional semifinal.
"I predict that the Gophers' balance across the board will be too many points for Dani Drews to compete with," NCAA.com's Michella Chester said.
Similar in the NCAA men's basketball tournament, Chester predicts BYU to fall to UCLA before the Bruins' are dispatched by No. 1 Wisconsin. Of course, these are just projections; the really volleyball starts Wednesday.
5. West Coast respect
The WAC and Big Sky are traditionally one-bid leagues, making Weber State and Utah Valley trailblazers in their championship and berths.
But the tournament selection committee seemed plenty impressed with the quality of West Coast volleyball during the truncated spring season, where most leagues player conference-only or mostly-conference schedules.
"The one criteria that we could use was the viewpoint of the regional advisory committees," selection committee chair TJ Meagher said. "That's 32 conferences distributed among five geographic reasons of the country, and they have a responsibility to advise us, and the become experts in their region. We take their pulse on a national scale. We needed that kind of expert look, and people with an impartiality to see across the conferences.
"I think the eye test has got to have a lot of eyes on it, and that's what we asked of the RAC and they developed it well."
Beyond automatic entry BYU, two other WCC schools received at-large bids: San Diego will face Texas A&M-Corpus Christi at 10 a.m. MDT Wednesday, and Pepperdine will face UMBC at 10 a.m. MDT.
NCAA.com projects the Waves as a tournament darkhorse, too. Led by "high-impact freshman" Meg Brown, Pepperdine is one of five unseeded teams predicted to make a run, which includes an upset win over No. 12 Baylor in the second round.
In addition to Utah, Pac-12 champion Washington earned a No. 6 national seed to the field of 48. The Huskies are Utes are joined by conference mates No. 10 Oregon, No. 15 Washington State and UCLA in tourney field.
The Pac-12's five bids were the second-most in the field, trailing only six from the Big Ten. The WCC was one of five conferences with multiple bids, and the only one from outside the traditional Power Five conferences.
---
NCAA women's volleyball tournament
Wednesday, April 13
Bowling Green vs. Weber State, 5 p.m. MDT (ESPN3)
Texas State vs. Utah Valley, 1:30 p.m. MDT (ESPN3)
Thursday, April 14
No. 16 BYU vs. Rider/UCLA winner, 8;30 p.m. MDT (ESPN3)
No. 14 Utah vs. LIU/Pittsburgh winner, 8:30 p.m. MDT (ESPN3)
×
Related Stories